Since 2007, Lauren Bush Lauren has been making products that help nourish children around the world with her FEED brand. In light of the organization's 10-year anniversary, the social entrepreneur is tapping into retail, launching FEED's first brick-and-mortar store in Dumbo, Brooklyn. The digs, which just opened yesterday, combines FEED products with lifestyle elements that will make the shop your next go-to food and shopping desto. Take it away, Lauren! 
Lauren, tell us about the concept behind FEED's first retail store.
It's been a longtime dream of mine to open a FEED store. We're almost 10 years into having FEED, so having that community center to bring not only our products and brand to life but mission as well is going to be so awesome for us. It's part-store, part-cafe. We're serving coffee that we listed in collaboration with La Colombe, and we're going to be serving basic food in partnership with City Bakery, two of my favorite local businesses and vendors. Everything in the store, from the muffins to the tea bags as well as what we're calling FEED Finds—hand-picked goods that do good—will all give meals to kids in need. Whether you're going for your daily coffee, buying a bag, or buying a present, everything in the store will be giving back.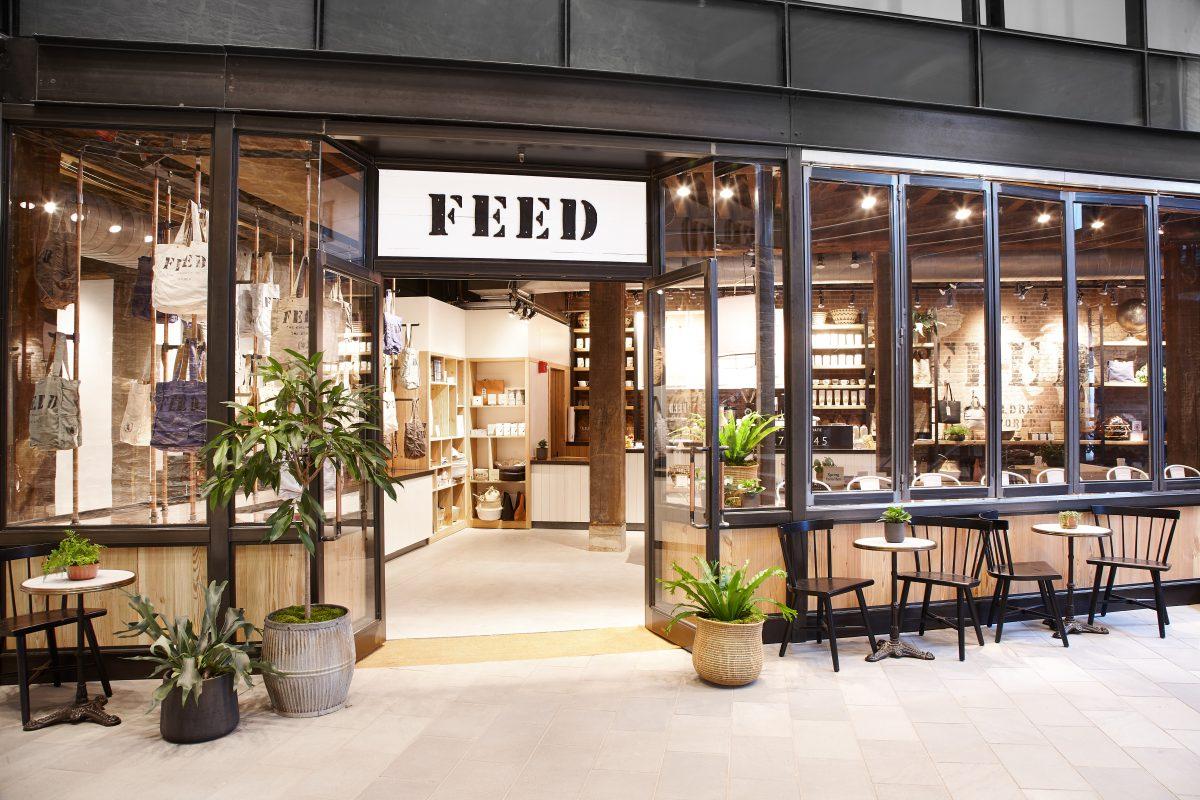 After nearly 10 years, why was now the right time to open shop?
We've done so many wonderful partnerships over the years and have built a great, dynamic website. We've had other goals and strategies, so it just felt that time time was now right to take the leap into our own brick-and-mortar store now. I learned about the development we're going into in Dumbo, Brooklyn from the CEO of West Elm, Jim Brett. The building is really neat—I've always had my eyes on it. The neighborhood as well as the building felt very on-brand. It felt like the stars were aligning in terms of timing.
Why was it important for the store to have a lifestyle feel?
I've always seen us more as a lifestyle brand. I think nowadays when people can so easily shop online, which we encourage as well, to give folks a reason to go into the store by adding that coffee and food component is important. It makes so much sense with our mission of feeding kids, so what's more appropriate that while you're feeding yourself, you'll also be giving meals?
Who's given you the best advice about opening your first store?
So many people! I definitely talk to my father-in-law [Ralph Lauren] and my husband [David Lauren], one of the original pioneers in branded shops and bringing that lifestyle to bare within a store. No one does it better in my mind than him. Seeing how important and impactful their stores have been in bringing the brand and the vision to life has really been very inspiring to me and given me the courage to want to go forth and do this for FEED. Shinola's folks have also given me a lot of good advice—they're going in the building as well—as well as a friend of mine who runs a local coffee shop. I've really been on a listening and learning journey for the last year as we put the pieces into place and get ready for our opening.
You live in Manhattan. Have you gotten to know Brooklyn better?
I still don't know it as well as I'm sure I will over time! One reason I love Dumbo as a Manhattanite is it feels so accessible from Manhattan. It's almost like a tourist destination in that people when it's nice out will walk over the Brooklyn Bridge. It's also such a historic and beautiful area with open cobblestone streets and the Brooklyn Bridge Park. I find it very scenic and beautiful, but I'm definitely not a Brooklyn native, so I'm excited to learn more about the different neighborhoods.
Do you have retail expansion plans?
We have to walk before we run and get the first one right. We will test, learn, and get feedback from our consumers and community. I do see us eventually opening more, for sure.
What's it like looking back at 10 years of FEED?
As a social entrepreneur, I'm overwhelmed by how amazing, rewarding, and intense the last 10 years have been in building FEED. Everything from being able to be creative and work from my team who dream up a product and bring it to life and seeing people walk down the street is one of the greatest joys. On the other side of what we do, getting to visit Africa and other areas around the world where our programs are supporting, even here in New York City, is so rewarding as well. I feel as motivated and excited as I was 10 years ago.
Check out FEED at 55 Water Street, Brooklyn, NY 11201.