Fashion takes a backseat this week, as all eyes are on the emerging stars of the art world. One name to keep in mind is Los Angeles-based artist Austyn Weiner, who will be showing at Art Basel for the first time with MASSIMODECARLO. We recently hopped on the phone with this true creative to learn about her complex process and find out who inspires her. 
Tell me about your background! How did you first get into art?
I'm born and raised in Miami. I'm the youngest of four. My house growing up was a creative hub with everyone exploring their own mediums. My first obsession was music, and it still is. I always say I became a painter because it's the one thing you can do where you can listen to music all day, every day. I grew up with headphones on and in my own world. I had this introverted dialogue with myself, which I think very much has aided my practice and my development [as a painter]. First, I was a photographer and worked in film, then I got a job as a digital photographer for events and fashion shows. When I moved to New York, I was friends with people in the fashion world and I started shooting backstage. I found it very invigorating, but what I found most invigorating was how enamored I was with the female form and the models themselves and their energy. I was at Parsons at the time and I would print the photos and paint on top of them. That's how I started painting. I moved to California, the land of light, and I let go of photographs and started painting. I had no idea how to oil paint; I completely taught myself.
How do you describe your aesthetic to people?
That's a hard one to answer and I get asked it the most! I am an abstract painter. However most abstract painters starts from something, from some real cemented down idea, concept, and/or figuration. My work is very diaristic. It's like I'm recording the times and my life via paint—I think I'm a colorist.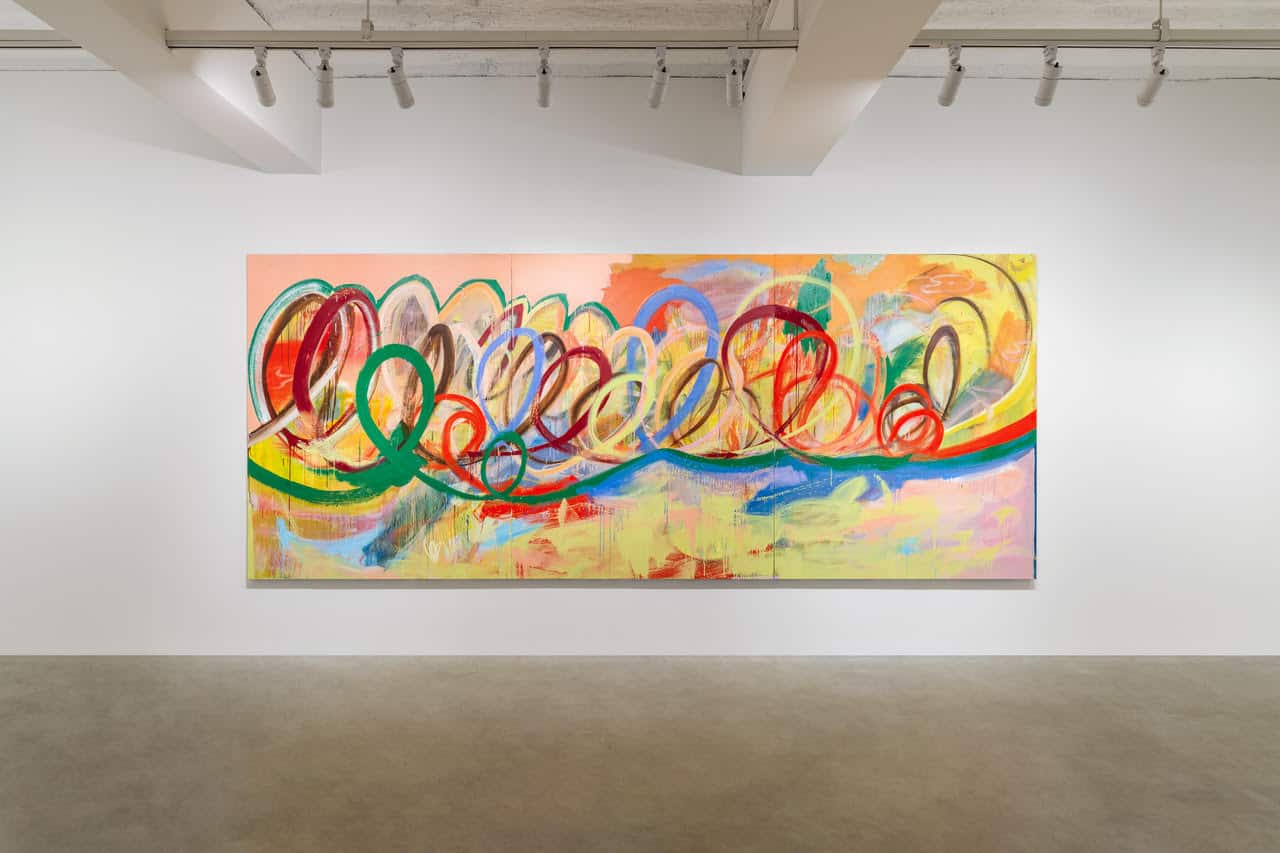 What's your process like? Do you work on several pieces at a time!
It has scaled up with the amount of space I have. During the pandemic, I was painting in a one-car garage. I painted one or two paintings at a time, and I loved it. Now I'm in a 5,000 square-foot studio and I paint 30 paintings at a time! If you give me a room, I will paint what I can in that room. Space in general is such a part of any artist's practice.
When you wake up every day, do you know what you are going to work on or do you just go in the studio and see how you feel?
Both. I would say when I get to the 30% mark of a painting, I have utter freedom and I allow that freedom to exist in my process. Writing is in the underpainting of a lot of my works; sometimes there are full stories and ideas. Sometimes instead of sketching on paper, I'll sketch on the canvas. I'll allow myself to throw paint and be really loose about it and not need to know where I'm going. But once I hit the 30% mark, architecture begins on the canvas and there are moments I don't want to lose. Once you are starting to keep things, it's a careful dance. You don't have limitless space anymore. It's almost an mathematic equation of color to solve. My favorite part is the beginning, but it's incredibly satisfying when you get to the end and you've solved this complex equation. The more color you use, the more complex it is. I use a lot of color! Every day is different.
How long do you typically spend on a piece?
I've had pieces fly out of me in a day and a half, and I've also worked on paintings for nine months.
Is it difficult to let go of pieces?
It wasn't. Now there are works of mine that really feel like I learned something. Those are difficult to let go of. There my learning tools. I'm starting to get better at holding back things and keeping them in the studio for longer than I used to.
What kind of music do you listen to when you are working?
I listen to everything! I really do. I go from Radiohead to Curtis Mayfield to the jazz legends and then back to classical. Music is reflective of what I'm in need of. Sometimes I just want comfort and familiarity because what's in front of me is scary. In those moments, I gravitate to '90s music because that's where my story started. Right now, there's a heavy Bob Seger rotation.
You'll be at Basel this year! Have you been going for years?
I have! Being from Miami, I started going to Art Basel far before I ever thought I would be a painter. It was interesting being exposed to the commercial side of the art world before I was exposed to the artist side of the art world. I have been many times but I've never participated in the convention center in Miami, so I'm very excited. I'm going to be doing a solo Kabinett presentation within a gallery booth. I'll be showing three paintings with MASSIMODECARLO.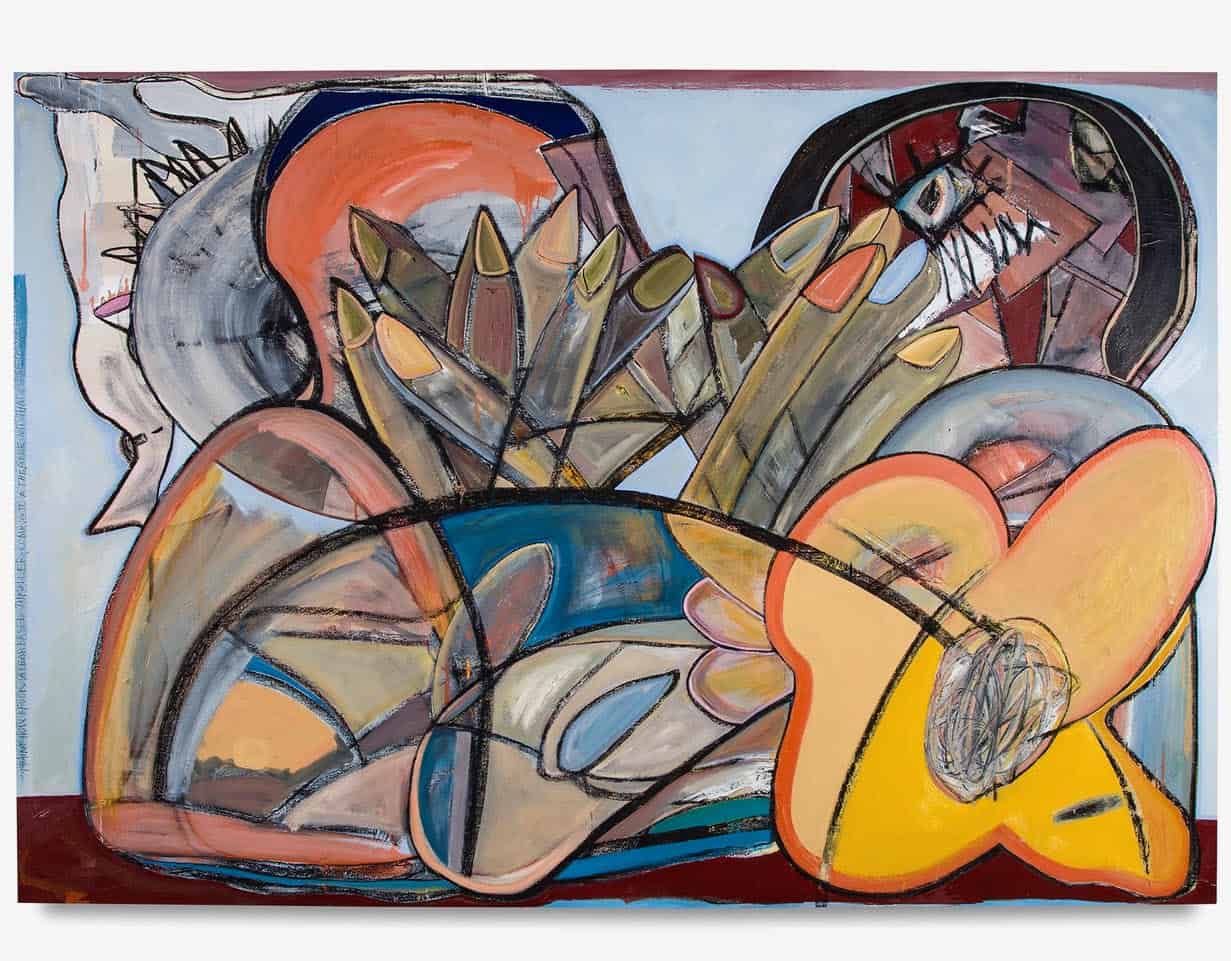 Will you be there all day to meet people?
A lot of artists hate art fairs and don't set their foot in them no matter what. I like it, but the more I'm showing at these fairs, the less I like it. I'll pop in a few times to walk the fair with friends and other artists. I'll probably hang out in my own booth very little. I've always had this fantasy of pulling my hair back and standing there to see what people say…the good and the bad! I would love that. It's totally masochistic.
Ha! Who are some of your mentors?
I have so many in such different ways. My mentors are as diverse as my life. There's a gentleman who I met at the beginning of the pandemic who is 75-years-old and who used to be the bouncer at the Troubadour in the 1970s when James Taylor and John Lennon and Carly Simon were frequenting that venue. We became best friends in the pandemic and walked every morning at 6AM together. I tend to gravitate to having my mentors be as old as possible, because they are the ones who have lived it and know it. I'm close with a lot of artists, like my studio mate Lily Stockman and Hilary Pecis. Even more than mentors, we have this incredible camaraderie and are a support system for one another. I'm close with another artist, Joel Mesler. In general, being able to pull inspiration from so many people even outside of the art world. Gigi [Hadid], who is one of my best friends, is another. We couldn't be in any more different worlds. She's younger than me, but I have such a deep respect for her. Virgil [Abloh] was another one. The loss of him is felt weekly. Also what he's left behind is enough to inspire generations to come, which is such an incredible impact to leave on the world. There have been a slew of gallerists and writers who have contributed to the narrative of my career up until this point who are all mentors and inspirations to me. I'm forever grateful for everyone who comes into my life and helps shape the narrative of my work.
Subscribe to our newsletter and follow us on Facebook and Instagram to stay up to date on all the latest fashion news and juicy industry gossip.