Following the highly-anticipated annual summer luncheon, The Daily and Max Mara continued their celebration of the iconic brand's Hamptons pop-up at Topping Rose House with immersive programming designed to connect with the East End's community of artists, designers, and tastemakers.
Programming highlights included a panel led by The Daily's Lizzi Bickford Meadow which focused on the intersection of art and fashion, specifically the East End's artistic legacy—serving both as the home of and inspiration to artists and fashion designers alike. Panelists included Hamptons-native and gallerist Tripoli Patterson; fashion historian, author, stylist, and Decades founder Cameron Silver; Art Production Fund's executive director Casey Fremont; gallerist and artist Cas Friese, as well as The Parrish Art Museum's chief curator of the Lewis B. and Dorothy Cullman's Art and Education and deputy director of curatorial affairs Corrine Erni who spoke to the museum's recent exhibit, "Artist's Choose Parrish."
The panel explored the on-going dialogue between art and fashion and the shared sense of community between them. Erni, a former fashion designer turned art expert, and Patterson shared their perspectives on how the East End's artistic legacy has impacted the international art scene. Patterson, who recently brought his portfolio of local artists to Australia for a show, commented that the body of works produced by both contemporary and legacy artists is something the world is eager to see and engage with. Other artists within his portfolio, even those who don't live Out East, such as Midwest-based artist Katherine Bernhardt, have a love for the area—as reflected in her recent work "Ditch Plains" referencing Montauk's iconic surfer beach. Her work has also explored subjects of high fashion in paintings of supermodels, textiles, and accessories.
"There's an undeniable creative energy in the Hamptons that has had artists and designers flocking to this place for centuries, creating art to wear on your body or hang on your wall. It's no coincidence that the Hamptons has been home to artists like Andy Warhol, Chuck Close, Peter Beard and more. Their work – and visionaries like them – have influenced and shaped the world of fashion, design, and beyond," said Bickford Meadow, who has deep roots on the East End. "This community, and the creatives within it, has had a major impact on my life and the life of other emerging and established creatives including my fellow panelists. Max Mara has a legacy of supporting arts and culture. The brand's generous and continued support of important institutions like the Parrish Art Museum is a direct reflection of their commitment to the preservation and development of artwork and artists alike."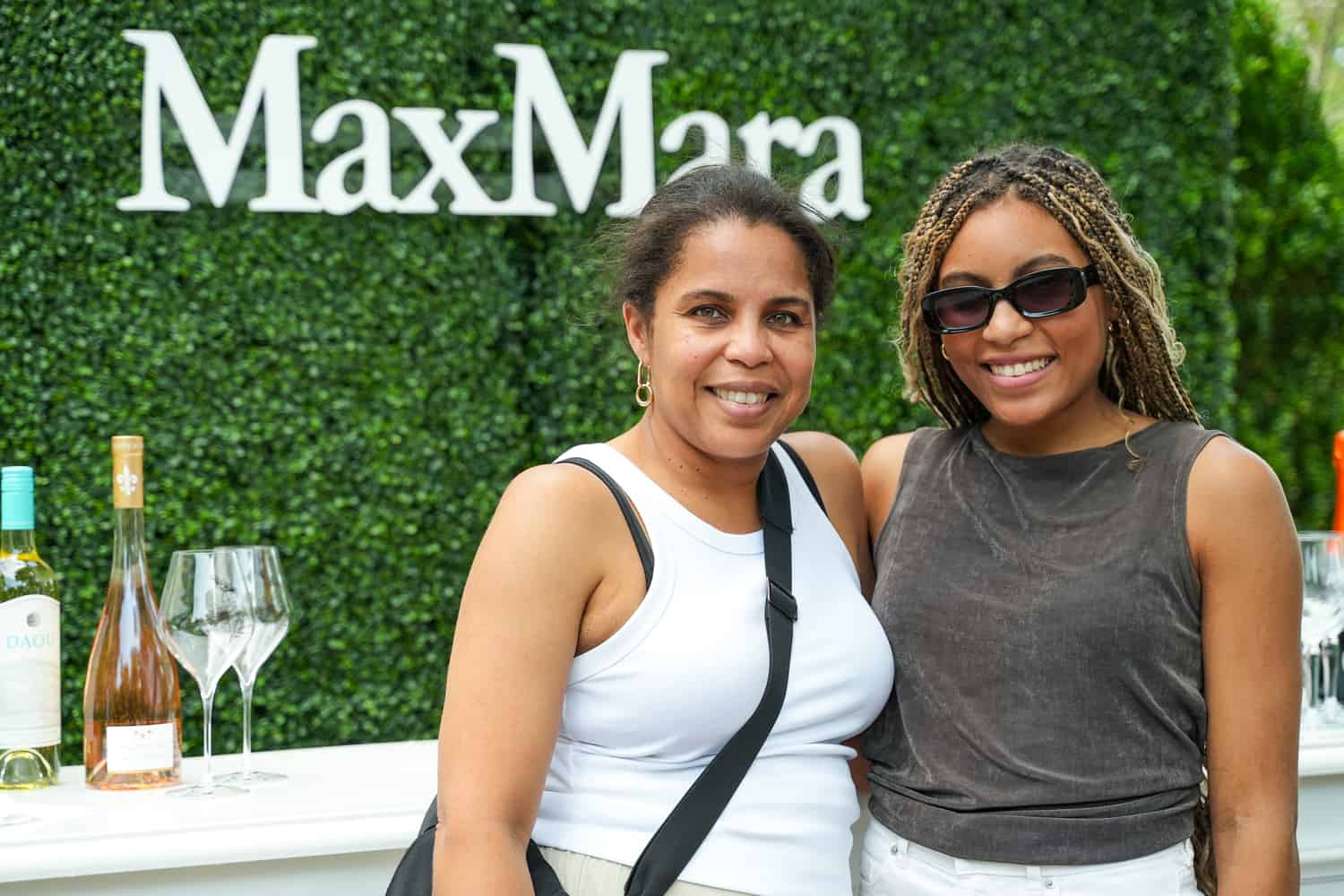 After the panel, guests made their way into the pop-up to mix, mingle, and, of course, shop! Highlights from the pop-up included notable favorites within the Max Mara collection such as the Whitney Bag, created by Max Mara in collaboration with the Renzo Piano Building Workshop to celebrate the opening of the Whitney Museum of American Art. Crafted in soft, quality leather, the hallmark of the Whitney Bag, as indeed the architectural structure of the building, is its elegant surface, featuring distinctive ribbing that gradually becomes fine lines, directly recalling the steel tie-beamed exterior of the new Whitney Museum.
The pop-up also featured t-shirts and sweatshirts with artist William Wegman's weimaraner dogs wearing the Max Mara Teddy Icon coat marking a continuation of the collaboration between the artist and brand. In 2001, the focus of Wegman's first collaboration with Max Mara was the eternal classic, the 101801 coat, in the Dogs in Coats project.
The following day, Max Mara and The Daily hosted cocktails in the courtyard with co-hosts Marina Albright, Elizabeth Kurpis, and Lizzi Bickford Meadow. Tastemaker and DJ Pamela Tick curated a playlist during her live set that instantly put everyone in the mood to celebrate summer and all things Max Mara. Guests, including designer Max Eicke and digital content creator Irina Kro Eicke, enjoyed a rose bar by Sainte Marguerite en Provence, featuring two signature rosé wines, Symphonie and Fantastique.
Guests also enjoyed light bites including a raw bar and gelato with flavors inspired by Max Mara's italian roots, served from a customized Max Mara cart by Dolce and Gelato Catering. Artists from Lefty's Right Mind hand-painted Max Mara's chic leather goods, gifted to shoppers throughout the afternoon. As the event came to an end, guests stopped on their way out for a instagram-worthy moment, posing with an assortment of luxury vintage cars curated by Vantage Auto Collection, embellished with Max Mara's signature logo.
Photos: Sean Zanni
Subscribe to our newsletter and follow us on Facebook and Instagram to stay up to date on all the latest fashion news and juicy industry gossip.