In the early '90s, Cecilia Bönström, artistic director of Zadig & Voltaire, made her fashion industry foray—as a model. Concurrently, Kate Moss was kicking off her career, too. Despite being contemporaries, the duo didn't cross paths—until now. The designer recently tapped Moss to co-design a new handbag collection for Zadig. THE DAILY rang up Bönström in Paris to chat about how the two chic minds came together, the new Kate Bag collection, and her early catwalk years.
What are your favorite moments from your modeling days?
There was a club called Les Bains-Douches [in Paris]. It was so iconic. Those moments you can never get back—the freedom, the youth where you don't think about the next day. I would shoot with Tyen, one of the biggest beauty photographers at the time, the next day, and it didn't stop me from dancing at Les Bains-Douches until 6 a.m. Everything was possible, and very pure. That was one of my best moments, to have access to a professional life, but also the beauty of going out to parties.
What was the industry like back then?
I was lucky to be a model starting in 1990. There were less models then. I hear from younger models that the industry has become faster today with social media. But I had a healthy experience. All the girls got along. There was always a great feeling during the castings. Very good money. It was a great way to learn languages, travel around, and grow. You had the time to grow by doing something instead of having to choose a school, and make a decision when you're 19 and just graduated. For me, it was purely positive. It's become harder today. Financially, you don't have the same access unless you're a top model.
Any memorable first runway experiences?
Enrico Coveri. [He] was a cool Italian designer. He wanted me and my twin sister to hit the catwalk at the same time in mini dresses and extremely high heels. I'd never trembled so much in my life as when I went out there and the lights hit my face. I had to walk all the way down the catwalk—it felt like forever! Now I look back on it like, I was so lucky to live that. That energy and adrenaline is so amazing. But when I see young girls today coming to castings for my Zadig & Voltaire shows in New York, I'm so impressed. They look like babies. Then they put on their high heels and they're so sure of themselves. They make it look like nothing. I was a baby at that time. The girls are much stronger today.
What's the most important factor of your casting process?
That the girls not be too skinny. It's important that all the models I shoot with are healthy, that they look happy. And then also, I'm a Swedish designer working for a French company, and it's important to me that we represent the world—all colors, all nations. Zadig is a global brand, and it's important that we have different nationalities represented.
You started modeling around the same time as Kate Moss.
We were definitely from the same generation. But I was always with Naomi [Campbell], Karen Mulder, all those girls. Kate and I never met in those years. We met much later when I was already working with Zadig & Voltaire as a designer. Her daughter was a customer, and so was Kate. We still have friends in common. I was mixing with her at different parties and occasions, but like I tell everybody, she's a superstar…you don't get easily in contact with her.
But now you have. She just co-designed a bag collection with you!
It's funny how you can admire someone for so long, and also share the same aesthetic. Kate is actually one of the few models who's [imparted] her style on generations of women. She's a style maker. I think we have the same aesthetics—a very nonchalant, chic attitude. I felt it was the moment for Zadig & Voltaire to do something with her. I've admired her for years, but in life it's all a question of timing.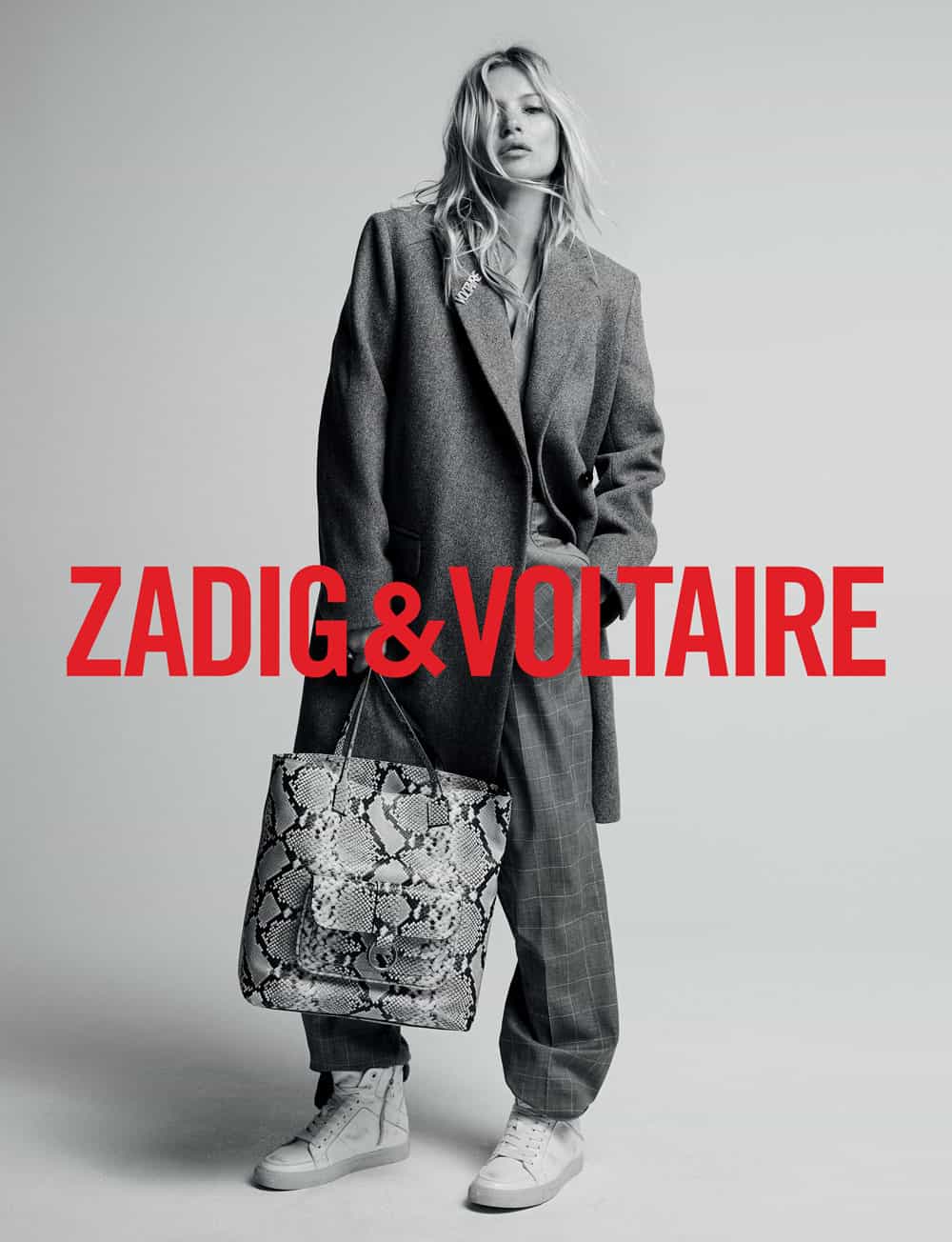 What was the design process like?
I took the train from Paris to [her home in] London and we talked about what she's dreaming of now. She talked about a vintage '70s bag with a half-moon shape she had years ago that was still on her mind. I couldn't believe my ears because it was exactly what I lacked in the Zadig & Voltaire wardrobe. We had all the shapes, [and they were] doing well. But we didn't have a '70s half-moon. I was like, Wow! I knew we were meant to get along and would work together one day. But to have the same energy and choosing the same ideas without speaking before…it was amazing. It was a very easy process.
What's Kate like to work with?
Everything was important to her. She wanted that precise beige—a fake python leather print. Working with her those three sessions, I can confirm that you don't become a star without effort. She doesn't give up on any ideas. We were almost done and she was like, "We have to make a silver one! I need one for the evening also. It's going to be my favorite." She also wanted a certain heritage mood; a bag that looks like it's had some life before, that's not too rigid—and not too soft, either, because you want it to be modern.
What's her house like?
It's a big villa in an area [of London] that's very residential and chic, with a lot of trees. The house was totally in her image—beautiful and chic, but at the same time, very welcoming, with a warm feeling.
Tell us about the campaign with Kate!
It was shot in London, in black and white, very iconic, white background. All I wanted to show was the product and the logo, which is in red this season.
How did you roll it out on social media?
We worked with a young design team, PlayLab. My CEO in America, Chris Tate, and I thought it was fun to let these young eyes have a look at what Zadig & Voltaire is about. We went through different destinations in America called Paris—like Paris, Texas—and placed different sizes and close-ups of the campaign with Kate in the middle of Texas. On a wall, on a station…just to have fun, and to show we are a French brand but America is important to us, too.
Zadig is showing in Paris this season! What can we expect to see?
Kate Moss's second home is The Ritz in Paris. I wanted something really natural; a powerful but friendly event, in the evening. I rebuilt the iconic Bar Hemingway of The Ritz, but in a bigger size in the garden. There will only be 200 seats. Then we'll open the garden for more guests. Kate will be there, and we're all going to have good margaritas. Lou Doillon is singing. I just wanted to do something fun and different—and really, truly Kate Moss's universe.
What was the highlight for you of showing at NYFW last season?
Everything! The way the American press welcomed us was amazing. And the cool, chic, sporty energy. Never forget that you [Americans] wore sneakers with your suits before everybody else. That energy is so similar to my energy when I design. That can never be taken away. Next February, I will be back. 
Read the complete new issue of The Daily Front Row below!
Subscribe to our newsletter and follow us on Facebook  and Instagram to stay up to date on all the latest fashion news and juicy industry gossip.