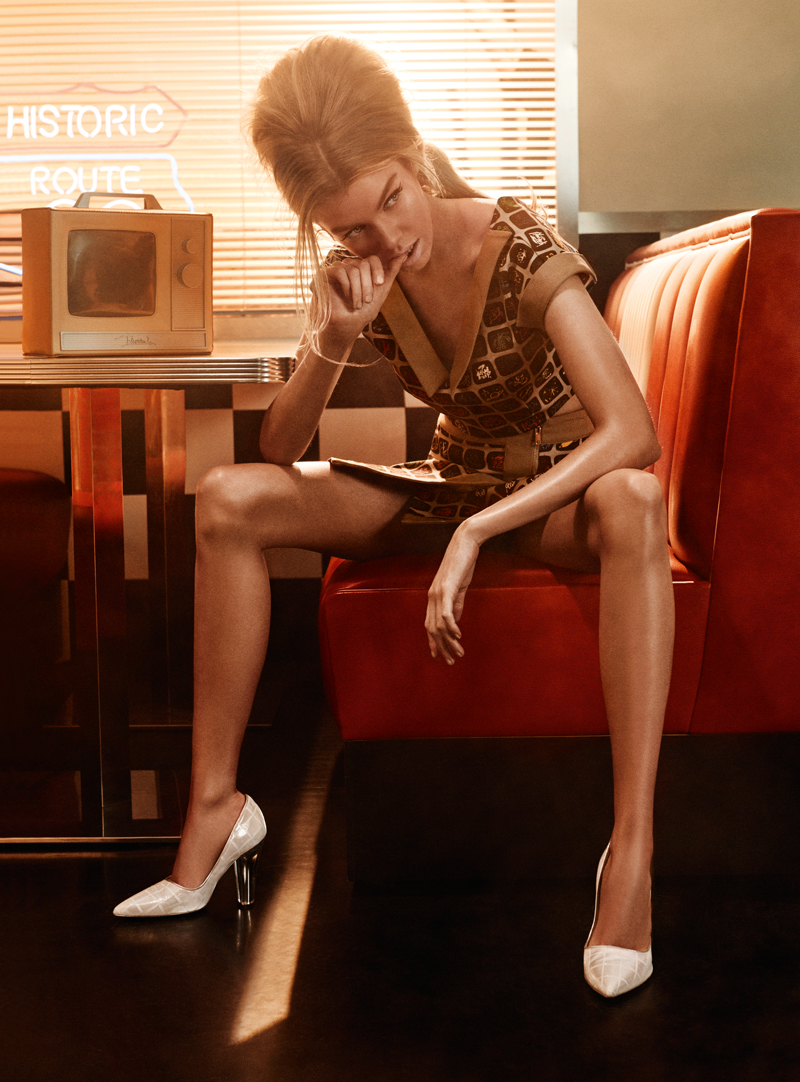 Too many editorials and Vogue moments to count? Check! A turn as a Victoria's Secret Angel? Check! Lovely soul? Check! What's not to adore about FLA Model of the Year Stella Maxwell?
Hello, Model of the Year! You've had such an incredible run…
Thank you! In my career, I've never had such a year. It was challenging, but in such a good way. I put all my time into work and traveling. The highlights were [walking in] the Victoria's Secret show and the Vogue and Maxim covers. I've been working so hard to have a Vogue cover, and then I got one, which was really exciting. I felt good energy. I have amazing management, and so many amazing people are supporting me.
What were some of your favorite adventures?
An adventure for me is going to a city I've never been to and experiencing it with the crews. We go out to dinner afterward. Even though we're working, it's still travel, and I'm learning all the time. On my time off, I've been surfing, camping, and hiking with my friends.
Which destinations did you love most?
I went to the island of Mustique with Victoria's Secret, and I loved it because it was so private and so cute. I'd like to return there on my time off with my friends. We were staying in Shania Twain's villa, which was trippy and cool.
Is there one accomplishment that really stands out?
I'm proud of my management, my team, and myself for everything we're doing. Every accomplishment has been so different. I've been lucky enough to do so much work in high fashion and so much commercial work, too, and that's a newer thing for models to be part of both categories. I split my time among shooting editorials, walking in fashion shows, and doing commercials. Getting a beauty contract was a career highlight. From the moment I started modeling, I've always wanted that.
How do you define success?
Success is an ongoing thing. It's not really about hitting a point where I feel I'm successful. If I'm stimulated and working hard, I consider that to be success. A friend once said that success comes from many places. Some people define it by material gain, but if I'm happy, healthy, and loving and being loved, that's success in a nutshell. I want to continue being challenged. Even getting this award helps me get excited about everything. I never thought I'd get this—I'm really excited about it.
As you're becoming more well-known, there's more interest in your personal life. How do you maintain boundaries?
I don't seek out attention or look for exposure. I like to keep my private life private. Once it's out there in front of people, it can be hard to enjoy it and keep it real. With modeling, [exposure] comes hand in hand.
PARIS, FRANCE – NOVEMBER 30: Stella Maxwell walks the runway during the 2016 Victoria's Secret Fashion Show on November 30, 2016 in Paris, France. (Photo by Dimitrios Kambouris/Getty Images for Victoria's Secret)
(EDITORS NOTE: Image has been converted to black and white.) Model Stella Maxwell poses prior the Balmain show as part of the Paris Fashion Week Womenswear Spring/Summer 2017 on September 29, 2016 in Paris, France.

How do you deal with the paparazzi?
I never really know they are there, unless they are directly in front of me. It can be very random: You can go weeks with nothing and then randomly, you'll see some pictures [online]. I don't worry about it too much—if you start overthinking it, it could be a problem.
Maxim recently dubbed you "The Most Beautiful Woman in the World"!
It was really exciting. I was shooting Maxim with Gilles Bensimon, and we clicked—he's really sweet. He's done this job for so long, and he knew exactly what he was going to do with me.
What did you do with the issue?
I saved it for my mom. That cover is going to be a big milestone for me forever. I love those pictures. I loved doing that shoot because they gave me so much freedom to contribute, even down to the accessories that I wore! Gilles wanted me to feel comfortable.
He's a legend! Victoria's Secret is a huge part of your life. What's that relationship like?
They feel like family. I like everyone I work with; we've done so much together, and they look after each of their girls. Every girl who has worked for them would probably say the same thing. Everyone supports one another.
We learned during New York Fashion Week that you and Barbara Palvin are besties. How did you meet?
We've known each other since she was 16 and I was 18. She was my first friend in fashion. We were at the beginning our careers, naive and young and exploring modeling and seeing where it would take us. We went through the journey together, and we've seen each other through all the highs and lows.
When did your career really take off?
Signing the Victoria's Secret contract was a turning point. I also grew my hair out at that stage. I was changing in so many ways—my look was evolving.
You're an L.A. girl. Why does the West Coast appeal to you?
I've always liked the weather, and there's so much to do here, compared with other big cities. I've always had so many good friends here that I've been drawn to hang out in L.A. whenever I'd have a few days off. I love everything about it. I grew up in New Zealand, and I'm used to being active and doing things outside. That can be tricky when it's snowing! There's not a lot you can do in the middle of winter in New York.
How do you describe your personal style?
I never overthink it. I go with what I like. It doesn't have to be expensive—I love vintage shopping, because I love finding steals and treasures. That's what style is all about—it's not about wearing a full designer look all the time. Even though I love that, too!
Have you considered acting?
If it was the right role, I would do it, but I've never trained to be an actor and I can't claim to have that talent. I do believe that modeling is similar to acting—I feel like I take on roles every time I do a job.