Her wear-everywhere styles are partout on the East End, but how well do you really know Ramy Brook designer Ramy Brook Sharp?
Sebastian Faena and Camila Morrone are familiar faces to your brand by now.
I love working with both of them. Sebastian and Cami have been doing our campaigns for more than a year. He gets my vision, and I understand his vision. He's so artistic, and I let him do his thing. He and Cami have a wonderful relationship.
Your studio in New York is painted orange. Why does the color speak to you?
When I started the company, I was in my bedroom, playing with different names, logos, colors, and fonts. I wanted to pick a color that didn't mean it was only a women's[wear] company or only a men's[wear] company. Orange can be a color for any gender, and I always loved the Hermès shade — it's so sophisticated. Orange represents something bright and happy. When you walk into a place that's a bright, happy color, it gets you in the right mood.
You manage to have quite a few snacks on hand.
I'm a big fan of Gummy bears — they're my favorite snack. I don't know if you've been to Economy Candy [in Manhattan], but you can buy everything by color. I also like Starburst. I really like the pink ones the best, but I get orange for the company.
Sounds like you have a sweet tooth!
I love candy, unfortunately. I [also] like Swedish Fish and Mike & Ike — everything chewy.
We recently saw you on stage at Bloomingdale's discussing female empowerment. Why is that topic important to you?
It's really important that women have respect for other women in the industry. It empowers them to do something great — and that can mean so many different things. It doesn't necessarily have to be in the business world. When you see other women thriving and being successful, happy, and multitasking, it's inspirational. That's basically how I grew up in life, and it's important now to pay it forward and help out in any way I can.
Do you get nervous when you're on stage?
In the beginning, when I used to do stuff like that, I was definitely nervous. But [at the Bloomingdale's event], I wasn't. I was surrounded by a lot of friends and interesting women, and many of them brought their daughters. Even my parents were there!
What was some of the feedback that you got after the panel?
Everyone thought it was interesting; my friends and family were proud.
What are your sisters like?
My older sister always beat her own drum. She was really interesting. She was into vintage shopping before it was even a thing, and she always loved going through my mother and grandmother's jewelry. On top of being smart — she's a psychologist — she's written two books and done stuff on TV. She's always been hugely motivated, and so that was an influence for me. She also included me in everything she did, which was nice, because we were three grades apart. When she was a senior, I was a freshman and you don't always want to bring your little sister out with you. But she didn't mind. We grew up in New Jersey, but she always came into the city, so I felt safe coming in with her.
What about your younger sister?
We're closer in age, and we became the best of friends when I left for college. We did everything together. She's really supportive. My first trunk show ever was at her house in New Jersey. She's very stylish, too, so when she gets dressed and her friends see her, they love what she's wearing, and that helps promote Ramy Brook.
How did you spend Memorial Day as a kid?
I grew up in a small town called Chatham, and everything was focused around it. We grew up with a parade and block parties. I played a lot of tennis growing up; I was also on the swim and diving team. We never traveled anywhere, but we were always surrounded by family and friends.
What do you plan on doing with your kids this Memorial Day weekend?
We go to the Hamptons every year. My oldest son will be back from college, so we really get to enjoy our family time out there. My husband loves to cook, so a lot of our weekends are about eating and cooking. We play golf, too. It's mellow. Nothing is planned to the T. I have an open-door policy with the kids and their friends, so if they want to have people over, we welcome it.
When you have guests who are new to the Hamptons, where do you take them?
We love going to The Palm East Hampton — good food, good vibe. We also go shopping in Southampton, because there are so many stores there. The boutiques in East Hampton are fun, too, but Southampton has so many different types of stores. I always like to throw in an exercise class, too — either SoulCycle or Tracy Anderson.
What can we expect from your upcoming collections?
Art and travel always inspire me. It may be just through a walk in a museum or something I see in the street. But living in New York, there's so much to inspire me. Spring represents a time where the sun is shining, the weather is nice, and you can show a little more skin. We're going to design pieces that let women go out and take them from day to night.
Are there any specific styles that you're going to be introducing?
We're breaking into more of the cut-and-sew category, and we'll also be showing some sweaters. We've been dipping our toe in that for the past couple seasons, but going forward, you'll see a lot more of it. We'll also have more casual pieces that go with the denim.
Any other expansion plans?
We are close to opening up a new store. It's not official — I don't want to jinx myself — but hopefully, it will happen soon.
STYLE SAVIOR!
Ramy Brook Sharp shares her top tips for a memorable Memorial Day outfit.
What to wear if the weather dips:
I am obsessed with our new Lucas Sweater, which has an unexpected lace-up detail in the back. It's perfect for the transitional weather, while also feeling sexy. Paired with jeans, it's great for that Memorial Day barbecue.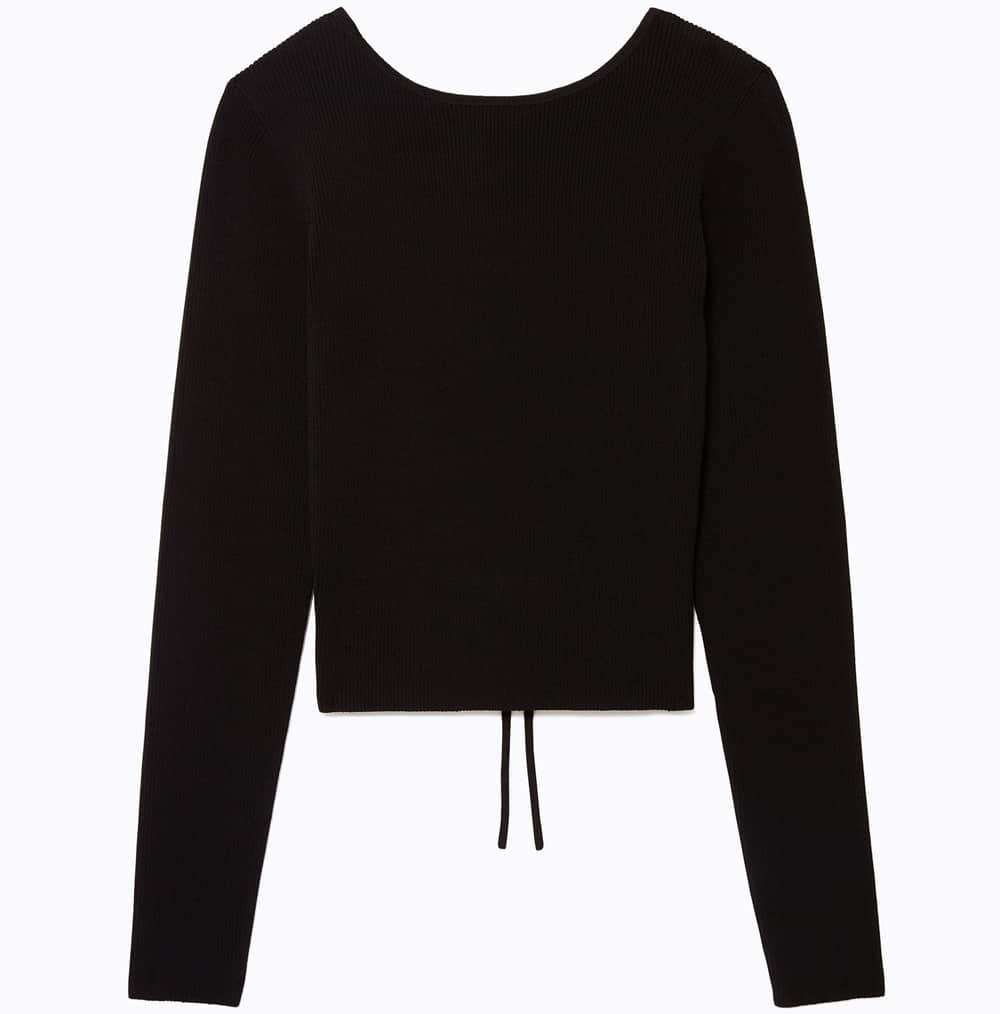 The Lucas sweater in black, RAMY BROOK, $295
For the girl who isn't sure of her plans:
For times when I don't know where the night will take me, I like having little dresses on-hand that work no matter what the occasion. A cute example is this zipped denim number from Zara. It is fun, easy, and appropriate for most functions.
Zippered denim dress, ZARA, $39.90
To kick summer off with a bang:
Once the weather gets warmer, I tend to gravitate toward bold, happy colors. From my clothing to my shoes, I like to brighten everything up. When I spotted these Sophia Webster espadrilles, I fell in love. They just scream summer and are fantastic for a fancy day party or for a night out.
Lucita suede espadrille wedge sandals, SOPHIE WEBSTER (available from Net-a-Porter), $350
A must for your wardrobe, day or night:
Everyone needs a fabulous jean jacket. This one from H&M checks all the boxes, and I always carry it with me.
Read the complete new issue of The Daily Summer below.
 Subscribe to our newsletter and follow us on Facebook and Instagram to stay up to date on all the latest fashion news and juicy industry gossip.