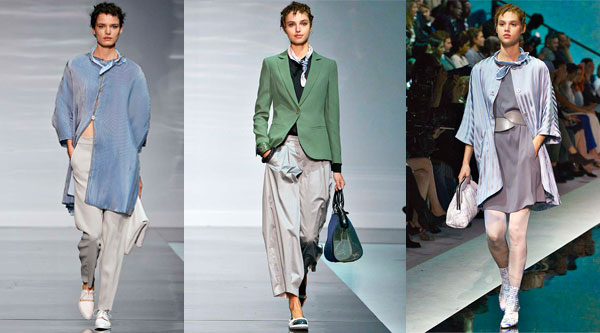 Milan Spring 2014: Emporio Armani, Sportmax, Etro, Blumarine
|
(MILAN) Emporio Armani 

Held at Armani's via Bergognone digs, guests entered the stark concrete space into the their stadium seating setup to view the latest collection. Out marched models in pairs, donning a full spate of pastels. For example, a sea green blue short sleeve sweater top was worn over a lighter green silk dress; the same look was also done in a dusty blue hue. Both were worn with matching gradient patterned sheer stockings (not unlike the styling at MaxMara…major tights trend, anyone?). The strongest looks were, of course, classically Armani: grey cropped wide leg pants worn with a button down and a grey blazer, say, or the same wide leg pants done in periwinkle and navy worn beneath a swing skirt dress with a cut-out floral top for the full-on monochrome effect (another trend to note, just three days in!). It was a huge, 95-look collection that evolved into flowing, floral tiered and empire waisted dresses and floral pantsuits. In short? A clean-lined vision for spring that was was full of the brands' hallmarks. If the suit fits, wear it. If the formula works, work it. And so Mr. Armani did.
Sportmax
Designing a collection with one simple theme can run the risk of being monotonous, or even boring. But with a talented team at the helm of Sportmax, the persistent use of polka dots erred on the side of fun rather than snooze-worthy. The dotty motif took shape as huge circles on a nude camisole dress; coating a knit sweater in black dots; peppering a silk tank and pant combo, underscoring the charm of well-placed spots. Textures were cleverly mixed: a circle-shaped netting covered a simple white pencil skirt, while a silk burn-out outfit featured the basic shape as well. In addition to the geometry lesson, a sweet collarless trench in soft suede made an appearance. Also, mules in a range of colors sauntered the catwalk, both with and without furry pompoms. But it all comes full circle, as those furry bits were orb like in appearance. A+ for consistency!
Etro
Beloved for their prints and fabrics, Etro's lucky show attendees each received an Etro pillow made out of a mix of luxe fabrics. Perched on their pillows, editors sat pretty as Donna Summer's "Sunset People" lyrics set off the show. As for the lyrics? "In between pretty girls, still 16 but know the world…" Essentially, it's about being young, wild, and free. The eclectic set of influences included Veronica Etro's grandmother's patterned bookshelf, the exotic blooms of Indo-China, and precious metal work of the Ottoman empire. The influences may have been from times past, but the look was youthful. Filtered through an American perspective, it was hard to shake the wild west-L.A. bohemia vibe. There were cropped wide-leg pants in a hue of blue, festooned with horseback riders, topped with a paisley printed jacket and a cowgirl-styled scarf. Draped halter neck dresses with low slung waists, a shiny disco style cocktail dress in a sandy nude, and striped crocheted tops worn with slouchy pants made for a more laid back feel. The brand is perhaps targeting a younger customer with its latest offerings—and who isn't these days? As one attendee was leaving the show, his runway party favor in hand, he said to a friend, "So when are we having a pillow fight?" That's the spirit of feeling forever young.
Blumarine
"Of lights, shadows, butterflies, and flowers, a hidden garden on a summer night." If that sounds rather sweet, think again. This brand is Italian, after all! Although the first looks did come out looking pure and soft, done in all white or nude, like a lacy white baby doll dress or a nude gown with embroidered white flowers, it wasn't all that innocent. There was plenty of sex appeal. That nude dress? Nude, indeed…it was mostly see through! But what followed many of the white lacy floral numbers were some pieces that were fit for a night out on the town. For instance, a red leather pencil skirt got paired with a sheer black t-shirt sporting silvery beaded embroidery, and a black party dress was fully dusted in blingy silver crystals. The more sinister side of Blumarine also emerged in the final two looks: a black sequined cocktail dress with ostrich feathers and a tulle train worn by Lindsey Wixson, followed by a supershort white minidress with flecks of black also blanketed in ostrich feathers. A classic case of good girl gone bad? Maybe. A hidden garden on a summer night seems like a pretty apropos spot for feeling a tad bit naughty.