Get ready for the next installment of the Fitness Dossier, the addictive column that explores (and tests) the most-talked-about fitness obsessions, from chic boutique studios to luxe fully equipped gyms to pop-ups and beyond. This week we spotlight modelFIT—and while the name implies that the workout will give you the waistline and sculpted arms of a Gigi, Gisele, or Joan (it's possible!), don't be deterred—the class was made for mere mortals too! Founder Vanessa Packer fills us in.
Before modelFIT… I worked as a stylist and creative consultant. I definitely hit a little bit of a wall, and I couldn't visualize my future in the fashion world. I've always been interested in health, wellness, and fitness—when I was growing up, I was very athletic and into healthy food and juices before it was commonplace. I got my holistic nutrition degree while working in fashion. I found that I'd be on set helping someone with a food journal or giving them advice on what they should be eating.
The modelFIT mantra: Grace, strength, and a confident presence.
The method: It's mostly rooted in applied functional science. We want to sculpt, lean out, and tone the body. We do that by not focusing on the larger muscle groups, but by really getting into the tiny, almost secret-like, muscles—the ones that tighten your inner thigh, your side body, the back of the arm, the upper abs or the lower abs, even the part above your knee. Oftentimes we'll hear, "I didn't even know that muscle existed!" 
The backstory: I opened the studio in 2014 and we hit the ground running. There weren't as many options in the Bowery area, so it was very underground and cool. Now it's the epicenter of everything. I remember trying to explain a boutique fitness studio and people were so confused. Back then, they had only heard of yoga studios and SoulCycle, but even then it was really different. And now, people are just so interested in it and passionate about it and much more open, I find. 
Early devotees of modelFIT: We had all of the VS girls and Karlie Kloss and Taylor Swift were two of our first clients. It was before models and fitness studios became a thing.
Advice for newbies: Get a spot closer to the teacher and pay attention to the little things, like the way your feet are rooted on the ground and what direction they're pointed. And really just to pay attention to the teacher and the little things and not just to push through it, but to work at your own pace, is a really effective way to feel the class in the best way.
The biggest misconception: That it's just for models!
Class soundtrack: There's a good selection of Beyonce and Rihanna. There's some great house music, too. We're really into Flume, there's a good amount of LaRoux, and then there's hip-hop like J. Cole, the new Kendrick Lamar album. It's a good mix of what's contemporary and hot right now but also great throwbacks.
Post-class fuel: A big, delicious green smoothie with vegan protein in it and some berries.
If modelFIT were a fashion house: ModelFIT would be '90s Calvin Klein, effortless, clean, minimal, monochromatic—maybe because I'm a child of the city and the '90s!
Earliest fitness memory: My mom used to run and go to the gym. I played a lot of tennis as a kid, and I swam a lot. My older brother and I went to tennis camp, came home, and watched the US Open—living and breathing tennis in the summer.
Go-to workouts: I love hot yoga and I love running, preferably outside.
We'll never find you… Doing a bootcamp-style or Crossfit-style class.
Classes clocked weekly: I try to take class at least four times a week.
The modelFIT "diet": I'm definitely someone who likes to eat for the seasons, so whatever's freshest at the farmer's market. Lots of fruits and vegetables, lots of lean protein. If I feel like doing pasta or something heavier, I'll do it for dinner. Whatever's local, that's my jam.
The modelFIT outfit: Brands that we love are: Chorale, Outdoor Voices, Barley, Sweaty Betty, Nike, and HPE.
What's next: We're really focused on creating a digital streaming service for clients who don't have access to our studios and for clients who travel a lot.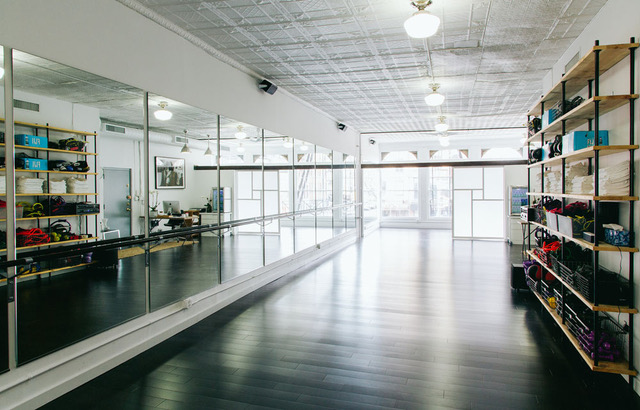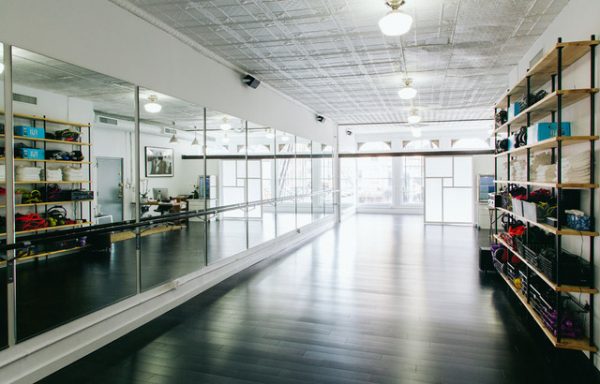 212 Bowery, New York, NY 10012
(212) 219-2044