When it comes to capturing the essence of summer, Tory Burch is in a class that's entirely her own. This season, she debuts her latest fragrance, Nuit Azur, which nods to night-blooming flowers, a coastal breeze, and the scent of an evening swim. Burch explains its inception.

You've cited the Mediterranean as one of the inspirations for Nuit Azur. Where are some of your favorite places to travel there, and what aspects of those places directly inspired the notes of the fragrance?
I fell in love with the Mediterranean at a young age. Every summer, my parents would take a big steamer ship to Italy, France, Greece, and Morocco and come home six weeks later with the most incredible stories from their travels. The Mediterranean took on this almost mythical quality to me. I have traveled there many times over the years, and I've always been taken by the sea. We wanted to capture the essence of the Mediterranean at dusk with this fragrance. The crisp scent of violet leaves and salty fig remind me of that last dip in the water before sunset. It's exotic, but also familiar.
Where are your favorite swimming spots in the Mediterranean? Do you have any scent memories from those experiences?
All the beaches are spectacular, and I love exploring them by boat. My boys and I recently came across a small, secluded cove on our way to Giglio Island. They spent the day diving for ricci di mare. Their hair smelled salty for hours afterward.
Why do you find the water to be particularly magical at night?
I love the beach at dusk. The sand is still warm, but the air has gotten cooler. There's a gentle breeze, and the beach is empty. There's a quiet, natural beauty about it that I appreciate.
What was your concept for the bottle design?
The bottle is a deep blue ombre, a nod to waves captured by the moonlight.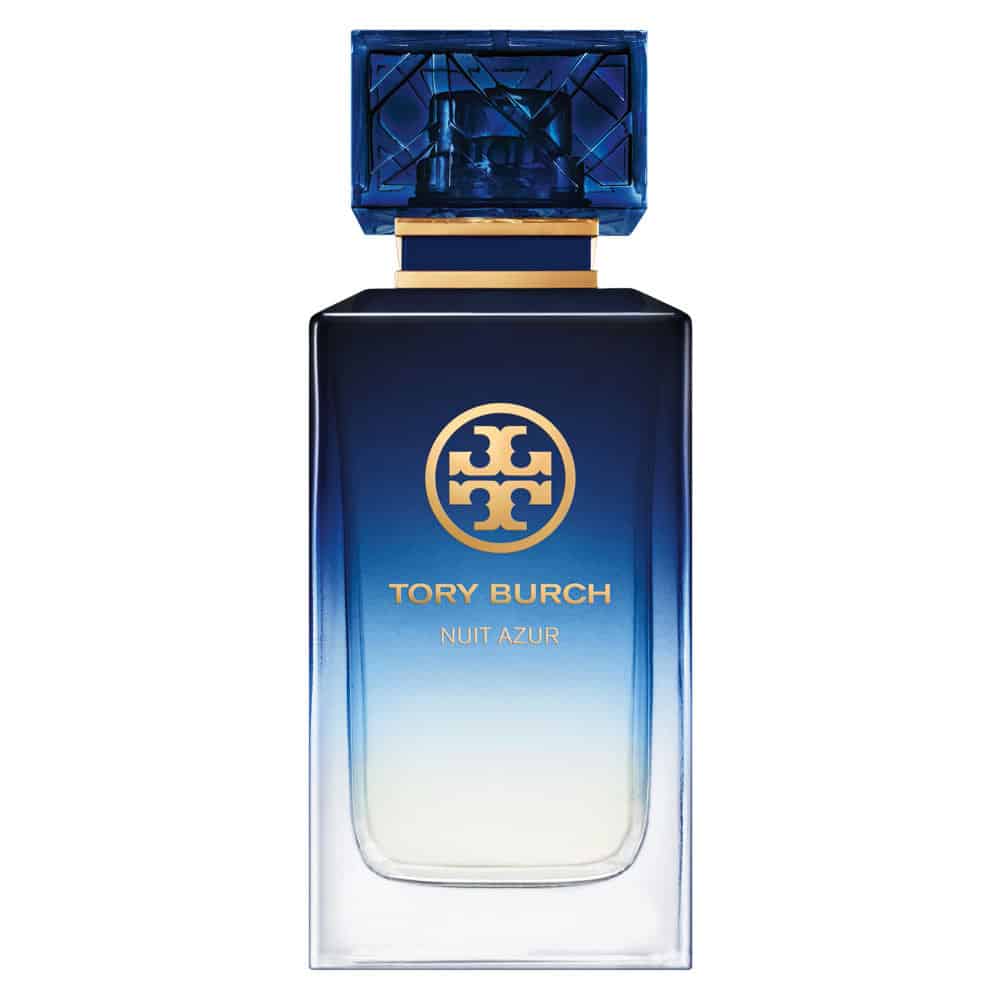 Nuit Azur Eau De Parfum Spray – 3.4oz / 100ml, TORY BURCH (Available at Sephora), $128
Do you remember the first fragrance you ever wore? Why did it make an impression upon you?
Besides Love's Baby Soft in sixth grade? Vetiver by Guerlain; it's a scent I borrowed from my father. It was his signature scent; he wore it every day. It's such a distinct smell. I have three brothers—they all wear it and so do I. The scent is definitely nostalgic for me.
What is your own attitude toward fragrance today? Do you wear the same one every day, rotate among a few, change your fragrance for the day or evening…
My daily beauty routine is quite minimal, but I do wear a fragrance almost every day. I don't change it up that often, but when I find a new scent I love, I will. I've been wearing Nuit Azur all the time now. I spray it on my collarbone and in my damp hair after the shower.
Where are you traveling this summer, and what do you plan to do there?
I spend most summer weekends in Southampton with my boys. We spend the day outside swimming, clamming, playing tennis.… We bundle up in blankets and watch the sunset from the beach almost every night. Then we usually go back to the house and play a game of Scrabble. It's my idea of heaven.
Subscribe to our newsletter and follow us on Facebook  and Instagram to stay up to date on all the latest fashion news and juicy industry gossip.