The fashion, beauty, and wellness worlds are buzzing about WelleCo's powerful Super Elixir Greens. Dr. Simone Laubscher, PhD, who formulated the groundbreaking product, explains the phenomenon.

What is your professional background, and what do you specialize in now?
I am a naturopath, clinical nutritionist, and life coach, and have been treating patients for more than 20 years. I hold a bachelor's degree in science, a master's in naturopathy and nutrition, and a PhD in oxidative stress. I'm also doing another master's degree at the moment in functional medicine and nutrition.
How did you team up with Elle Macpherson?
When Elle was approaching 50, she came to see me at my Harley Street clinic in London called Rejuv. She was referred to me by a friend of hers who I had helped on her successful cancer journey. Elle was feeling out of balance, craving sugar, gaining weight, and feeling out of control. After running numerous tests, I discovered that Elle had surprisingly high acid levels, her hormones were out of balance, and her cortisol (which acts like a fat magnet when we get too stressed) was too high. She was also low in vitamins and minerals. To counteract the negative effects, I gave her a selection of my organic, whole-food supplements to take daily to balance all her 11 systems. Three weeks later, she walked into my clinic in her leather skinny jeans looking amazing! I remember thinking, "Now that is Elle Macpherson!" Her skin was glowing, she was radiant, and she looked like a totally different person. It was as if a cloud had lifted. I will never forget Elle turning over her shoulder as she was leaving my office and casually saying to me, "Can you take all these products and formulate one powder for me that I can take each day?" To me, that is how Super Elixir Greens was born—45 whole-food plant-based synergistic ingredients—the ultimate nutritional foundation product that I now recommend to all my patients.
What was the concept behind the signature product?
When I accepted Elle's challenge, I had already been formulating supplements for many years, so I went right back to basics—that we are all biologically unique and what common ground I could formulate such an elixir from. I went back to my naturopathic and functional nutrition roots to create a formula that not only provided the body with the essential ingredients it needed, but also supported the body on a functional level. I often use the analogy of how you wouldn't drive a car for 40–50 years without having the engine serviced, so why do we expect the same of our bodies, which are far more high-tech? This is why many people don't get well. It is both the fuel and the function that needs to be incorporated for optimum health. Super Elixir Greens is a plant-based, whole-food nutritional formula that supports all the body's 11 systems and provides all the vital vitamins, minerals, and trace elements one needs on a daily basis. It helps reduce acidic waste linked to inflammation, low energy, weight gain, and accelerated aging at a cellular level. By reducing acid-forming foods and replacing them with nutrient-packed fruits and vegetables, the body can easily rid itself of toxins and allow the digestive system and liver to rest and recuperate. So it's quite simple—eat more plants, fewer animals, and take two teaspoons of Super Elixir Greens every day. We know that it is impossible to be 100 percent alkaline all the time. The body is in a constant state of flux, but if you live a balanced life and eat and live clean on weekdays and have a little fun on weekends, your immune system is supported and your toxic load is kept in check. If you do let your hair down, simply take an extra two teaspoons of Super Elixir before you go out to give your body all it needs to mop up any toxins from the night ahead.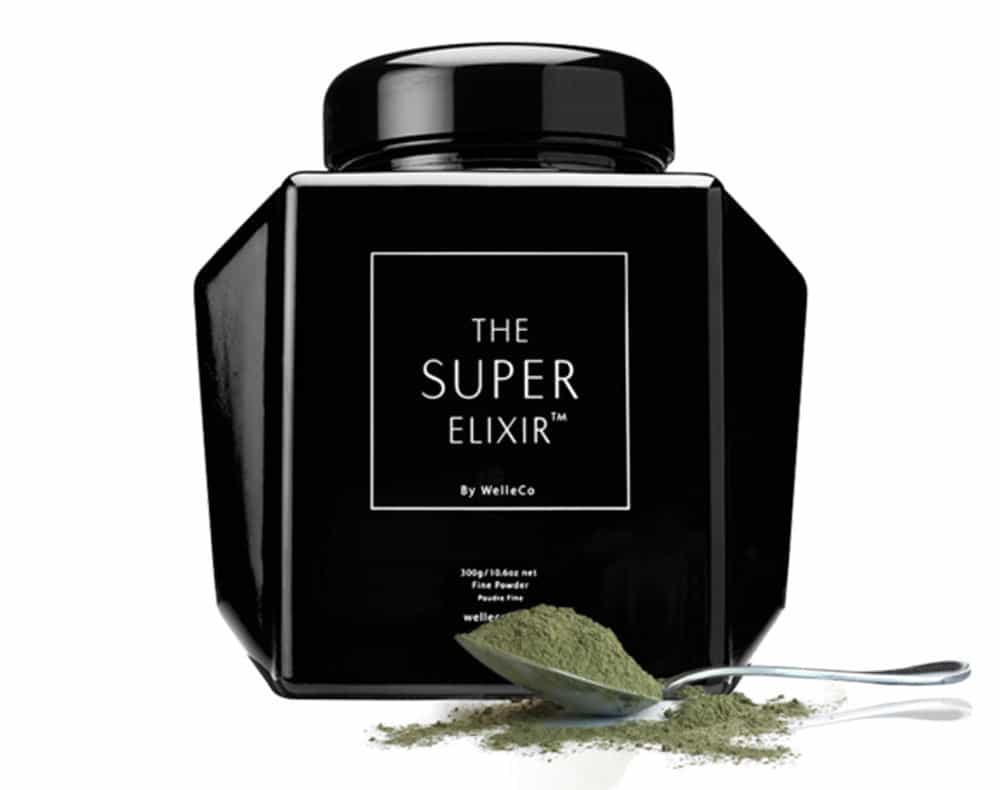 Super Elixir Greens 300g Caddy, WELLCO, $135
What makes the formulation so unique?
At WelleCo, we choose plant-based organic ingredients that help your body heal and repair from inflammation caused by modern living. When formulating the 45 ingredients, I ensured that they would synergistically work well together to create an accelerated effect.
What are its most powerful ingredients?
Super Elixir Greens contains 45 whole-food ingredients, including powerful supergreens barley grass, wheatgrass, alfalfa, spinach, and spirulina. All are nutritional powerhouses that help to balance the acidity in your skin and the alkalinity in your blood. When that balance is achieved, your skin holds moisture and your cells function properly, giving you that alkaline glow. The herb horsetail helps in maintaining strong hair, skin, and nails; dandelion helps support liver function; and when maitake and shiitake mushrooms are combined, they help maintain the immune system. I added pro- and prebiotics to support the digestive system; and acai, pomegranate, grapeseed, and rosehip powders, which are high in antioxidant properties; and vitamin A to help promote healthy skin elasticity, support healthy skin, and combat effects of aging, including pigmentation, fine lines, and wrinkles.
What are the primary benefits of an alkaline- and plant-based diet?
Good health tends to flourish in an alkaline environment, and disease seems to thrive in an acidic environment. The more acidic you are, the more you will crave junk foods and feel more tired and sluggish all the time. All our body's 11 systems work with a delicate balance between acid and alkaline. In the early stages of imbalance, symptoms are mild, such as skin eruptions, headaches, sinus, allergies, and a weak immune system. As these imbalances become more prominent, serious diseases can occur.
How do you incorporate the Super Elixir into your everyday regime?
Simply add two teaspoons daily with one cup of filtered or coconut water, or in a green juice or smoothie. Shake to combine, or blitz in a blender. Ensure to consume immediately after making, and an hour on either side of caffeine, as this can prevent the body from absorbing its potent ingredients properly.
What do you like about working with Elle?
I love Elle's honest, candid, and no-fuss nature. She's a brilliant businesswoman and truly lives the dream of a clean, balanced lifestyle. Elle is one of my easiest clients—she's super smart, asks the why's and how's, and once she understands it's good for her, she does it. It's that simple!
Subscribe to our newsletter and follow us on Facebook  and Instagram to stay up to date on all the latest fashion news and juicy industry gossip.