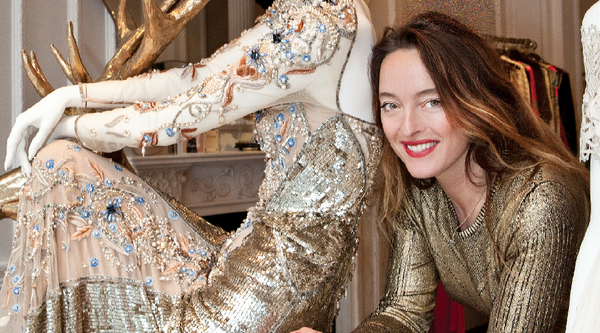 From The Daily Brides: Go Ask Alice (Temperley)
|
(NEW YORK) You've heard all about her ready-to-wear line, famously adored by The Duchess of Cambridge. But did you know British designer Alice Temperley also has a booming bridal business? We sat down with Temperley to find out how she reinvents the white dress, season after season.
BY PAIGE REDDINGER
What can a client expect from a bespoke bridal dress from Temperley?
We pride ourselves on our family-like service, which seems to offer our brides something different. In terms of attitude, there's a Temperley type of bride, and they form a kind of community. We offer a truly personal experience using the finest silks and French lace. We just re-launched our Notting Hill store as a destination bridal boutique. We also created an atelier for private bridal appointments that offers a very special location for choosing the most important dress right underneath my design studio.
What changes have you made?
The Notting Hill boutique has expanded and now covers two floors. The retail space has a beautiful bridal floor, which sits below my studio with my tailors and pattern cutters in the adjoining building. I'm always there. The first floor bridal salon is stunning but homey, and consists of two private rooms. The front of the building has a huge Union Jack mural so it's quite an iconic space. It's a unique experience to create gowns for one of the most memorable moments in a woman's life.
Is it hard to reinvent the white bridal gown?
Bridal is a wonderful area to design for as you are designing the ultimate dress. It has to be the perfect blend of functionality and fantasy that is hopefully treasured forever and passed down for generations to come. Bridal gowns allow me to escape into the most escapist designs of fantasy and romance, which is the most enjoyable part of how I design. I've never found it difficult! We do have new styles, such as separates and jumpsuits, that I also bring across from my main line runway collection, so it always stays fresh. I design for every kind of bride, which gives me room to experiment with new shapes and styles. We also just launched a new range of shrugs, veils, and accessories.

How would you describe the Temperley bridal customer?
Everything is designed for the Temperley woman, who cannot be pinned down to one person, age or personality. She varies vastly. Someone who is independent, strong, sexy, and pays attention to detail, and doesn't follow trends for the sake of it. She's a timeless woman.

What styles are popular for today's bride?
We've introduced bridal separates into our collections. I think brides are moving towards more alternative styles and colors, too. My favorite look from the Titania Collection is the Heather skirt styled with the Petunia blouse. It's perfect for the modern bride, but has more volume in the skirt and still uses our signature Temperley lace.

You recently took on a new CEO, Ulrik Garde to expand your business. Does he have any plans in mind yet for your bridal line?
We want to become a leading independent luxury lifestyle brand, focusing on bridal as a strong part of the company. I truly believe, as we enter our 14th year of business, that the best is yet to come.
What's the best part of working in the bridal business?
I love seeing photos of all the amazing Temperley brides wearing our gowns! It makes me wonder why we even shoot campaigns when our brides are all so beautiful and wear my imagined dresses so perfectly! Those are the best moments—when you've been given the honor of designing the most important dress and see how happy and free they look in it.