Read today's dose of chic intel right here…
Equinox Owner Helps Raise More Than $13 Million For Trump (Out)
Despite calls for boycotts of Equinox and SoulCycle last week, and Prabal Gurung pulling out of showing at Hudson Yards, Stephen Ross went through with his planned campaign fundraiser for Trump in the Hamptons this weekend. More than 500 people attended the Bridgehampton event, which raised over $13 million. Meanwhile, about 100 people protested outside Equinox and SoulCycle locations in Los Angeles on Friday.
Fallon Jewelry Exits the CFDA in Protest Over Jeweler Kara Ross' Seat on the Board (Instagram)
Dana Lorenz posted an open letter to Tom Ford, Steven Kolb, and the board of the CFDA on Instagram canceling her membership to the organization. Lorenz cites Kara Ross' seat on the board as the reason for her exit. Ross is the wife of Stephen Ross. "After many years of membership I will no longer participate if a woman that funds the current administration remains on the board," she wrote. "I do not feel her views speak for me as a member and I will not allow her to make decisions on my behalf. I thought about this decision well, and although I appreciated support in the beginnings of my career, I no longer feel the membership represents me."
View this post on Instagram
Coach Launches Super-Cute Tabitha Simmons Collaboration
Shoe designer Tabitha Simmons has created her first-ever handbag as part of a capsule collection for Coach. Simmons designed a crossbody bag based on the brand's Suspender Pouch from 1973.  "I was thrilled to design my first handbag," she says. "I especially loved going into the Coach archives and seeing the beautiful leathers and timeless shapes from the '50s and '60s." Naturally, she designed some footwear for the label as well. Inspired by Simmons' own wardrobe, the pieces feature prints used in the Spring '16 collection. The Coach x Tabitha Simons capsule is available available online now.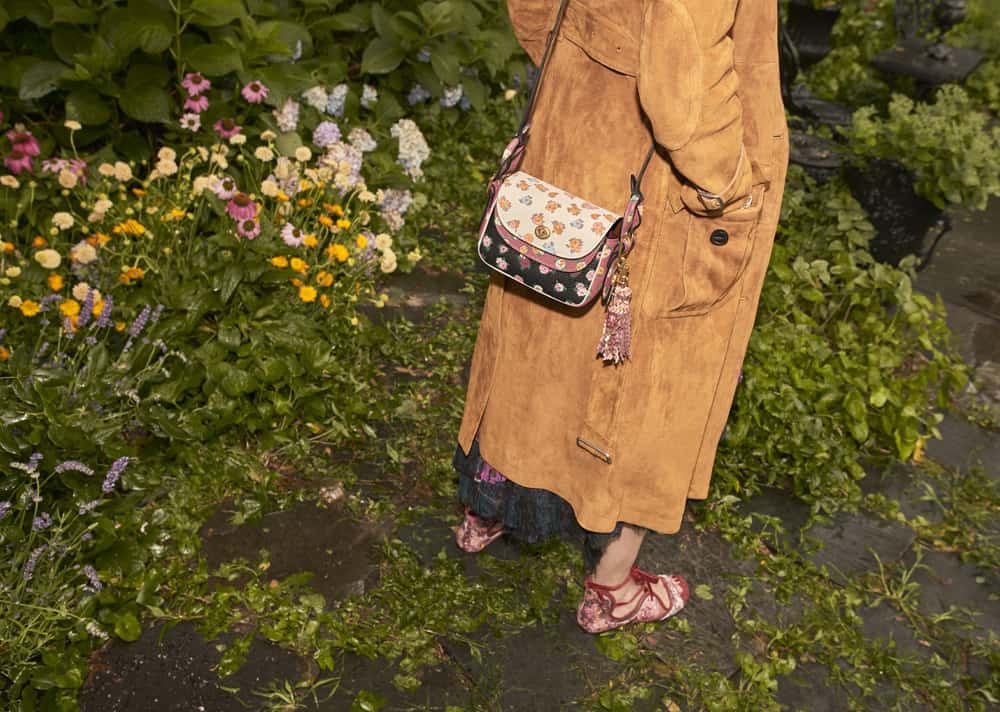 Loeffler Randall Launches First Ready-to-Wear Collection
Jessie Randall is making a small foray into clothing with a limited-edition capsule collection, designed to be paired with Loeffler Randall shoes. The five-piece collection features a skirt, two dresses, and a top. "I loved the idea of starting very small, making an edited selection of pieces in tiny batches that are only available on our site," says Randall. "Realizing the full LR look from shoes to bags to jewelry and now clothing is a dream come true."
Gretchen Maull Hosts Wellness Is the New Wealth Event in the Hamptons
Last Saturday, Gretchen Maull of GG Maull handbags and Shameda Shah hosted the first annual Wellness is the New Wealth yoga and shopping event in Southampton. Elisabeth Halfpapp, a fitness guru and founder of Exhale, lead a flow class followed by a poolside panel on health and wellness. Guests enjoyed Blue-Zone bites from Zach Erdem's Blu Mar and shopped pieces from GG Maull, Paul Iritiano, and Eleanor Balfour.
Subscribe to our newsletter and follow us on Facebook and Instagram to stay up to date on all the latest fashion news and juicy industry gossip.