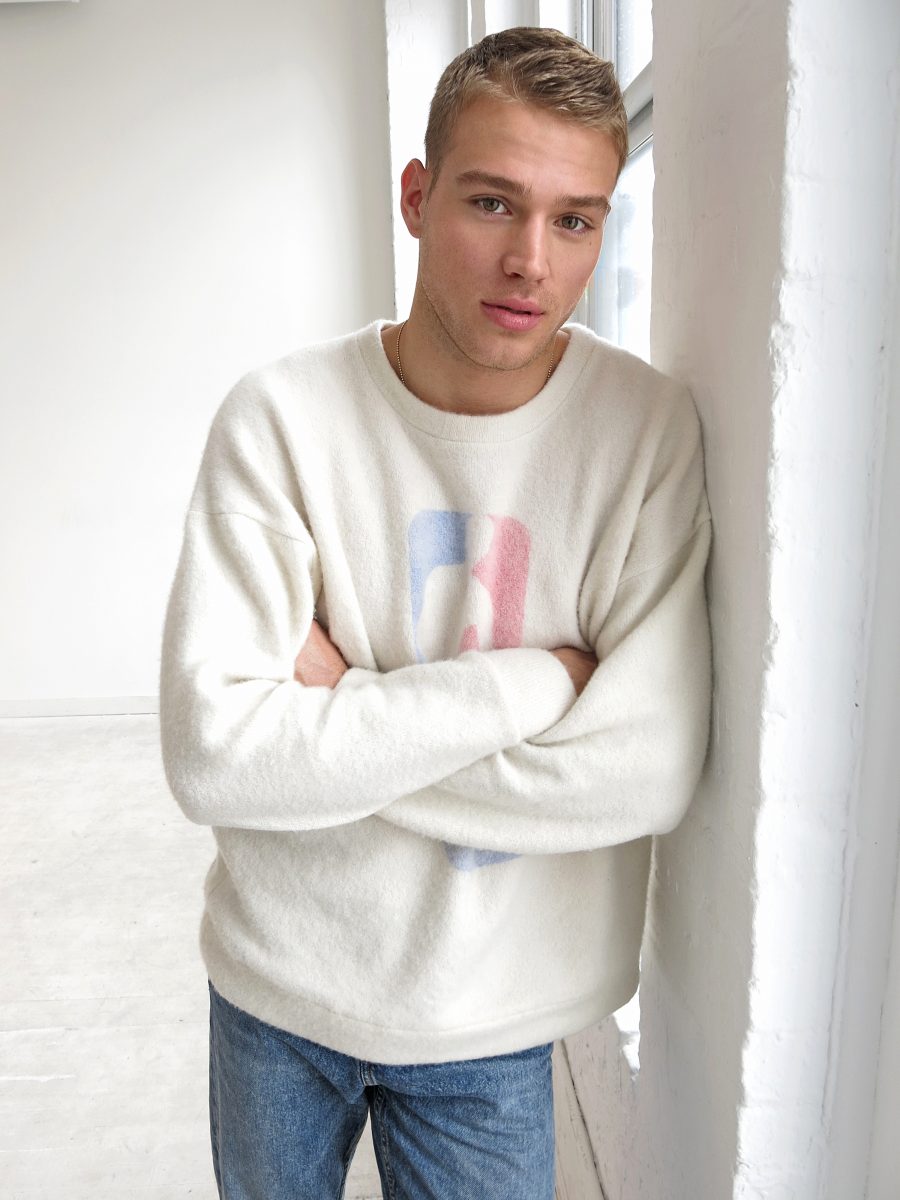 Matthew Noszka is living the modern-day fairytale. Plucked from obscurity thanks to a shirtless picture on Instagram, he's now starring in campaigns with Gigi and Bella Hadid, has a fan in Ellen DeGeneres, and is enjoying the distinction of being the first dude on the board of Women 360 Management. It's no wonder why… 
You were discovered on Instagram!
I was playing college basketball, working construction and waiting tables and my mom had just gotten a new pool and she wanted a new deck for it. My friend and I took a picture of me shirtless building the deck and posted it on Instagram. I only had 500 followers, and the next thing I knew I got a call from [agent] Luke Simone saying that he was interested in seeing more. He sent me a direct message and asked for my digitals. At the time I didn't know that was normal. Now I know it is. I looked him up and he was legit and he got back to me and the next thing I knew I was booked to a Nike job. The rate was $1,500 for the day and I was making $7 an hour at the time. I thought I hit the jackpot.
You ended up on Ellen's show not long after being discovered. How did that happen?
That was pretty crazy. Cosmopolitan wrote an article on me, "Insta Famous," and it was right around the time that Instagram was really kicking off. Once that came out, a bunch of other networks reached out like Nightline and the New York Post. Ellen caught the buzz. Before she reached out to me, I told my manager that my mom loves Ellen and I suggested we take a shot and reach out to her show. You never know… A day later he called me and said, "You'll never guess what just happened! Ellen e-mailed and wants to have you on the show!" My mom couldn't believe it. She didn't get to go to the taping, but Ellen said that if I ever go on the show again, they'll fly them in.
Were you nervous talking to her?
I was definitely. But I like to think of interviews as conversations and meeting people. I know Ellen has a huge platform, but if you're yourself and speak from the heart, everything's going to go well. Ellen brings out the best in people.
We saw you in Jeremy Scott's show in September and you recently walked in Moschino. What's it like walking for him?
He's awesome. He's rooted for me from the beginning. He comes from a small town and has a lot of heart and passion for what he does, which is really admirable. I aspire to be like him.
What was it like wearing a Speedo down the runway?
I'm used to it now. But I remember when I first started modeling, I was never in my underwear in front of anyone unless I was in the locker room. To be in front of a bunch of people watching, specifically what you're wearing, it was pretty crazy. It's definitely an experience!
You're in the current DSquared2 campaign! Tell us about that!
It was shot in LA by Mert & Marcus. It was an honor to work with them. They are two amazing photographers. I feel the same way about Dean and Dan Caten. I got to work with Gigi Hadid, and my friend Mitchell Slaggert, which was awesome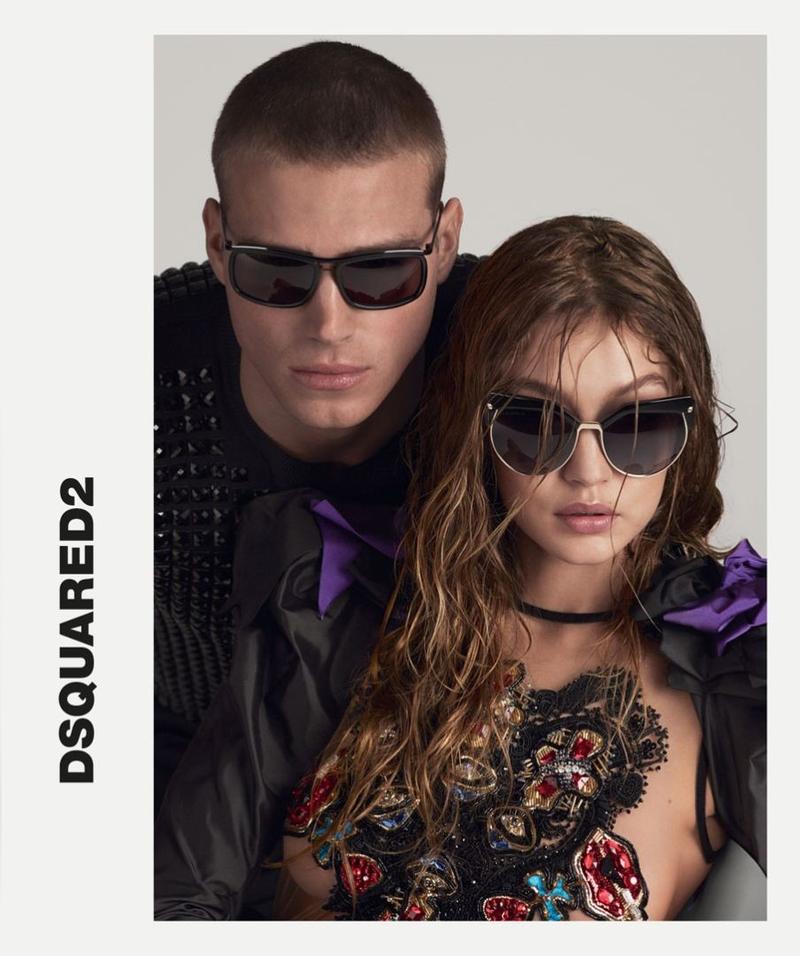 Fashion career goals?
Working with Mario Testino. I'd love to be on the cover of GQ. That's been a goal of mine for the longest time. I'm excited about anything that comes in.
Acting goals?
That's definitely the route I want to go. I'm back and forth between LA and New York. I've been busy modeling, but this will be my first pilot season. I'm extremely excited. I see myself in romantic movies and comedies. The Notebook is one of my favorite movies.
You don't hear that from a lot of guys!
It's a gift and a curse to be a romantic. I've had some heartbreaks along the way, but they've helped me to come back even stronger and realize certain things in my life that I need to work on. Being able to love is a privilege, and I don't take it for granted.
What do you do for fun?
I love riding dirt bikes. I like throwing a football around and play basketball. I work a lot and it's made me realize recently how precious time is with your family and friends. I'm trying to find the balance between that.
You're the only guy on the Women 360 board. How does that feel?
I was nervous at first. I wanted to work with Luke because he gave me this life and I always told him that I'd remain loyal to him. They're all great people and work hard for me, so I'm excited to see where it goes. People get a real shock when I come in for a meeting and they say, "Wait, You're with a women's agency?" Yup! That's me!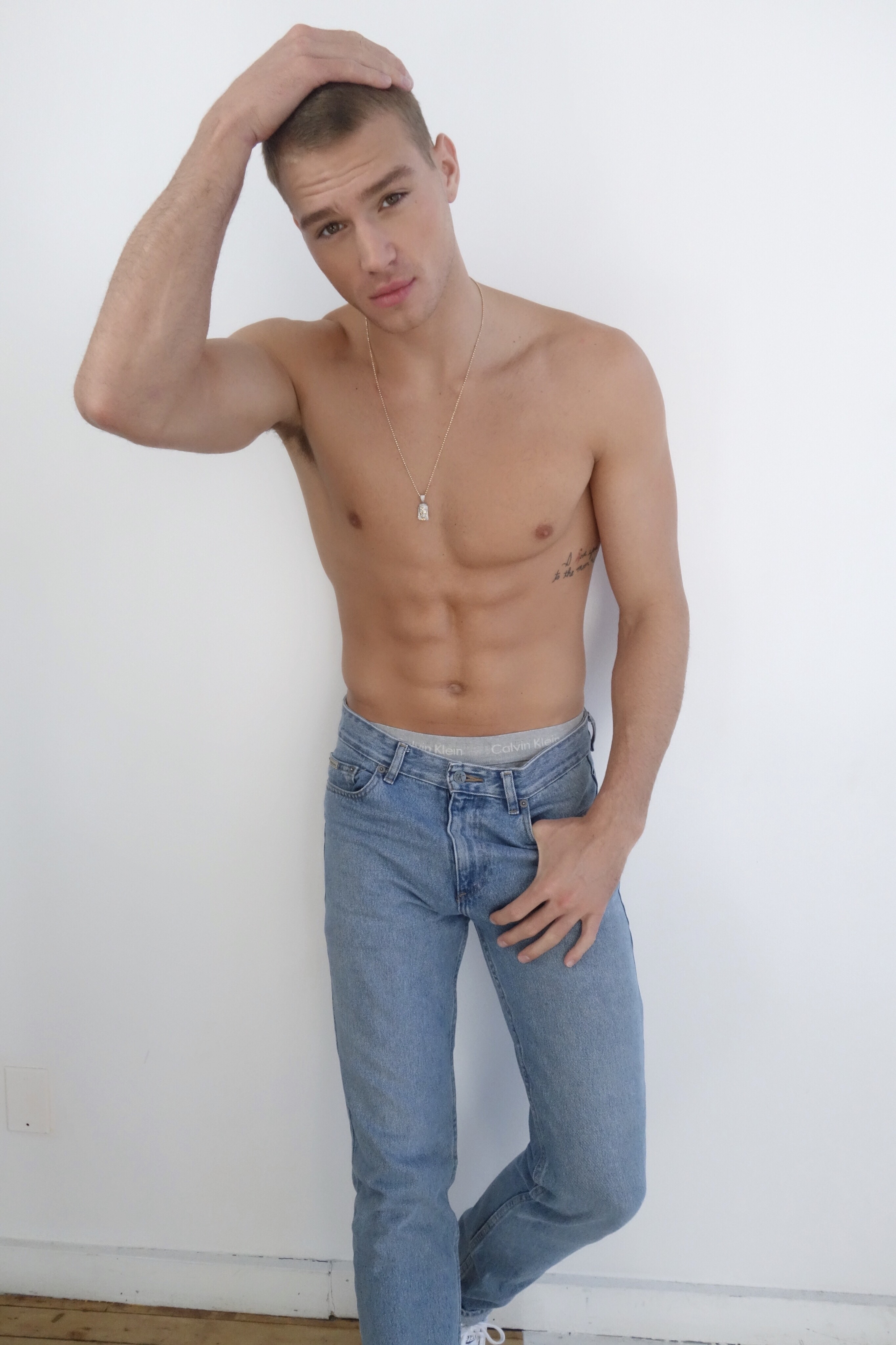 Do people ever tell you that you look like a young Ryan Phillipe?
I still haven't seen a photo of him. When I had long hair, I always got Brad Pitt. When I shaved my hair, I got Channing Tatum. Just recently I've had a few people say Ryan Phillipe. I've heard his name before, but I have to look him up.
There's a lot of push around you from the team at Women. Do you think that something big is coming for you?
I hope it does. I wake up every day and pray to God. I really want things to keep going the way they are going. Not only for myself, but for my family and friends. When you hear rags-to-riches stories or about people who have come up from the bottom and have so many material possessions, you realize that they mean nothing without friends and family. You can have nice cars and house, but without anybody to share them with, you've lost. When you believe in yourself, that's one thing, but to have a strong community that believes in you, that's powerful. I appreciate everyone who has been behind me to get me to where I am.
Do you have a special woman in your life?
[Laughs] Things are getting spicy now! I do. I have someone special to me. It's not exclusive, but I have a girl that I spend time with. I travel a lot. It's someone who is more a really good friend. All great love comes from friendship and in order to have the best love possible, not fairytale love, you have to be best friends with that person. I'm building that friendship right now and I'm definitely enjoying the time I get to spend with her.