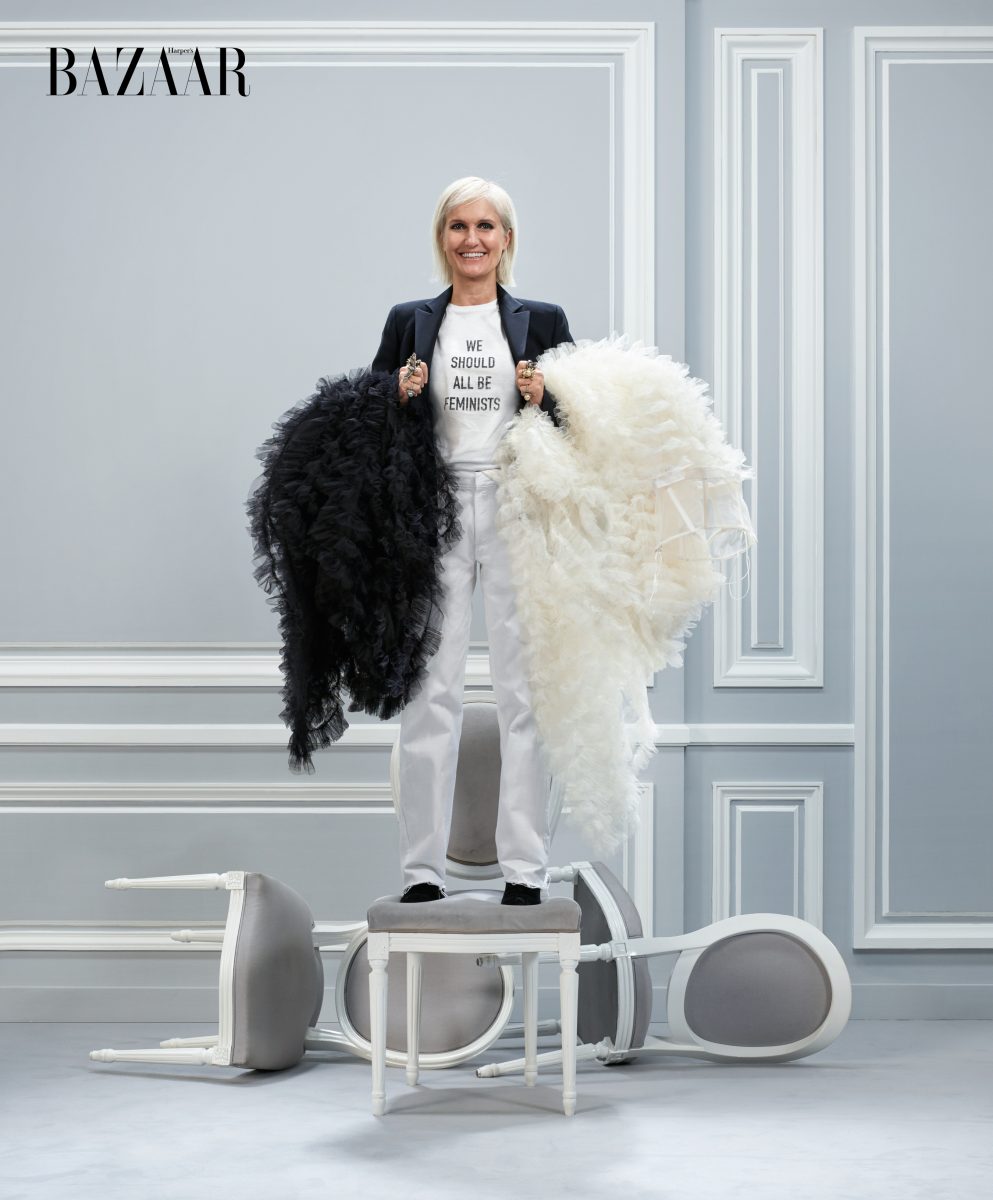 In Harper's Bazaar's March issue, Dior's new artistic director (a.k.a. the "new guard") Maria Grazia Chiuri sits down with the glossy's UK editor-in-chief Justine Picardie to discuss all-things fashion, feminism, family, and more. The designer, who is putting her stamp on the Parisian fashion house as the first woman to take charge of Dior, was photographed for a corresponding photo spread lensed by Jean-Paul Goude and styled by fashion editor Alex Aikiu. Chiuri wore head-to-toe Dior, from the clothing right down to the accessories, bien sûr, and to little surprise, her personality shone right through.
Maria Grazia Chiuri on becoming Dior's first female artistic director…
"When I came here, I said to myself, 'I have to work at this company in two different ways.' In one way, you have to be a curator, to work with the heritage of Dior. But at the same time, you have to give your point of view, so I have tried to introduce my personal style, and my personal point of view about the brand and about women. I think we have to reflect women now."
On fashion and her experience at Dior so far….
"Fashion speaks about dreams and magic, but it can also be playful, even joyful. And I'm feeling really happy about my new experience here at Dior."
On fashion and femininity, and her approach speaking to Dior's broad spectrum of consumers…
"As a female designer, I want to have a dialogue with women. I really don't want to impose anything. I want to give a service and my point of view, but at the same time I want to understand what could be right for you—so it's a conversation. You can't dictate to women today. You have to offer an ideal wardrobe that can be worn in different ways, because I think that now all women—young or old—want to be unique. But at the same time they want to be part of a community. So I try to provide them with the opportunity to choose a piece, which can then be mixed in with their personal style."
On her commitment to feminism and the importance of independence…
"My mother was very modern and always worked and I never had to listen to my family saying, 'You have to find a husband.' Never. They said to me, 'You have to study, you have to find a job, you have to be independent, you have to earn your own money."
Click here to read the full article.