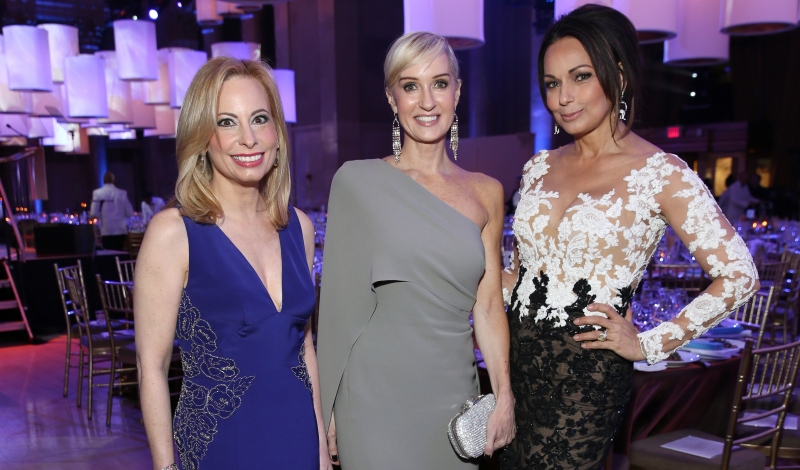 Getty Images
UNICEF's Snowflake Ball Attracts A Fashion And Celeb Packed Crowd, Raises $3.4 Million
|
Last night's UNICEF Snowflake Ball at Cipriani Wall Street brought out a chic crowd to take in some great performances, mouth watering food, and raise big bucks for the charity. Bryant Gumbel hosted the evening (his wife Hilary was also on hand to accept an award), which was the 10th anniversary of UNICEF's largest fundraiser and one of many that Gumbel has hosted over the years. "I've had the privilege of hosting almost all of them including the first," Gumbel told the crowd. "Back then Matt [Lauer] was sitting next to Katie [Couric], Regis [Philbin] was sitting next to Kelly [Ripa], Téa Leoni hadn't yet become Madame Secretary, Mark Teixeira and Tyson Chandler hadn't yet won championships in baseball and basketball respectively, and Barack Obama was still in the Illinois state senate." All of whom were in attendance save for Regis and Obama. Some applause fell flat at the mention of the latter prompting Gumbel to say, "C'mon really?" before adding, "A lot has changed in 10 years, but what hasn't changed is UNICEF's commitment to respond to a variety of global crises or that UNICEF saves the lives of more children than other humanitarian organization on earth and has been doing so for 70 years."
Gillian Miniter and Moll Anderson chaired the big event, which is no small feat with a crowd of this caliber raising funds in the multi-millions. They both started planning for the event alongside the UNICEF team as far back as a year ago. "It's such a glamorous event and there are a lot of celebrities and fashion figures, but at the end of the day it's really all about the children," said Miniter beneath the glow of the hanging lamps that represented the faces of children aided by UNICEF in 190 countries. "It's important to note that everyone here actually purchases their tickets and their tables, no one is just listed as a supporter. If you're on the committee, you are really committing to be on it." It was Miniter's first time chairing the event although she has long been involved with UNICEF. She has brought on designers like Lela Rose and Michelle Smith to the committee and the later was sitting at Miniter's table in a silver sparkly paillette dress in keeping with the evening's theme.
On that note, many well-heeled guests opted for icy, sparkling numbers like Smith. Katrina Bowden sporting a Badgley Mischka gown. "I just went into their showroom and saw this, and thought it was different from everything else I've worn. I felt like an ice princess," Bowden told The Daily of her look, "I think it's kinda snow-flakey!" Bergdorf Goodman's Linda Fargo also had on a particularly stunning gown to fit the theme, but we've reserved that for well-deserving separate post of its own.
The evening's performers, Norwegian duo Nico & Vinz known for their recent breakout hits "Am I Wrong" and "In Your Arms," arrived at the same time as actress Heather Graham. "I've never heard of Heather Graham," Nico admitted to The Daily earlier on the red carpet as Graham posed in a sea of flashbulbs behind him. But the rest of the guests definitely knew who Graham was. The actress pulled in $16,000 at the live auction as part of a package that included dinner with the actress and front row tickets to New York Fashion Week. We'll see you generous patrons in the front row next season!
Inside, the fashion camps assembled at a set of "who's who" tables. At one table, Linda Fargo sat alongside Derek Lam, Prabal Gurung, and Vogue's Rickie de Sole, while Joseph Altuzarra and Narcisco Rodriguez flanked a glowing Heather Graham at a second table. Though they were not alone. The foodies also made a strong showing. Top Chef host Gail Simmons was on hand to settle the debate between the three culinary masterminds who crafted the evening's meal. It comes as no surprise, she's happy to play favorites. "Marcus Samuelson! He's one of my closest friends," she gushed to The Daily, "We have a television show together. I adore him! He's one of the smartest, most globally minded, generous human beings." Samuelson, who is a UNICEF ambassador, was joined in the kitchen by Alex Guaranschelli and Scott Conant who kept fellow guests Katie Couric, Kelly Ripa, Téa Leoni, Angie Harmon, Sandra Lee, Gale King, and more all well fed.
Later in the evening, the legendary Tom Freston was awarded the Spirit of Compassion Award, while Hilary Gumbel, who looked absolutely stunning in a grey assym gown contrasted by her pulled back platinum locks, went home with the Audrey H. Hepburn Humanitarian Award. Gumbel was given the award by Hepburn's Luca Dotti. "I feel like this is my bat mitzvah. It's so wonderful! I'm not Jewish, but I'll convert," Gumbel said taking the stage with Luca to collect her award for her work producing the UniChef cookbook. She went on to give a rousing acceptance speech before ceding the floor to Sotheby's to raise additional funds for the charity. The evening concluded with Grammy award winning singer Jill Scott, who brought the house down with her power vocals. But what really topped off the night was the whopping $3.4 million that was raised in just three hours for UNICEF.