Steven Lagos, the founder and designer of LAGOS jewelry, is known for outfitting some of the most stylish types around town. Meet the maverick behind the beautiful baubles!
How did you first become interested in jewelry?
From a young age, I knew I wanted to live a creative life. I grew up in the '70s when there was a focus on craft, and it had a huge influence on me. I started with a small trade shop and was able to gain a lot of experience working with the more seasoned jewelers in town. They became my mentors, and I learned the techniques and skills to become a master jeweler. I began selling to a high-end department store in Philadelphia. Then one day, I cold-called Neiman Marcus, and a year later they were creating a new category of bridge jewelry and asked me to be involved.
Launching the brand, what was your initial vision?
I founded LAGOS based on the idea that jewelry is the most personal form of art you can own. I wanted to create jewelry that women would cherish and feel confident wearing. I saw that there was a gap in the marketplace for wearable fine jewelry, and I liked the idea of creating a product with a distinct point of view. I saw how Calvin Klein was building a brand with jeans, and I wanted to do that with jewelry.
How do you describe your aesthetic?
My approach to everything is form follows function. It's easy to make things that look great, but it's how things fill a physical or emotional need that make women cherish them.
How has that approach evolved over the years?
We're always looking for ways to innovate our Caviar designs. I travel all the time and get inspiration from all over the world. I consider myself a treasure hunter because I'm out in the world, always looking for new materials to use. I go to dozens of shows each year searching for the next thing. For me, it's really about taking old-world craftsmanship and enhancing it with technology, without changing what makes it special.
What do you consider to be your first major success?
Everyone measures success differently. I felt successful when I was running my trade shop. I felt successful when I first got into Neiman Marcus, and when we hit certain business milestones over the years. There hasn't been one major moment; I continue to celebrate the successes as they come.
How was the Caviar collection born?
Caviar is the signature design of LAGOS, featuring handcrafted beading that's present in every piece in every collection. It was born in the 1980s when I was working on a hematite necklace that reminded me of caviar, which universally represents luxury. It felt like the perfect fit for the growing brand I was building, and customers have really responded well to it.
How do you achieve that Caviar effect in the manufacturing process?
Our process is proprietary, but I can tell you that the Caviar beading is crafted in ateliers by artisan jewelers, and it takes hundreds of steps to complete a single Caviar creation. The unique texture is really a feat of expert craftsmanship and engineering. It's the nesting of the beads that make the jewelry move with the body and feel like a second skin.
What's the story behind the "Smart Caviar" piece? How does that work with the Apple Watch or another smart device?
I developed Smart Caviar because I'm a big fan of the Apple Watch design and functionality, but I felt it was missing a fine jewelry element. As with all our collections, I just wanted to offer options. So we introduced Smart Caviar, a fine jewelry bracelet for the Apple Watch. It's perfect for the modern woman who doesn't want to sacrifice style in order to stay connected.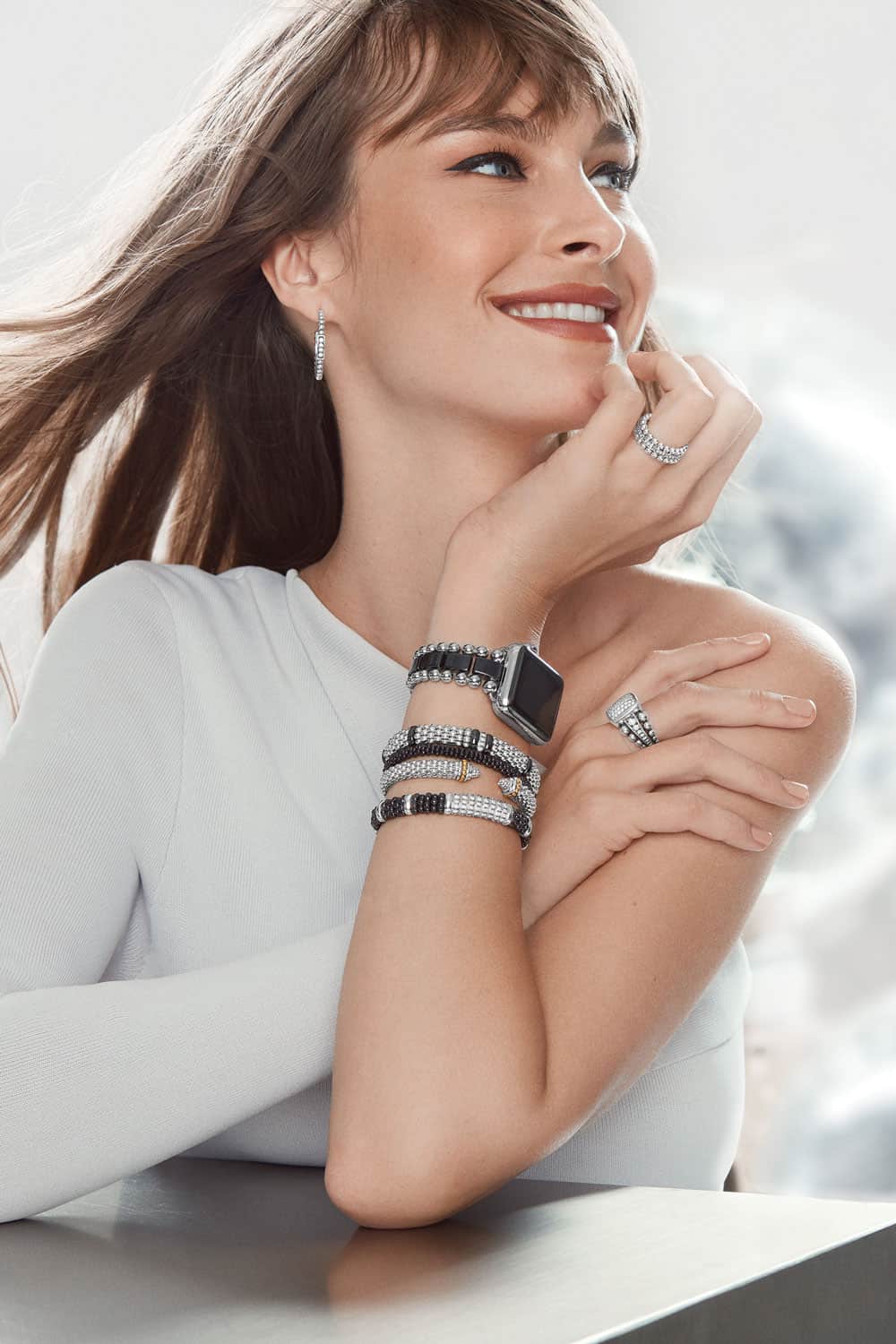 Where is LAGOS currently sold and distributed?
The brand is available at lagos.com, as well as luxury retailers such as Neiman Marcus, Bloomingdale's, Nordstrom, and more than 250 independent jewelers around the country. We also have a flagship store in Philadelphia's Rittenhouse Square. In terms of scale, we currently sell over 250,000 pieces per year.
Why is LAGOS so popular in the Hamptons?
Our signature Caviar design is comfortable, wearable, and easily transitions from day to night. It works for the Hamptons lifestyle because it has a look that can take you from the beach to dinner.
What are your most popular pieces at the moment?
Smart Caviar is one of those rare collections that has been both commercially and editorially successful. It was a huge hit when we launched and continues to sell. Our classic Caviar rope bracelets in 18K gold, sterling silver, and black ceramic are also customer favorites.
How has the advent of social media changed your business?
I've always been an early adopter of technology, so we were quick to offer online access to our brand. It's a great opportunity to connect directly with consumers in real time versus the old way, where we were only having one-sided conversations through advertising. Now, we can communicate with our loyal brand fans and introduce LAGOS to a new generation at the same time.
If you were to host a dream dinner party, who would the guests be?
I like spending time with interesting people who inspire me. The strong, bold women in my life would be first on my list—my daughter, my fiancé. Then probably some of the artists I follow and collect. In fact, I recently hosted a dinner party where we mixed journalists with politicians, artists, professionals in film and hospitality. It's fun to see so many different personalities come together and inspire one another.
Read the complete new issue of The Daily Front Row below!
Subscribe to our newsletter and follow us on Facebook  and Instagram to stay up to date on all the latest fashion news and juicy industry gossip.