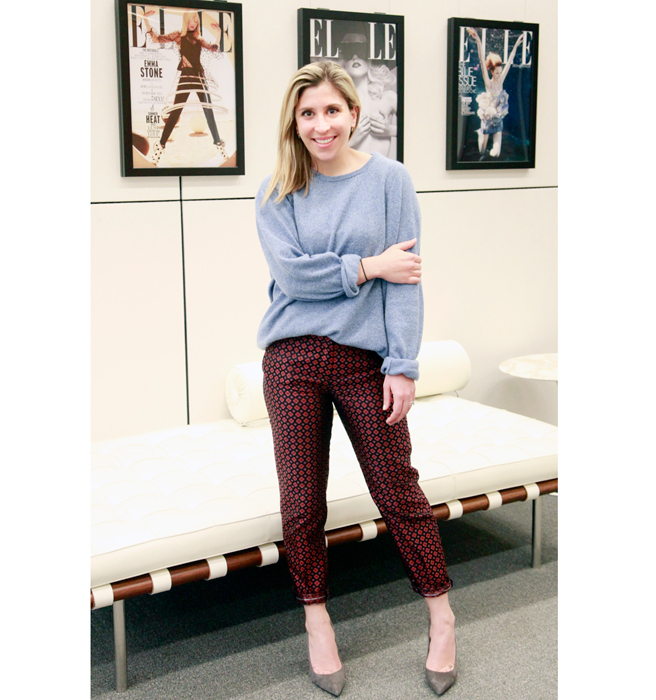 Justine Harman is departing Hearst Tower as senior entertainment editor at ELLE.com to become Glamour's senior editor, a major reentry into the print world. She gives the dish on where she's been (the early days of MK and Ashley's The Row and the pre-megafame era of Kylie Jenner), where you'll find her around NYC, and where she's heading.
First things first: Where are you from, and how did you end up in publishing?
I am originally from Washington, D.C. The summer between my junior and senior years at the University of Pennsylvania, I snagged an internship at InStyle, which I absolutely adored. That, coupled with the fact that my much older (much cooler) sister worked at Vanity Fair in the late '90s and a healthy obsession with the movie Don't Tell Mom the Babysitter's Dead, cemented my almost-idyllic impression of what working in magazines could do for a girl. I was hooked.
You were involved in the early days of The Row. Do tell!
So, back in 2007 I worked as an assistant at Wolf-Kasteler, a boutique entertainment PR firm that, to this day, represents Mary-Kate and Ashley Olsen. At the time I was hired, The Row was in its very first season and consisted of little more than a few gauzey T-shirts with that trademark back seam and some chubby pullover furs that were absurdly decadent. Because of my interest in fashion, the girls' publicist Nicole let me help out with what I think we originally assumed would be a minimal amount of work on the account. Well, as we know now, the pursuit of "the perfect T-shirt" evolved into one of the most incredibly designed, albeit staggeringly expensive, high-end brands on the market. But, back then, we would have sample sales where perfectly cut tees would go for $20 a pop. I remember one time I got "paid" for working a sale with the most perfect, cut-to-the-hip tuxedo blazer that I later forgot after dinner in the West Village. I went back five minutes later and the restaurant, which was fully open, couldn't find it. It vanished into the ether. The blazer was just that damn good. 
Who did you work with when you were a stylist?
I was a full-time freelance assistant to Annabel Tollman, who was one of the kindest, coolest, most inspiring bosses in the world. Just being around her was a blast; her passion for life—and all of the things and people in it—was contagious. We had the best time working with Jessica Simpson when she was promoting her VH1 show The Price of Beauty in 2010. One night Annabel, Jessica, Billy Corgan (yes, Billy Corgan) went to go see Ashlee perform in "Chicago" on Broadway. Afterwards, the lot of us (Ashlee included) had a very boozy dinner at Mr. Chow. I remember thinking that it was probably all downhill from there. I was right. 
At People, what was one of the most memorable celeb stories you worked on?
I remember I interviewed a pre-megafame Kylie Jenner after she walked the runway for Avril Lavigne's fashion line. Kim and Kris Humphries were sitting in the front row. It didn't feel like a very big deal back then, but now I'm kind of like, Should I have seen Kylie's game-changing potential? Did I miss my big break or what? I remember the story being super softball-y and lame. Ah yes, here it is...
Why did you make the transition to digital at ELLE.com?
Robbie Myers, the editor-in-chief of ELLE, brought my name up for a role when Leah Chernikoff came on board as editorial director of the site. You listen to what Robbie Myers says. 
What's one of your favorite pieces you wrote while at ELLE.com?
The first piece that ever made me understand the power of the Internet was likely the first feature I ever wrote for the site. It was about trying out the Victoria's Secret models' diet plan. It may not seem like a big deal now, because "I Tried It!" stories are all the rage, but it was one of the first very-honest first person pieces about road testing something extreme that celebrities do on a daily basis. I think I didn't realize that honesty—real, self-flagellating honesty—can make a story sing. I have actually stopped writing pieces like that for the most part, because it certainly takes a toll on your psyche. Also, drinking during work hours with famously hot guys wasn't too shabby. Everyone always asks me which "hot guy" was my favorite. I think it was probably Ryan Phillippe. 
You're heading to Glamour to work on print—is it because you missed it terribly?
Yes. And I also like the concerted effort the publication is making to find a rhythm between long- and short-lead journalism. As they say on the web: Get you a girl who can do both. Glamour is that girl.
The move is just in time for Fashion Week—what will this season look like for you?
No idea! But probably not very exciting…I rarely cover fashion straight-on.
Why is now the right time for a change?
It probably isn't—I have a four-month old at home!—but they gave me an offer I couldn't refuse. 
What will your new role entail?
I will be helping to launch a new section that touches on pop culture in a new way. I am very, very excited about this. 
Tell us about your Beanie Babies sales gig…
No. JK. I once made $750 by selling a NWT (Beanie lingo, sorry) Lefty the Democratic donkey on a website I built myself using HTML in 1996. Did I say it was all downhill from the J.Simp dinner at Mr. Chow's? I lied.
Your dream job when you were a kid?
This. Thisthisthis. 
When you're not in the office/working, we'll find you…
Sweating my tush off at Lyon's Den yoga, pushing my kiddo Charlie down the West Side Highway while listening to "Fresh Air," drinking white wine. I prefer Sauvignon Blanc, but if I can put a ton of ice cubes in it, Chardonnay also works.