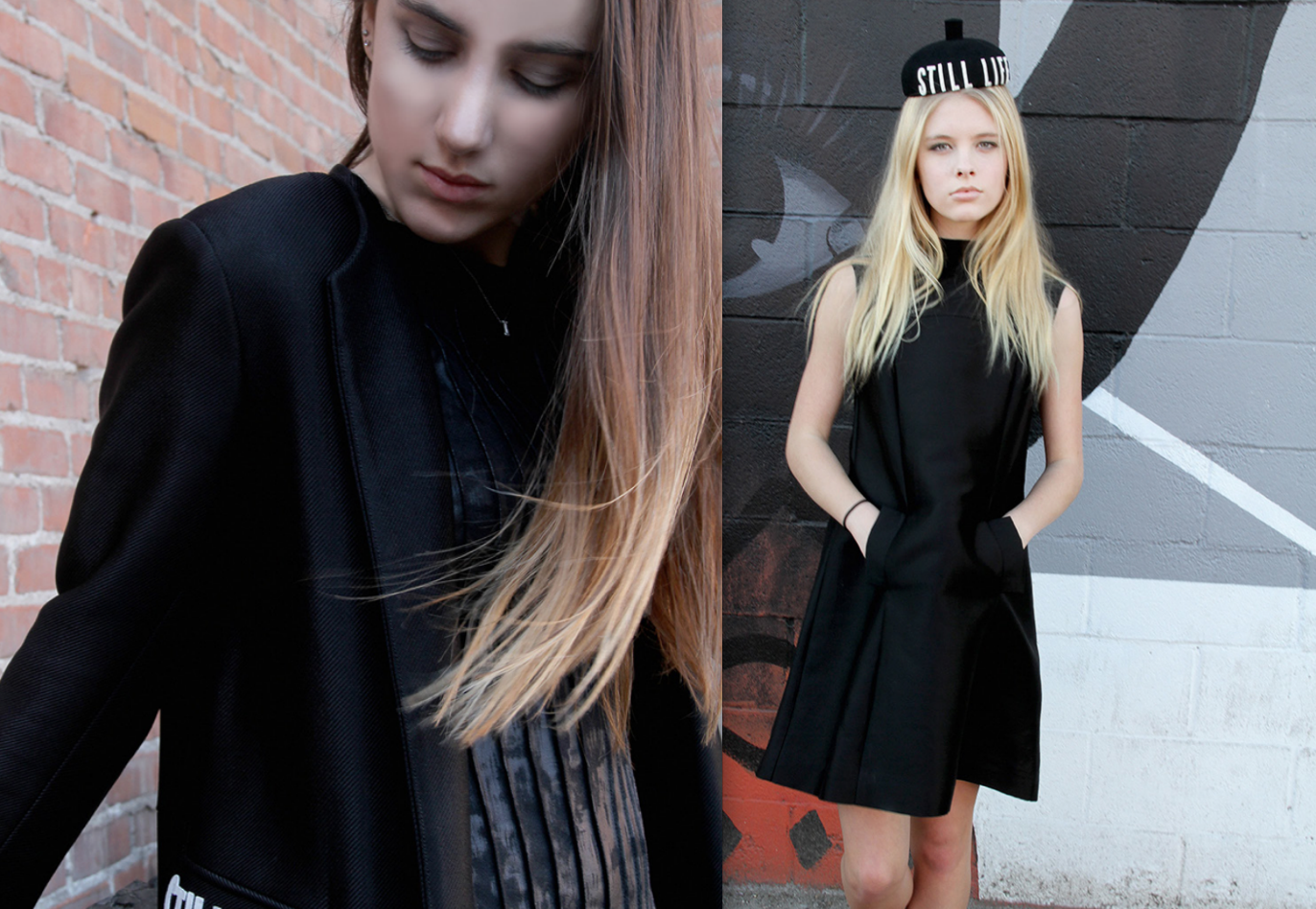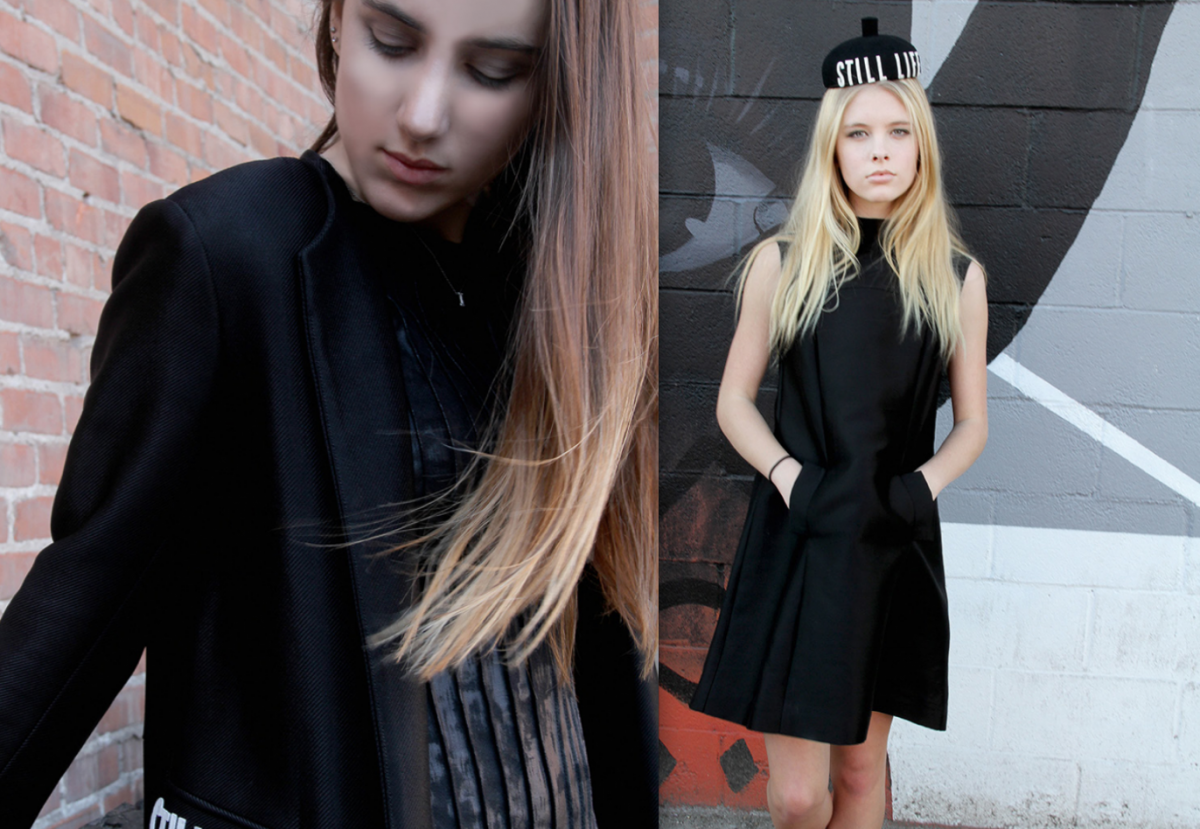 Ruffian's Brian Wolk and Claude Morais, who are still living happily after in Los Angeles, wanted to introduce us to their latest campaign's teenage stars, who have fashion in their DNA…

"While much of the fashion milieu is currently fixated with the allure, imagery, and wisdom of the baby boomer generation, we are inspired by the freshness of California youth. Upon our arrival in the City of Angels, we were lucky enough to be able to work with acclaimed stylist Elizabeth Stewart and her associate, legendary model Jenny Brunt. Our West Coast cultural den mothers quickly inducted us into the fold of Los Angeles teens through their beautiful, brilliant, and erudite daughters Ivy Bragin and Ella Flood. We were so inspired by their aesthetic élan, voice, and talent for photography, we asked them to shoot and star in our Spring 2015 Campaign. We caught up with Ella and Ivy after the shoot to discuss their inspiration and growing up surrounded by the worlds of fashion and entertainment.
How does clothing affect the way you see others?
Ella: Clothing is definitely a way to showcase your personality, and I appreciate a person who uses their clothes to do so. I like nonconformists.
Ivy: Clothing itself never warps my view or leads me to judge someone. What does leave an impression, however, is the freedom of the style. For example, if I see someone wearing typical casual clothing, I wouldn't nearly admire them as much as I admire the person wearing fishnets and a blazer.
How would you describe your personal style and what's your favorite item of clothing?
Ella: My personal style is a bit boyish and grungy. I love vintage clothing, especially from the '90s (out of my mother's closet), and I try to concern myself with what looks good and makes a statement, rather than current trends. I push myself towards nonconformity with my dressing. My current favorite items of clothing are my combat boots (Doc Martens or an old pair of Gucci ones I inherited from my mom), my vintage Morrissey Edmiston kilt (also my mothers'), or this huge flannel shirt that I stole from my dad. I am very inspired by the British punk scene and the music and fashion surrounded by it.  I like that tough feel that the clothing has, so I think that's the reason I love those particular items so much. Also, they go with everything. I wear the boots every day, and I love the flannel shirt, although it is a men's XXL, because I can wear it all sorts of ways. There is something genuine and chic to me about looking slightly disheveled. I also have this floor-length grey plaid nightgown/slip dress type thing that is practically see-through, which I love. There is not a better outfit than a slinky little slip with a pair of combat boots, in my opinion.
Ivy: My personal style is more comfortable than funky. I enjoy observing other creative looks more than spending hours deciding what to wear. Weekends are a different story though, more time to figure out what to wear! My favorite clothing item is definitely my mom's J Brand skinny jeans. I am very particular about my jeans! My ankles are very narrow, and J Brand fit them perfectly!
Why does photography inspire you to express yourself?
Ella: As a visual artist in many departments such as drawing and painting, it's a vital way to express emotions onto something physical that can be shared. The human form is able to be captured so easily by a camera and the great thing about photography is that can be manipulated to fit your source of inspiration. It's not that easy for me to vocalize I guess, and answer this question, which further proves the point of my need for the art!
Ivy: Photography isn't just a way for me to express myself, it's a way for others to use their imagination to see something other than what I see. I enjoy going beyond just a quick snap by creating a story in my mind; it makes the whole process more enjoyable.
How was your style and point of view about fashion and photography influenced by growing up with a parent who works in the fashion industry?
Ella: I have constantly been surrounded by fashion and art, and I think that that's inspired me to make my own. I developed my eye for design from being around my dad and his work. The interest in fashion didn't actually emerge until I was a bit older. I was, and still am, a bit of a tomboy.
Ivy: Having a stylist for a mother has taught me a few things. 1. To go against the fashion 'rules' and 2. To not absorb myself in things just because it may be "what everybody else wears." I don't know what I would do without her!
Is there a celebrity or star whose style you particularly like?
Ella: This is kind of a hard one, but beauty-wise, I'd have to say '60s icons like Nico and Jane Birkin (the influence for the beauty look of the shoot), and as for clothes, maybe Annie Hall and the whole British punk movement.
Ivy: I love Kendall Jenner's street style. It's comfortable yet sophisticated. Just my type!
What inspires you creatively?
Ella: My favorite artist would have to be Egon Schiele; I like his cynicism on the human form. As for photography, I'd have to say my dad (Don Flood), as well as a good family friend Frank Ockenfels, and of course the greats, like Herb Ritts and such.  I'm also very influenced in all aspects of life by the underground rock scene of the late '60s through '90s, band such as The Velvet Underground and The Vaselines, musicians like David Bowie and Iggy Pop, and icons of pop culture like Andy Warhol and Edie Sedgwick…minus the major drug stuff and collective bad decisions. I'm also strangely influenced by Chris Mccandless or Alexander Supertramp (Into The Wild) and the film Annie Hall. I'm not really sure why, but I like what they were going for.
Ivy: That's a tough one. Although cliché I would have to say my mom inspires me. Her style advice applies to all parts of my life. I admire how she found something she loved and stuck with it.
Why did you choose downtown L.A. as a location of your photo shoot?
Ella: I spend a lot of time downtown; I think that it has such an interesting mix of people and cultures. The art and architecture is very beautiful, but it's a bit rough around the edges, and I like that.
Ivy: We selected downtown L.A. not only for its uniqueness and liveliness, but also because every location is different. One street could be filled with graffiti and trash cans, while the next is filled with glass buildings. You never know what kind of street you'll find next!
How did you feel when you walked down the runway during the fashion show?
Ella: It was scary, but in the best way!
Ivy: Walking down the runway was definitely a day to remember. I was so excited to share with everyone the same dresses had been trying on for days. It was like show-and-tell!