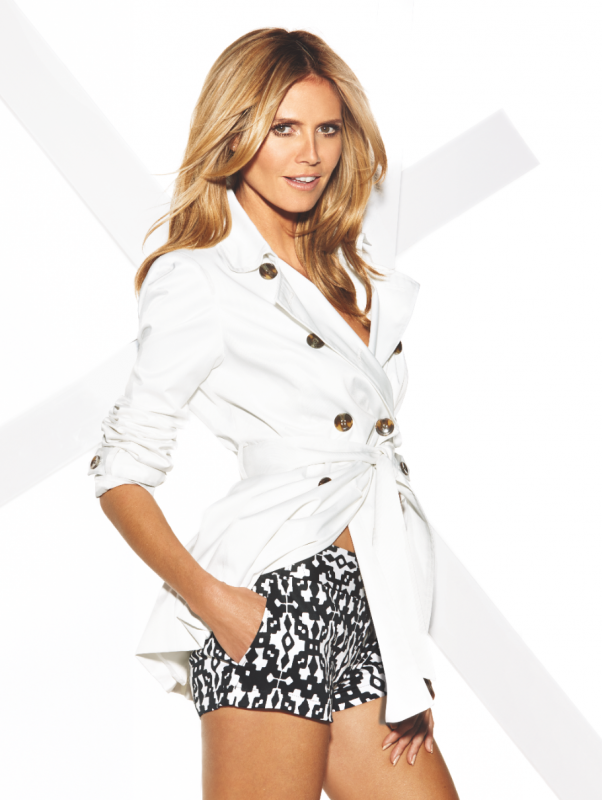 Heidi Klum returned to TV this week as a judge on America's Got Talent, and she can also be seen on the boob tube in a zippy new commercial for INC International Concept's 30th anniversary. Her longtime friend Rankin directed her in the ad, and Klum recorded the vocals for the spot, singing an original rendition of 'Happy Birthday' with a small homage to Marilyn Monroe's famous HBD to JFK. Between her long running relationship with INC, her Heidi Klum Intimates line, and AGT duties, could a singing career be next? We recently sat down with one of the nicest gals in the biz, and she told us we probably shouldn't hold our breath for that. 
You and INC go way back!
We have a connection. I worked with them for the very first time in 1997. It was a big company that gave me one of my first commercials. When you're new and are working with a big company, you have so many more opportunities for other people see you and might book you. People wonder who the new girl in the INC campaign is. Also, Macy's is a great store and I think they've done a fantastic job with INC being around for 30 years. Women love the line.
You sing in the commercial. How would you rate your singing voice?
Ehh…It's alright for this. I mean, I'm not turning into a singer or anything like that. It was just for this!
Did you watch Marilyn Monroe's clip of her singing happy birthday to JFK to research?
I've seen it many times before, but I didn't look at it before we did this. We scrambled for all this different ideas and they were like, "What do you think about this? Mmm. What do you think about that? Mmm. Would you sing?" And I was like, "What?" Then they said, "What about Marilyn Monroe?" But the clothes are cool and leather, so it would be boring to do a retro kind of thing; that's not really what the clothes are about. The clothes are fun and hip and modern, so we aimed to make [the song] a little cooler. So they said alright, let's rock it out then. On the day we shot, I just lip synced and whipped my hair back and forth.
What was it like shooting with Gabriel Aubry?
He's a hottie. He's very easy to work with. Sometimes it can be hard when you do doubles because someone is always doing something else. You look sexy and the other person is laughing, or you're laughing and the other person looks sexy. Sometimes when you work with people who haven't done this before, it can take a long time. But he's a professional, so it's like "boom, boom, boom, next shot. Boom, boom, boom, next shot. Boom, boom, boom." So it was easy.
You and Rankin also go way back.
We're each other's muses. We trust each other. When you trust someone you push them up a little harder. When someone gets you and you get them, you understand each other. You give more, because you know that they only have your best interest in mind, and that they'll make you look good and vice versa. We also want to make it fun.
What's on the agenda for summer?
Well, I'm going to be in New York for the next 3 months for June, July, and August because we're doing America's Got Talent and Project Runway. We'll go to Splish Splash and sightsee in New York. The kids love it. They've been doing it since they were born. Our summer schedule has always been New York City, because I've been shooting Project Runway for 14 years now. My oldest is 11. So every year, it's New York time. I think it's great for them to see New  York and experience it and go to all the Broadway shows. We also go to the Hamptons and get out of the city for a little bit, or go upstate.
What are you going to catch on Broadway?
What's new? We've seen everything. I'm putting a list together. They've seen Newsies, Aladdin, Cinderella. We're going to see Taylor Swift. I was just looking at concert dates. We've been to Rihanna, Justin Bieber, Bruno Mars, Katy Perry… They love going to concerts. Rihanna took this person onto the stage and my kids were like "What is she doing, Mommy?" and I was like,  uhh, this is a dance routine…it's modern dance. She takes this guy and basically…you know. My kids didn't know what to think of it. I was like…how do I explain this?