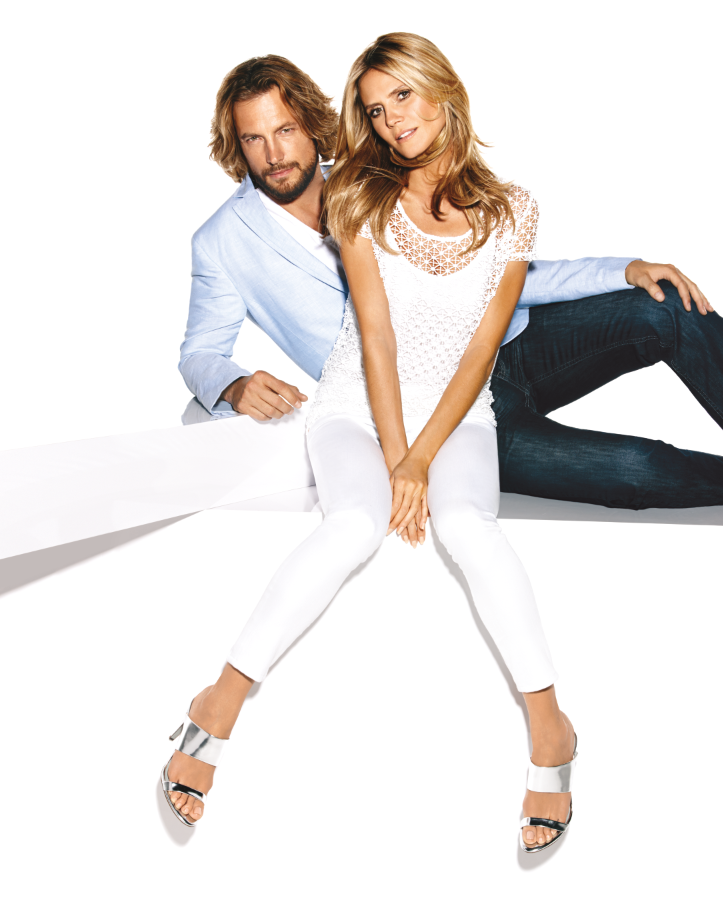 So much has been inked about Gabriel Aubry's personal life that we're just happy to see the 39-year-old model back at the office and modeling for INC International Concepts avec Daily fave Heidi Klum. As the brand celebrates their 30th anniversary selling exclusively at Macy's, they've enlisted these two pros to appear in their campaigns for Spring and Fall and act as INC ambassadors. In a rare interview, Aubry tells us about working with Heidi, what he does on his days off, and how social he is on social media. 
What was it like working with Heidi?
She's awesome! She's like the life of the party and literally takes over the set. She's a big star so you never know, but she's great to work with. I was nervous meeting her. She's really comfortable in the camera and I'm shy, so sometimes I'm not that comfortable but if I know someone like the photographer or the client it makes me feel better. She was really good at making me feel comfortable.
Had you ever met each other before?
It was our first time. It was nice to look at someone almost eye level, because she's really tall.
Heidi said in an interview that "Gabriel always looks hot."
That's a nice thing to say.
Is it true?
[laughs] It's flattering. She's a beautiful woman so coming from her, I'll take it.
Do you have any favorite campaigns from your career?
We're going back now. Actually the campaign for INC. has been amazing. Cliff Watts, who shot the upcoming campaign, was the first photographer I've ever shot with in the U.S. I've known him for a very long time. I've also worked with [photographer] Walter Chin many times in New York, and he's so fun to be around and easygoing. I also like that we shot it in L.A., so I didn't have to travel too far.
What do you do when you aren't modeling?
On my days off, I do what any other guy would do! I'm a daddy, I go to the gym, I golf, and I work around the house. It's a pretty simple life.
You owned a restaurant, Fuego, in New York. Any desire to go back to that business?
That was part of my New York life. It was fun for awhile, but I don't think I'll go back to restaurants. That's a tough business.
Is the 'real' Gabriel Aubry on Twitter?
For the record, I have zero media anything. Nothing. Whomever is using my name out there is not me!
Why don't you do it?
I'm a very private guy, and I like to keep my life that way. Twitter and Instagram are for people who like to reach out to people to show what they're doing, but I like to keep my life private as best I can.