Last night, a mix of Hollywood types, designers, models, and industry insiders gathered at Spring Studios for the 12th annual CFDA/Vogue Fashion Fund Awards. From finalist David Hart and winner Aurora James to principal dancer Misty Copeland, the New York Giants' Victor Cruz, Calvin Klein's Francisco Costa, and Lake Bell, we dished with a not-insignificant amount of top types: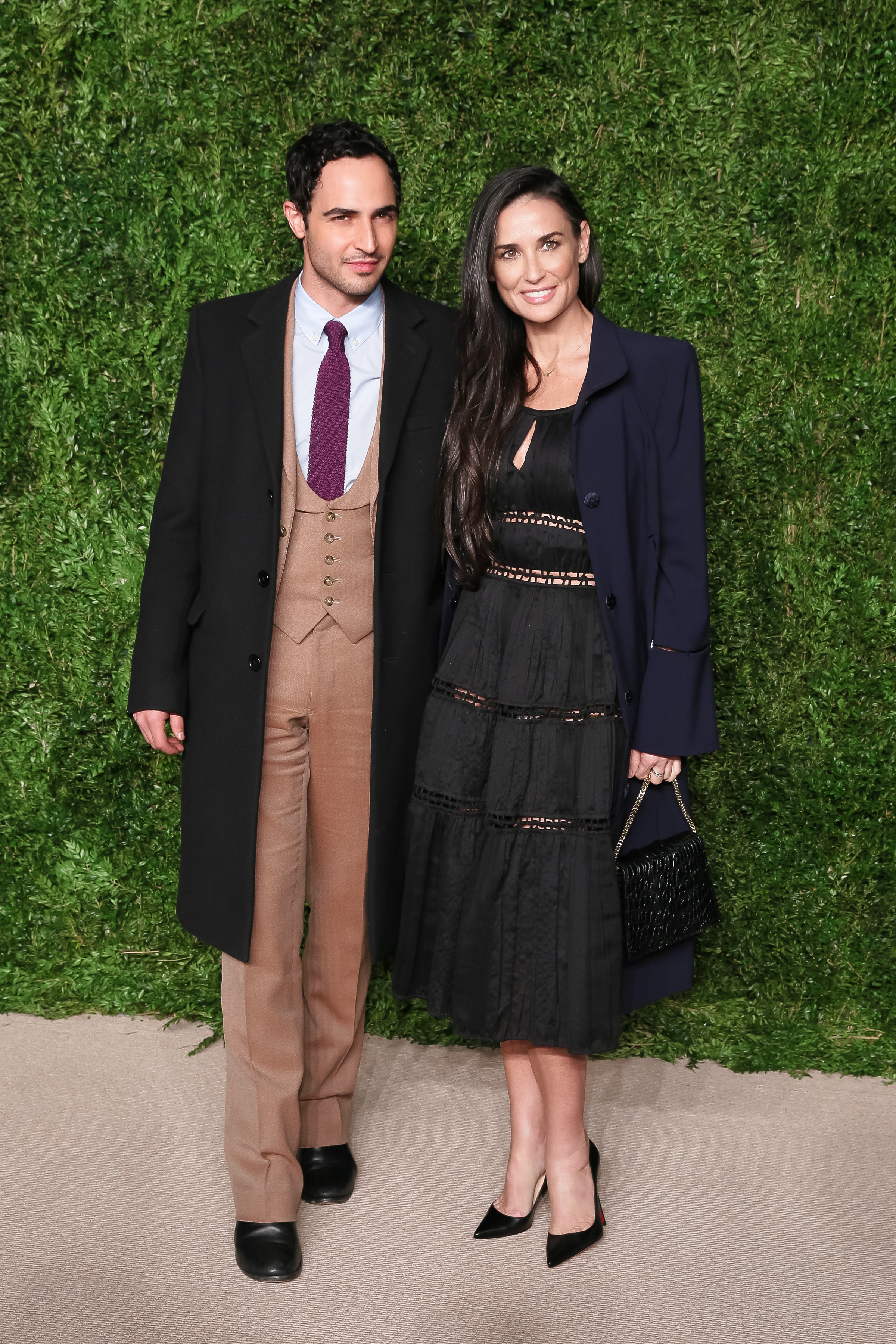 ZAC POSEN
About your date [Demi Moore]—did you dress her tonight?
Of course! She's the first person in a look from my [spring] runway.
What's it like to dress her?
She's the best, and she knows. She's a fashion and clothing expert. She always has been. We met first shooting for American Vogue.
As a TV personality and designer, what's one tip you would give the designers as they filmed The Fashion Fund?
As you grow from a creator into a brand, you need to learn how to be a good leader, and to do that you need to know how to delegate, how to collaborate, and how to know when and where your hand goes into a process.
MISHA NONOO
What are you most excited for tonight?
The chicken pot pie! And to have a girls' night out. Especially on a Monday. I feel like Monday is the new Saturday!
DAVID HART
What has this four-month experience been like?
It's been amazing. It's been an intense four months, and I met a lot of amazing people, got great advice from the judges, and made a lot of great friends in the other designers.
Will you be nervous seeing yourself on TV?
Yeah, I'm not so much of a big personality so I am a little nervous to see myself on TV! But it's exciting and it's great for me to talk about the brand in a bigger way.
EVA ZUCKERMAN
What's it like being on the other end of this awards dinner tonight?
I am so happy to be on the other end of this…I'm a big fan of many of the designers who are in the top 10 and I know how hard they've worked, so I'm really happy to be here to support them.
Any tips to share with the finalists in this moment? How to handle this evening, for instance?
I spoke to a few of them beforehand. This is such an unbelievable opportunity. It's about trying to embrace and enjoy being in this room at this time, and taking advantage of being able to talk to the people who are here. This is sort of the beginning of the next part of their experience—it doesn't end today. Mostly just try to have fun and don't let the nerves drive you crazy!
MISTY COPELAND (wearing Zimmerman)
Is it fun for you, attending a big event for fashion?
Yeah! I mean this isn't my world, so it's super fun and exciting to be involved. I love fashion so it's exciting to be a part of it.
How was working with Annie Leibovitz for her latest project?
I love, love, love working with her. She wants everything to be super organic and intimate and for you to feel your most beautiful. I think we're going to have many more shoots together.
GEORGINA CHAPMAN
So did you and Karen [Craig] coordinate tonight?
We did! We coordinate every day.
How long does it take?
Hours of phone calls!
What's one piece of advice you can offer tonight for the finalists?
To enjoy the evening and just know that it's the process, it's just about about being nominated, don't worry about winning. You know what, we didn't win. And we got so much out of it and it really was probably one of the most important things that happened to us when we first came to America. So it's to enjoy; you've come so far.
LAKE BELL
Who are you here to support tonight?
Jennifer Fisher! I feel very lucky to be sort of dripping in Jennifer Fisher jewels, and also Calvin Klein. We are both Calvin Klein girls tonight.
JENNIFER FISHER
How does it feel to be back for the Fashion Fund Awards?
It feels sort of nostalgic, but it's also really nice to not have the focus on me so much tonight. Being a finalist, it was really stressful! It was an amazing experience, but it's really nice not to be wondering if I'm going to lose!
ZENDAYA
Tell us, who are you wearing tonight?
I'm wearing Thakoon and Brother Vellies. I'm excited to be walking in [Aurora James'] shoes because of everything that she stands for in fashion.
Is it easy to create your bun?
Usually I do my own buns! But someone helped me. I did my own face, though!
FRANCISCO COSTA
Is it easy to dress Lake Bell?
Oh my God, yes! She's a total beauty!
If you could give the young designers one tip for how to handle this evening…
We move so fast, the way we do fashion, so just be very open and go with the flow. The greatest thing, though, is that the opportunities are so amazing, and being a part of what Fashion Fund is. It's a genius thing.
VICTOR CRUZ (wearing Givenchy)
Who do you take your fashion advice from?
Oh man, I take it from a multitude of guys, like John Elliott, Riccardo Tisci, Maxwell [Osborne] and Dao-Yi [Chow], Thom Browne—a lot of different people influence me, fashion-wise.