Last night, The Daily Front Row hosted the 7th annual Fashion Media Awards at the iconic Rainbow Room inside Rockefeller Center. The event honored the best and brightest in the worlds of fashion and media, including Kate Moss, Edward Enninful, Emily Ratajkowski, Indya Moore, and Zendaya.
The evening kicked off with a cocktail party, where guests, honorees, and presenters mingled while enjoying mixed drinks courtesy of Casamigos, rosé from Whispering Angel, beer from Kronenbourg, and water courtesy of FIJI Water.
The cocktail lounge also included a number of playful and visually stunning activations — from Arcade1Up's trio of classic arcade games, to Revolve and Rebag's Instagram-worthy backdrops, to Afterpay's chic little loveseat.
Cygalle Healing Spa also set up a VIP greenroom where they gifted guests including Tommy and Dee Hilfiger, Zendaya, and Karen Elson with products from their CBD-infused skincare line.
At 8:00, everyone made their way into the Rainbow Room's grand ballroom for the awards ceremony. Paintings by Louis Carreon of HG Contemporary were sprinkled throughout, including a large abstract portrait of Style Icon award honoree, Kate Moss, which Carreon created especially for the event.
Graham Norton took on hosting duties for the night. "You know, a lot of award shows go hostless now," he said in his opening monologue. "I can assure you, I'm the next best thing."
Tommy Hilfiger presented the first award of the night, Fashion Force, to Zendaya, praising the budding mogul for her incredible work ethic. "I'm proud to have worked with her and to be working with her," he said. "As a matter of fact, right after she receives her award she's going back to work in our studio."
"Fashion, for me, is really just emotional," said Zendaya. "It has allowed me to say, 'I don't give a F!' It's the one thing that has allowed me to really find out who I am and be more courageous, and more fearless. I definitely owe that to Law, my stylist, who I've worked with since I was like, 13 or 14-years-old… This award means so much to me, because I really do love fashion. I think it's so much more than just clothes."
"Excellent, and that's the end of the show!" declared Graham Norton following Zendaya's speech. Like so many of Norton's witticisms, this one produced a roar of laughter from the crowd (Hey, no one ever complained about an awards ceremony being too short!) before Graham conceded that, indeed, there were still many more awards to go. "We are off and running, though," he said. "Like a young caterer at a Kevin Spacey party, let's keep moving before something bad happens."
The second award of the night was presented by Stephen Gan to Indya Moore for their June 2019 cover of Elle Magazine. "Indya embodies a philosophy once imparted to me by the late Karl Lagerfeld," said Gan. "He said, 'I'm not impressed by those who are born beautiful. I'm more impressed by those who represent the will of beauty. But she's not just beautiful, she's brave. Nowadays, bravery is the most prized quality in the fashion world. It's a triumph for me when people who were once deemed alternative are accepted. And not just accepted, but celebrated by the mainstream."
Moore then took to the stage an delivered the most heartfelt and powerful speech of the night, dedicating her award for Cover of the Year to those in the trans community who are all too often disregarded, degraded, made invisible, and even murdered in our modern American society. "I accept this award in honor of the truth that the best award, and the award we all deserve, is to be able to get home safe," they said. "I accept this award in good faith that my recognition doesn't lead to the erasure of other trans and GNC folks who also deserve healthcare, housing, safety, and visibility. Magazine covers, runways, leading film and TV roles. Doctorate degrees, high school diplomas, college educations. And families, lovers, and representation everywhere and every space. Each and every one of us, and everyone that we know, our families, friends. Trans people deserve safety, acknowledgement, and respect. Not just when we're on the cover of magazines, but when we are in the streets, when we are poor, when we are sex workers. When our hair ain't laid. When we can't afford Louis Vuitton. Or when we can't get access to a hormone shot. And especially when we are dying."
Following Moore's moving speech, designer Victor Glemaud presented Frederic Fekkai with the Beauty Innovator award. Fekkai recently bought back his haircare empire, which he sold nearly 10 years ago. "People ask, 'Why are you doing this?'" said Fekkai. "And I guess it's something you can't stop doing — to go back and be creative and free."
Next up was Candice Swanepoel, who Graham Norton described as "very famous for being a Victoria's Secret Angel, but tonight she's been completely plucked!"
Like many speakers that night, Swanepoel thanked Moore for their moving speech and for "putting things in perspective for us," before presenting the award for Photographer of the Year to Zooey Grossman, the woman behind the lens of Moore's historic Elle cover. "I'm so, so grateful and honored and actually really surprised to be given this award," said Grossman. "I really love what I do so much. I don't know if there's a right approach, but mine has always been to try and make everyone who's in front of my lens to feel really good about what they bring, and feel seen beyond their physical appearance. I want to genuinely connect with everyone that I shoot. And if I can make someone in front of my lens feel beautiful, confident, or empower them, then it's a success. What I realize as I continue to get older is to be kind. Even something as simple as putting a smile on someone's face, making someone feel seen and respected, isn't just a little thing. It's a domino effect you emanate through the world and effects so many other things in a positive way."
Aimee Song was next to the stage, presenting the Fashion Visionary award to Revolve co-founder Michael Mente. Work commitments meant that Mente was unable to attend the ceremony, so Revolve's Raissa Gerona accepted the award on his behalf before announcing the winner of the first ever Influencer of the Year award, Negin Mirsahehi. "While I was writing my marketing thesis in 2012 in Amsterdam, my professor came up to me one day and showed me the speech Steve Jobs gave at Stanford University in 2005," said Mirsahehi. "Unknowing at the time that this speech was going to change every important decision I was going to be making about my future. I was really scared at the beginning to put myself out there on social media and put so much of myself. For my partner to quit his job while we were living on one salary. And to invest all our savings into starting our haircare brand. I bet I wouldn't stand here today if it wasn't for that speech. So that's why I want to read a short part of it. 'Remembering that I'll be dead soon is the most important tool I've ever encountered to help me make big choices in life, because almost everything — all external expectations, all pride, all fear of embarrassments or failures — these things just fall away in the face of death, leaving only what is truly important. Remembering that you're going to die is the best way I know to avoid the trouble thinking there is something to lose. You are already naked, there is no reason not to follow your heart.'"
Queer Eye's Tan France presented the New Wave award to musician Sasha Siem, who performed her song, Holy, for the crowd after accepting her award. "Part of the reason I dedicate my life to music is because I recognize that through sound we can create waves," said Siem. "By coming together and singing and enjoying music together, we can join together in unity. And after all we are one big family sharing this planet. It's easy to forget that. Music can bring us from harm to holy."
Next came Karen Elson, presenting the Design Debut award to Tomo Koizumi. Tomo's designs have struck a playful and fanciful chord in fashion. Each piece is a work of art, and his vision is completely unique," said Elson. "It's our responsibility, as a community in fashion, to support and mentor the most interesting, creative, bold, daring, and dynamic minds to create beautiful pieces of art. And Tomo is exactly that."
"I'm so grateful for all the people who've embraced my eccentric ideas," said Koizumi. "You have inspired me to work even harder. Thank you so much."
Kathy Ireland presented the the award for Fashion Entrepreneur to Emily Ratajkowski, whose young brand, Inamorata, has managed to garner seven-figure profits in less than two years from a single point of sale, without the need for paid marketing or outside partners. The company is a collaboration between Ratajkowski and her best friend, Kat Mendenhall, to whom Ratajkowski gave a tearful thank you during her acceptance speech.   
Zadig & Voltaire's Cecilia Bonström and model Jordan Barrett presented supermodel Kate Moss with the Style Icon award. Moss, never much for public speaking, kept her comments brief, thanking The Daily for honoring her, before nipping off backstage for a few last-minute photos.
Yara Shahidi and Adut Akech presented Edward Enninful with the Magazine of the Year award for British Vogue. "On the pages of British Vogue, you have galvanized the entire fashion industry," said Akech. "Tonight, in New York City, we honor you."
"When I started at British Vogue two years ago, the industry said that a Vogue that championed diversity and activism wouldn't succeed," said Enninful. "But the passionate way that readers have reacted to British Vogue have shown that not only has the world changed, but that it was ready for a whole new kind of Vogue too."
Enninful dedicated his award to the late Peter Lindbergh, who shot the 15 covers of British Vogue's September issue, edited by the Duchess of Sussex, Meghan Markle. At 74, Peter was still in his prime, producing some of the best shoots of his career and making women feel incredible and connecting with magazine readers like no other. I have been lucky enough to work with Peter Lindbergh over the years, and I'm even more lucky to have been able to call him a friend. Fashion lost one of the true greats this week. This one's for you, Peter."
The last award of the night was presented by Ashley Graham to Halima Aden for Breakthrough Model. "Thank you so much for this incredible honor," said Aden. "I am so beyond humbled. Being the first is never easy, and I always say, 'Being the first means nothing if it doesn't ensure a second, a third, a fourth.' Ashley, you were the first, and you made it possible for me to be in Sports Illustrated, so thank you! I've been told I'm not American enough. I've been told I'm not a good Muslim. But I've also heard from thousands of people around the world telling me that I'm changing the narrative, and I'm an inspiration. That is why I continue to do what I do, and I do it on my own terms. For all the young girls out there that have never felt represented, or seen anyone who looks like them in a space like this, this award goes to you."
Following the awards, guests enjoyed one last round of cocktails before heading to Up&Down for the FMA after party. On their way out, everyone received a gift bag full of fabulous goodies including a bag from Eric Javits, haircare from The One by Frederic Fekkai, skincare from Cygalle, and assorted other goodies from Two Chicks, Krenoir, Welly, Alka White, Lagos, HG Contemporary, and FMA honoree Sasha Siem.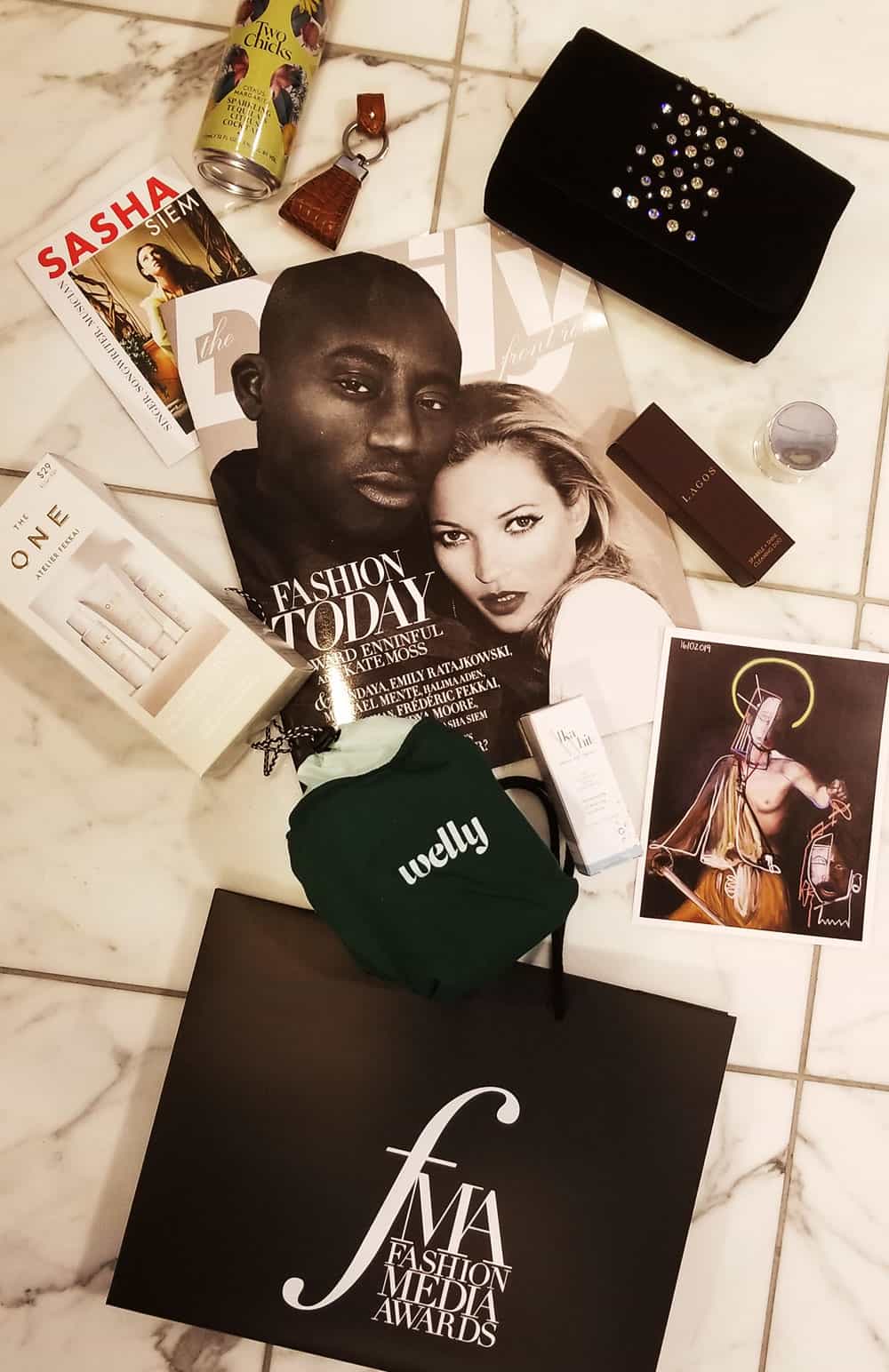 The Daily Front Row would like to thank all of our sponsors for helping make these awards possible: Revolve, AfterPay, The One Atelier Fekkai, Fiji Water, HG Contemporary, and Rainbow Room.
Additional thanks to Cygalle, Krenoir, Lagos, Rebag, Whispering Angel, Kronenberg 1664, and Casamigos.
Subscribe to our newsletter and follow us on Facebook  and Instagram to stay up to date on all the latest fashion news and juicy industry gossip.