After revitalizing Cape May in New Jersey with makeovers of the legendary Congress Hall and The Virginia, Curtis Bashaw is at it again. The team behind Cape Resorts has now set their sights on The Pridwin on Shelter Island. Last summer, they quietly reopened this iconic resort hotel on the East End after a two year stunning top-to-bottom renovation. The visionary hotelier tells The Daily why he had to bring new life to this special (and now super chic) spot on Crescent Beach. 
How did the property come into your world in the first place?
I knew the Hamptons as I had a house in Southampton for two summers. The first time I came to Shelter Island was probably in 1991, and I remember The Dory and The Chequit. Sometime on a visit, I became aware of The Pridwin. Then, as my career unfolded over time,  I was always aware that the Hamptons felt 'under hoteled' to me. There were properties that weren't loved that much, or there were these sort of fake makeovers. I knew how dear these places could be. In the mid-aughts, I started to nose around. Ultimately, our company, which also at the time did real estate development, got the Watchcase factory in Sag Harbor. I thought we should do a hotel. The town didn't want a hotel in that building. The Baron's Cove [in Sag Harbor] owner came to us and wanted us to get involved. And I felt like, if we're gonna go come up here, we need more than one. And I just had always been intrigued with Shelter.
What was your next move? 
I said to one of our financial partners, I'd love to meet the family, who own The Pridwin. The only thing to do on Shelter Island is The Pridwin. I finally got a lunch with Glenn [Petry] in October of 2016 in New York. He's an old soul and very protective of his property. I had to create trust because he had been approached by all the hedge funders who offered millions of dollars. The legacy of the property was more important to them than the amount of [money], and they really wanted to be involved, but they couldn't run it either. We had a nice lunch, I felt like I made an impression and I thought he believed in us. I kept saying, 'If you wanna know what we really do, you've got to come to Cape May.' Eight months later, I met Gregg at Baron's Cove for breakfast. He told me their mom was ill. I later heard through the grapevine that she passed that summer. And then it was in November and he called and said, 'We want to take you up on your offer to come to Cape May.'
When did they come?
They came over Christmas. They didn't want their first Christmas without their mom in the same place. So, Mr. Petry, the two sons Glenn and Gregg, and their wives and kids all came. It was Christmas Eve and we were all together at a farm dinner. We were in a hay wagon singing Christmas carols with lots of other guests.  Congress Hall was sold out. On Christmas day, Glenn said to me, 'Would you meet my dad for coffee tomorrow? He wants to talk to you.' I was nervous. He was the patriarch. And sure enough, we sat in rocking chairs on the veranda of Congress Hall, facing the sun on December 26 2017, and he says, "You know, I love what you've done here, and you're the ones we want to work with on The Pridwin's next phase.' It was very sweet.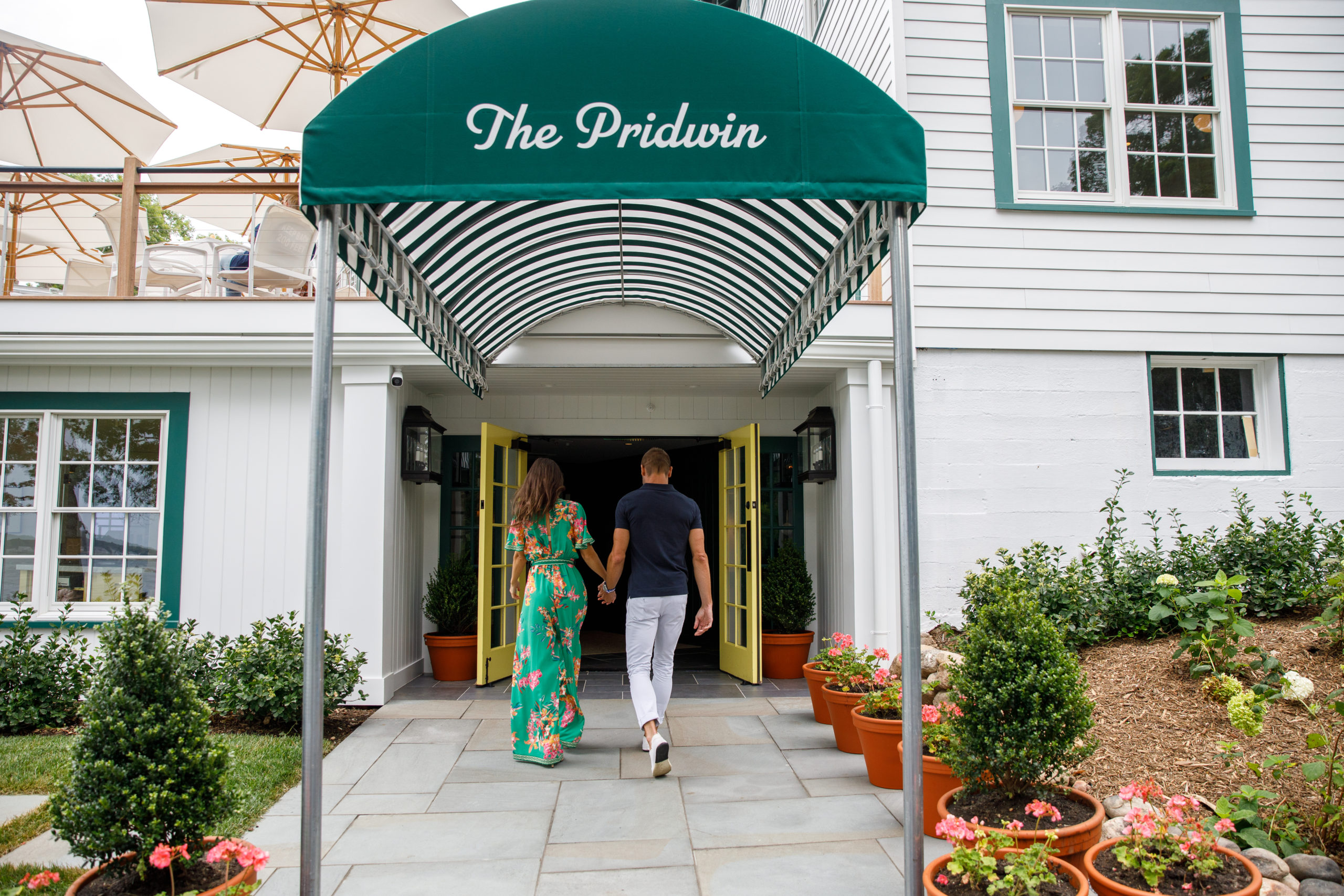 In your eyes, what's so magical about The Pridwin?
There's a quietness to it. You're perched, and the view is mesmerizing. You can kind of sit here and get into your dreams. It just enables you to do that. It's a relaxed elegance. Water is always great, but if you are on the ocean at night, it's pitch black. This is an active waterway. So there's motion but it's quiet. I love how spread out it is. We can be full with 100 guests, 49 rooms, and you can still find a quiet corner. And I love how the pool sits. We didn't mess that up, we sort of left it as it was. I also think being on an island is, subliminally, a big deal. The fact that you can't drive here—you have to get on a boat, even though it's five minutes. It's a wonderful way to disconnect.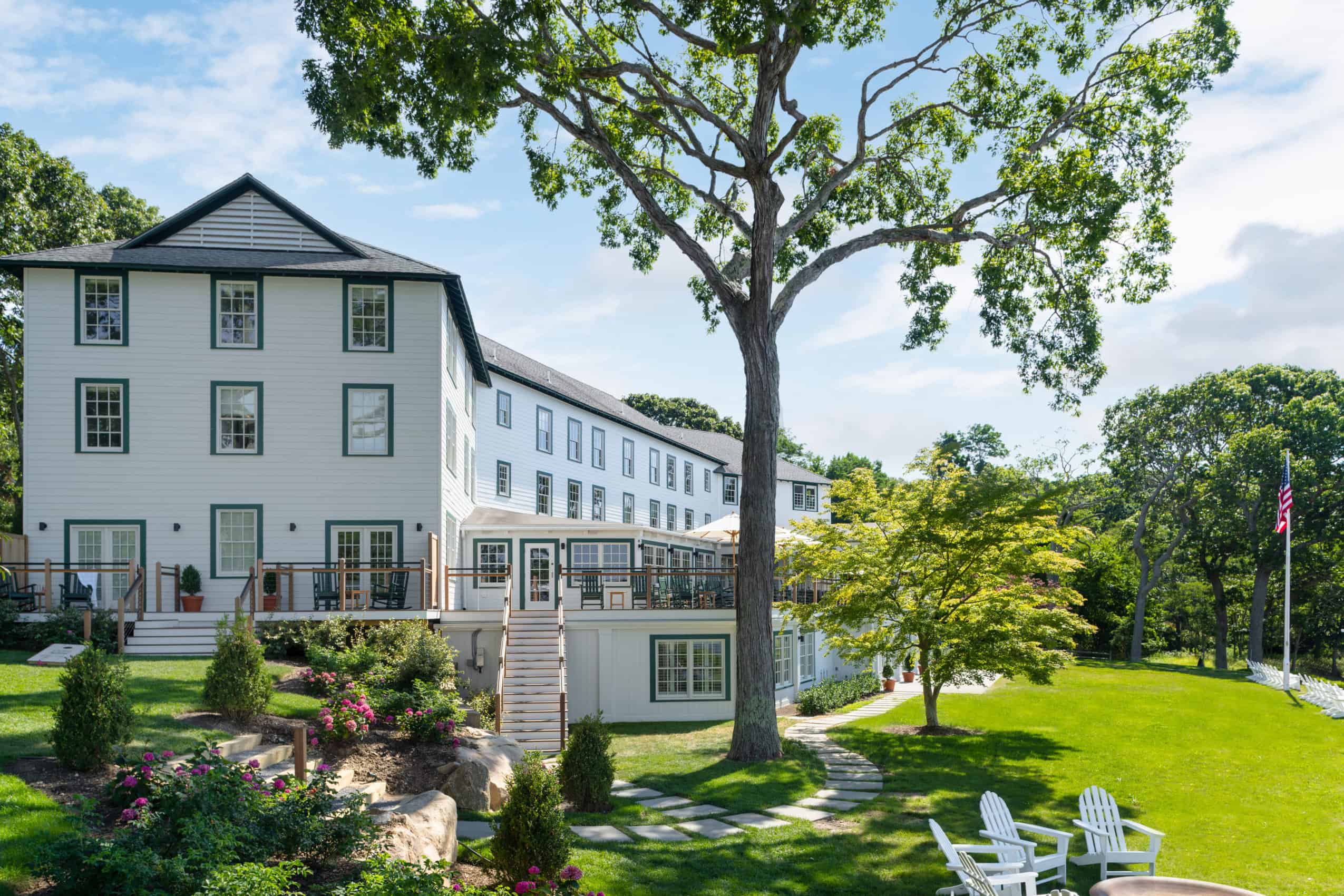 Tell me a little bit about the history of the hotel. When was it built?
It was built in 1927. I knew the guy who built it was a Scottish guy, and he couldn't finish it, as he ran out of money. And then contractors acquired it, hired a manager, and it limped along from 1927 into the 1930s, then there was another owner. There was then a nice period, and that's when Glenn and Gregg's grandparents came here on vacation. And in 1962, when that owner was ready to sell, he told them and they said they'd buy it. And they put Glenn and Gregg's parents in here to run it. It's really special that it's 96 years old, and there's been so few transitions.
I was so impressed to hear you bought your first hotel at just 26-years-old!
Yes. The Virginia opened in June of of 1989. Cape May at the time, had mostly bed and breakfasts or motels. The big old hotels were all run down. The Virginia was a small hotel and had been closed down in the 1950s; Cape May was very sleepy after the second World War. People in America had their love affair with the automobile, and the motel became the product, where you could pull in and walk into your room. You didn't have to go through a hotel and be fancy. So Cape May's hotels  were sort of in a time capsule. I wanted to combine the best of the motel and the B&B in one product, because it's a trite stereotype perhaps, but as a young desk clerk back in my teenage years, [I realized] the husband wanted the air conditioning, the private bath, and the color television, but the wife wanted the charm and the lace curtains and the beauty of the B&B. And they weren't satisfied. It was an argument. So I wanted to merge those things. I wanted to have the charm of a historic building and do a great renovation, but have the amenities. The Virginia was that, when it opened it was just 24 rooms. I remember our first press, and I still have this article, when Condé Nast Traveler called it 'Victorian Vogue.' I was so proud. Philadelphia magazine was a really great early supporter of us, and it did well, and we helped make a market, and then it enabled us to do Congress Hall.  I was young in hindsight, but I was driven.
It's pretty remarkable. What do you want people to walk away with when they leave The Pridwin?
I want them to feel so relaxed, and I want them to come back. It's a place that's worth coming back to and that you could call a second home. I wanted to achieve it [being] open year-round, and I know we will do that—with the right, thoughtful programming. It's a great place to throw a milestone birthday, or have a big, huge reunion in, or have a wedding or corporate retreat. Also for the recreational tourist, the transient tourist. You don't want it to be so programmed that people feel they need be here, here, here, here. You want to have a menu of things that are happening that allow people to participate, but not feel like they're on a schedule.
Your sister Colleen [Bashaw] did such a beautiful job with the design. What did you want it to look like?
Colleen and I first worked together when I opened The Virginia, she was in college and she wasn't involved, but she did the first redecoration of The Virginia that we did in 1997. We've done everything together since then. This had the gravity of Congress Hall to us, in that Congress Hall was the town landmark, and this really felt like one of the most important buildings on Shelter. We talked about less is more. That really was our main thing. You don't have to do a lot to these places. We're just custodians for a period of time. With this one, I just let her do her thing. And I think she did it really well. She would always bounce things off of me. But I love the simplicity of it.
The green and blue throughout is really elegant.
It's old school, it's classic. You're not reinventing the wheel in a sense, but in a sense you are. I'm amazed at how silver, beige, and grey-everything becomes a sort of international design. It becomes ubiquitous, and it's not. To me, I feel like she's done a sort of more World of Interiors kind of thing, where you're just letting the old dowager be what it wants to be.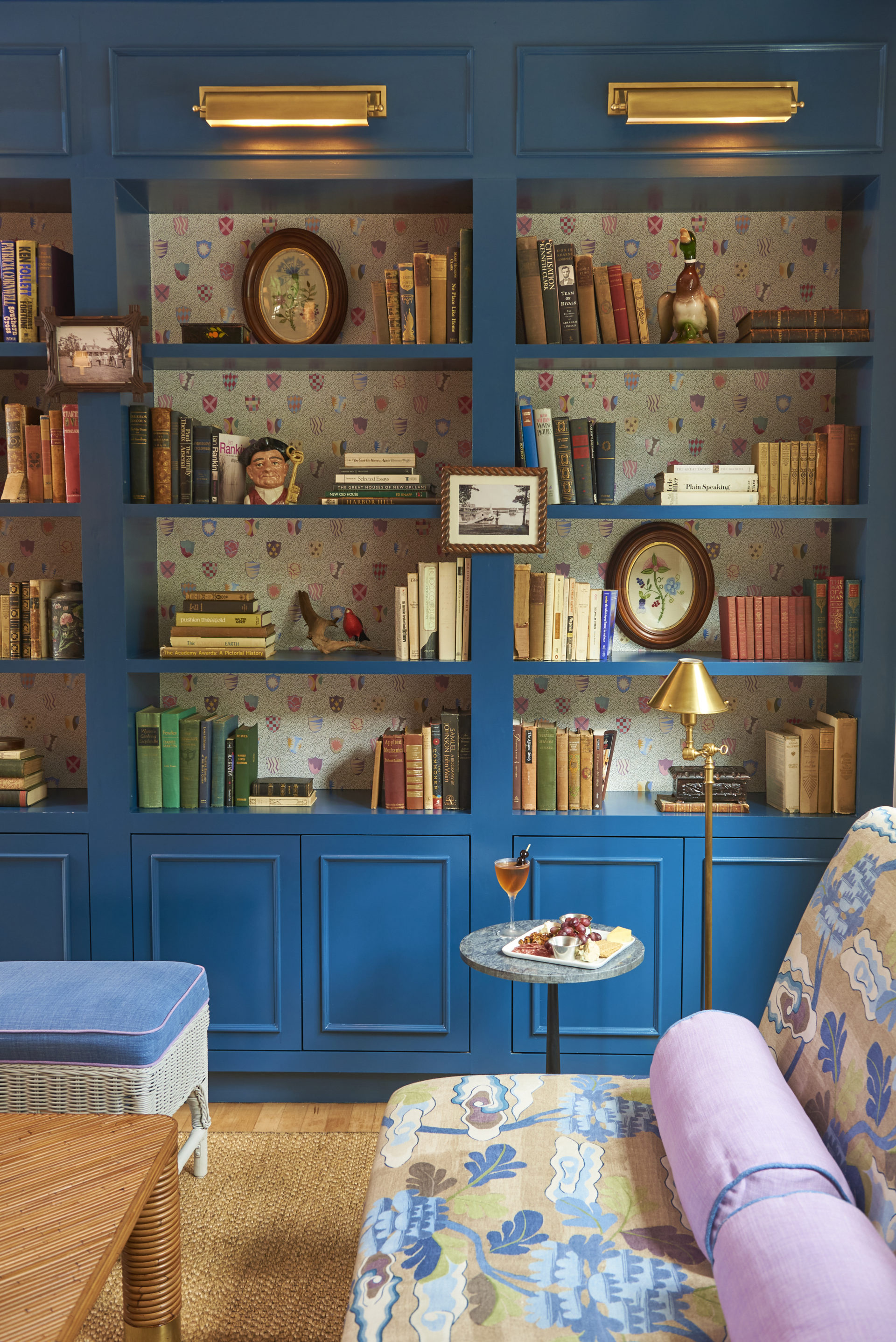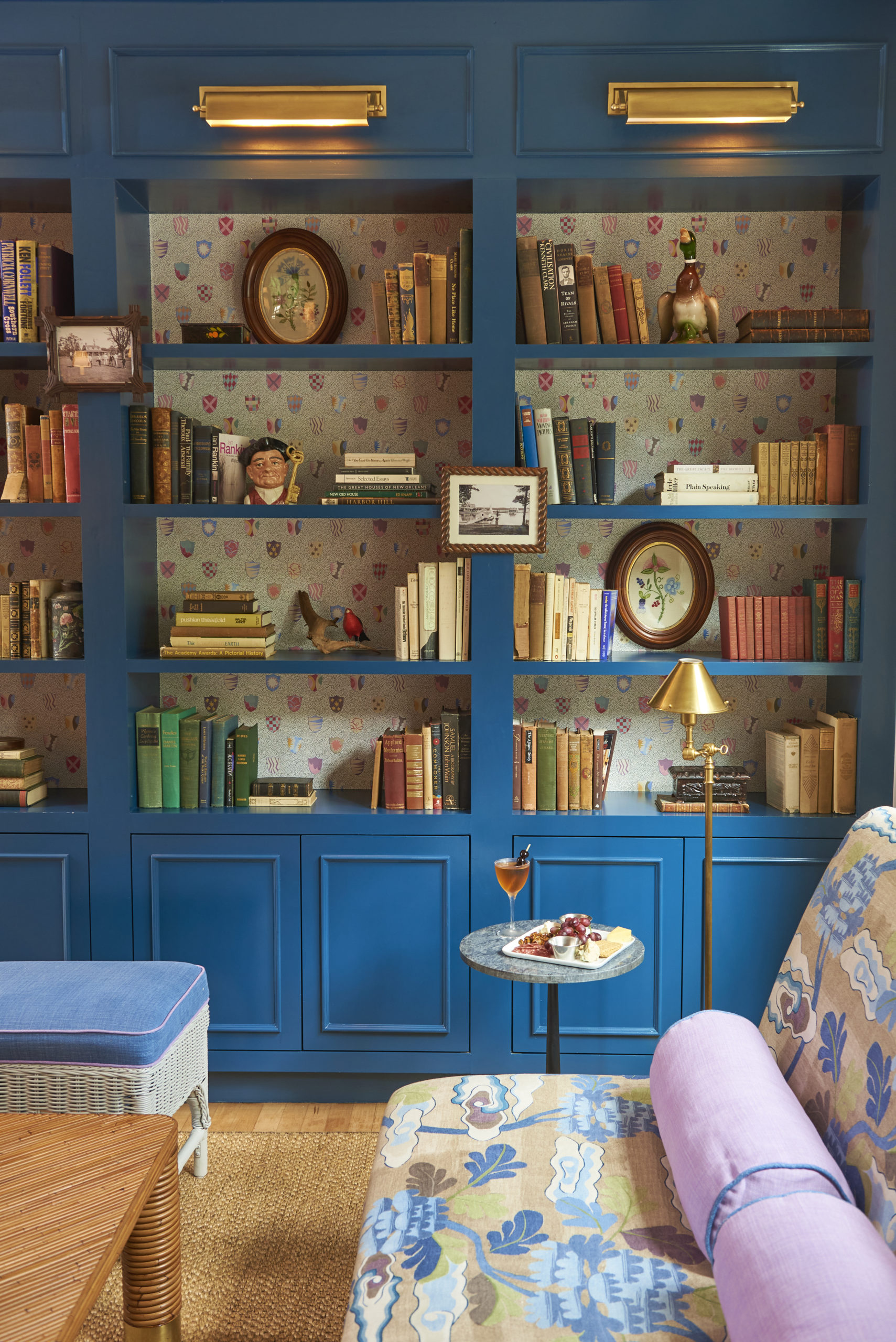 Absolutely! What do you have lined up in terms of programming for the summer?
We will have live music all summer. We're gonna do a few talks in The Grove area. [The Grove is a unique space in the woods of the property.] One will be the history of Shelter Island and another will be about the Ospreys, and some will be more kid oriented and some more general. Our boat will shuttle to Sag Harbor and Greenport and back. Our guests will be able to have a trip into Sag Harbor to walk Main Street. We also have a school bus that we are painting green that's going to say The Pridwin' in big letters on the side. We're also gonna do these full moon barbecues. On July 4, we're going to have tables over the whole lawn and people can have dinner and watch the fireworks. There's also a kid's program, Camp Pridwin. There's a giant slide that goes on a hillside. And the kids are playing there all summer long. It's very cute.
One of the things that I really love about this place is how friendly the staff are. How are they trained?
We have a really fun orientation program. There's a history video that's really sweet. Then there's a good manners/bad manners  video we show the team. And it's a spoofy thing on the bad manners. But it makes a point. People need to understand the vision. To me, we have a massive trust that's been given to us in that, effectively, we've invited people to a party and they're paying for this party. And it's not just any old run in the mill thing for them; it's their vacation. That's the most important time of their year. They're entrusting it to us. You see the scales fall off a family when they come and they start relaxing at your property. And it's just so moving. It's so fun to be able to do it. We try to explain that to the team. In the word 'hospitality' word, its root is hospice, and that is a place of refuge and safety, and you're gonna care for people and welcome the strangers. We try to teach that and find people that are passionate about that and feel fulfilled in doing that. If you're not into showing up with the servant's heart, you're in the wrong business. It's our core value.
Subscribe to our newsletter and follow us on Facebook and Instagram to stay up to date on all the latest fashion news and juicy industry gossip.