Read today's dose of chic intel right here…
Victoria Beckham's Sales Are Up, But Her Losses Deepen (BBC)
There's good news and bad news for Victoria Beckham. The good news? Her sales were up in 2017 by 17 percent, bringing in £42.5 million ($53.8 million). The bad news? She still had an operational loss of £10.2 million ($12.9 million), up from £8.2 million ($10.3 million) the year before. Beckham has seen rising losses since 2013.
Without a Buyer, W Editors Are Exiting the Publication (WWD)
W Magazine still doesn't have a buyer, but apparently things are looking good as WWD reports there are up to 15 "potential suitors" for the publication. Unfortunately, that hasn't stopped major staff members from leaving. Senior market editor Sam Walker, jewelry editor Gabriella de Givenchy, executive digital director Sarah Leon, and fashion director Rickie de Sole have all decamped recently.
The CFDA Releases the Official New York Fashion Week Schedule (CFDA)
The CFDA is gearing up for something much bigger than the holidays: New York Fashion Week! American fashion's governing body has released the schedule for February's event, which begins on February 4 with three days of menswear shows. Tom Ford, who will present a co-ed collection, will show the evening of February 6, kicking off the main week. As always Marc Jacobs is scheduled to show on the last day, February 13, at 6pm. But that doesn't mean he is closing — last season Rihanna scheduled her show after his at the last minute. Fashion week is still two months away, so there is plenty of time for surprises!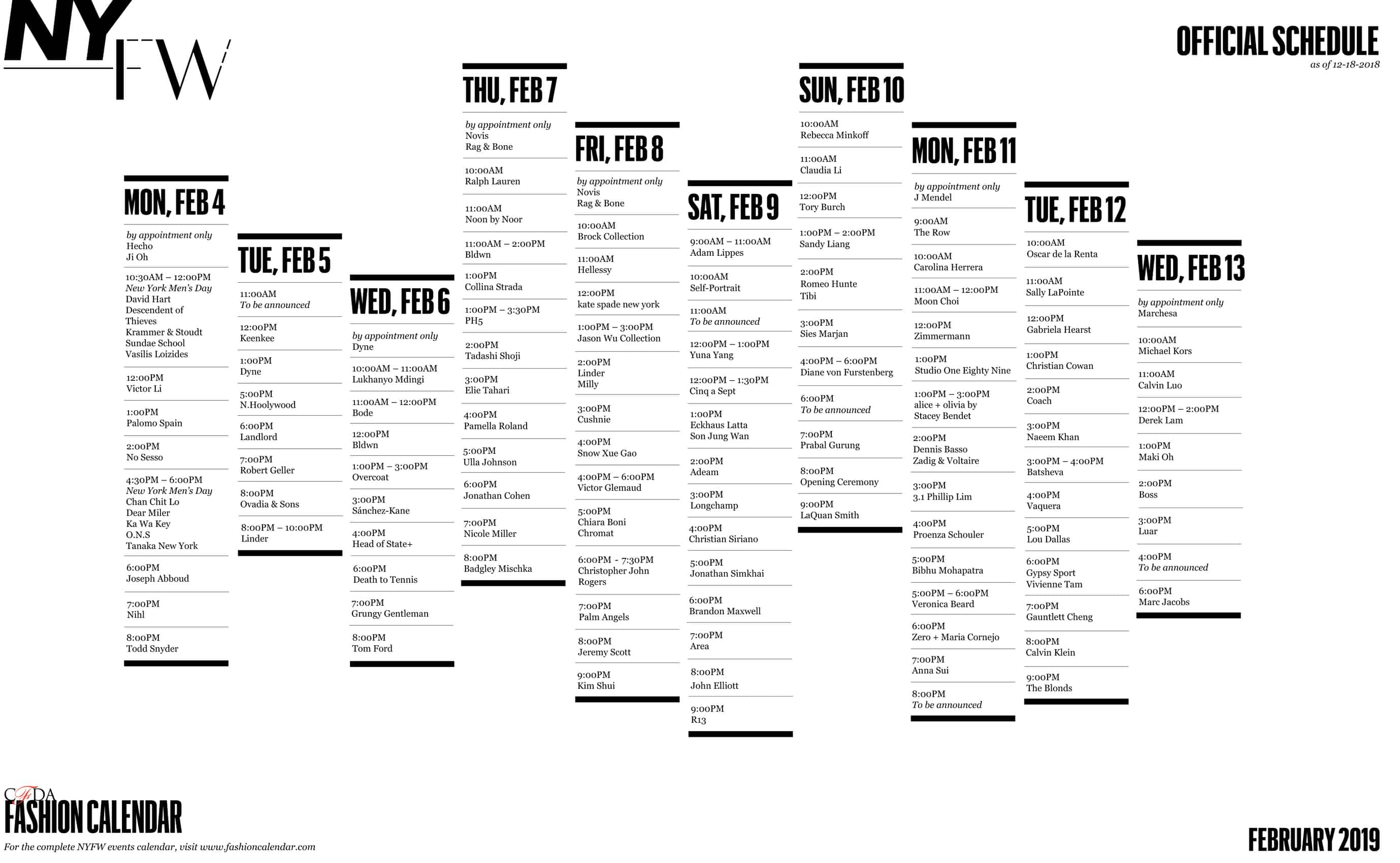 Rodarte to Present Fall 2019 Collection in L.A. (Vogue)
One of the bigger brands missing from the CFDA's calendar was Rodarte. Why? Because the label will be holding its Fall 2019 show outside of L.A., in Pasadena. "California is one of our most important influences and having our first show in Los Angeles is a dream we've long wished to make reality," the Mulleavey sisters told Vogue. "We are proud to bring our show to L.A. with our amazing team and our collaborators." No date has been specified, but the show could take place anywhere from late January to early February.
Liz Fensterstock Helps David Casavant Celebrate His New Book
Last night, art dealer Liz Fensterstock held an intimate party in her home to fete the release of David Casavant's new tome, David Casavant Archive. The evening was co-hosted by artists Raúl de Nieves (fresh off a hit exhibit at Art Basel) and Jacolby Satterwhite. Guests — including Vogue's Edward Barsamian and designer Christian Juul Nielsen — were treated to signed copies of the book, and a peek at Fensterstock's personal art collection.
Subscribe to our newsletter and follow us on Facebook and Instagram to stay up to date on all the latest fashion news and juicy industry gossip.