Once upon a time, a beauty 'story' in a women's magazine might have been merely about the merits of a product or cosmetic treatment—but not on Faith Xue's watch. With the head-spinning role as executive beauty director at Bustle, the longtime editor is responsible for instigating the type of beauty- and identity-related conversations that culture needs more of. From content that breaks taboos to franchises that further representation—and strategizing about how to present it all in the most thought-provoking, inspirational, and aspirational way possible—we definitely believe her when she says that no two days in her role are ever the same. Read on to find out how she found her footing in the industry and, of course, what's always in her skincare cart…
What's your earliest memory involving beauty or self-care?
My earliest memory of beauty is watching my mom go through her 10-step skincare routine each night and then her makeup routine in the morning. I loved to sit on the side of the bathtub and watch as she applied her lotions, essences, serums, and creams—she even had an at-home microcurrent device she would use way before NuFace was even a thing! She was religious about taking care of her skin and putting on a full face of makeup before she went out into the world. She never treated beauty like a frivolous thing. but always found joy and self-care in it. It taught me to view beauty the same way once I was old enough to start using products myself.
When did you know you wanted to pursue a career in media?
I grew up playing classical piano and singing my whole life, but junior year of high school, I had to decide if I wanted to pursue that full-time or try something else. I thought of what else I loved, and reading and writing were the first things to come to mind. Like many of my peers, I hoarded magazines when I was younger. I had a drawer full of them because I never wanted to throw them away. I thought magazines were the most beautiful things and was entranced by every aspect of them, from the cover shoots to the stories. A world where I could work for these magazines I devoured while also being paid to write sounded like a dream.
What did those initial steps into the media world look like?
My early career trajectory was a bit all over the place, which should give hope to anyone who feels confused about where they are—I'm proof that ending up in editorial and media does not mean you have to follow a linear path! I studied communications at the Annenberg School at USC and had eight internships throughout college. I thought I wanted to do PR or work in fashion or music. But all my internships taught me was that I didn't want to work in the industries I interned in… which was a good learning in and of itself! Once I graduated, my parents told me I had two months to find a job; otherwise, I had to move back to Seattle. I found a temporary, six-week contract job at a digital agency helping run celebrity websites and social media (it was ahead of its time!). That turned into a full-time offer, and that's where my love of digital media happened. I was ghostwriting for a slew of celebrities—this was pre-Goop!—and I started working on Michelle Phan's website. That was my first foray into the beauty world, and I was awestruck at the power of beauty to transform people's lives and perceptions of themselves. From there, I worked at Makeup.com as a staff editor, then at Byrdie, which Hillary Kerr and Katherine Power had just started.
What's one formative career lesson that you learned early on that's always stuck with you?
Two things. First, I firmly believe that everything happens for a reason, and to trust the process. I interviewed for a job right out of college that sounded like my dream job—it was an editorial assistant position at a site I loved, and I poured my entire heart and soul into the edit test. I made it to the final round, then was told the editor went with the other candidate because she had more experience. I was crushed. I remember thinking I had lost my one opportunity to get my foot in the door of the editorial world. But a few years and jobs later, I did end up in my dream editorial job, and ironically, the person who got the job over me ended up applying for a job at the site I worked at! I took that as proof that, as cliché as it sounds, what's meant for you will come for you. If a door feels closed, it's because there's something better out there, or it wasn't the right time. Second, if you really want a job, find a way to go above and beyond in the interview process. That's the easiest piece of advice. I only had internship experience when I applied for that first job, and they were looking for people with at least two to three years of experience. Even though I ultimately didn't get it, I did get to the final rounds of interviews because I went above and beyond on the edit test. I know the editor wouldn't have given my resume a second look if I hadn't taken a risk with my cover letter. For the edit test portion, instead of submitting my answers in a Word Doc, I taught myself Photoshop and mocked up what the website would look like if my stories were on the homepage. I know that when I hire for roles, I'll automatically give someone at least a first interview if it's clear they put time and effort into their application; to me, that's so much more important than what's listed on your resume.
The digital beauty content landscape has changed a lot in recent years. What are some ways in which you've had to adapt your skillset and POV?
I think a necessary part of working in digital is being open to change. Things are going to change, whether you like it, are comfortable with it, or feel prepared for it, so you can change with it, or you'll be left behind. I'm lucky that my career started in digital, so I never personally had to experience the shift from print to digital—things like traffic numbers and social media were embedded in me from the start. Though my previous role as editorial director gave me all of the experiences l needed to lead our beauty editorial coverage at BDG, my current role as executive beauty director also requires me to work closely with our sales team to ideate campaigns, branded issues, and sellable beauty ideas across all of our sites —which I think is a good skill set for any beauty editor or director to have. Knowing how to be a good partner to your sales team, whether it's through communicating all of the amazing initiatives the editorial team is working on or adding an editorial POV as the team responds to an Request for Proposal, will only give you a leg up as you move along in your career.
View this post on Instagram
How have you pushed yourself to stay innovative and creative when it comes to beauty coverage?
I read everything! Features, interviews, trade stories, and newsletters (WonderMind, Hunter Harris' Hung Up, and Rachel Bullock and Maggie Bullock's The Spread are some current favorites). I feel the most inspired when I read an impactful piece of writing or see a breathtaking shoot. I'm also very (okay, somewhat) organized with Instagram—I have folders for potential talent I'd want to feature/interview, makeup artists and hairstylists for future shoots, graphics I love, and intriguing brands. I also jot down everything in my Notes app. It can be a brand someone tells me about or a random idea that comes to me as I'm dozing off before bed.
Let's talk about your role as executive beauty director of BDG. Sounds busy! What does it entail?
I was brought on by BDG's chief content officer, Emma Rosenblum, to help shape each of our sites' distinct beauty perspectives. For example, what makes a Bustle beauty story different from a The Zoe Report story? If we're covering a beauty launch, what is Elite Daily's approach versus NYLON's? I also wanted to challenge the sites to think beyond just straightforward beauty news coverage—knowing that beauty is universal and inherently tied to identity, culture, and power, what are the stories we can tell through that lens? The first thing I did when I started was kick off new beauty franchises for the sites that reflect their beauty POV—since then, we've expanded into video franchises, beauty packages, awards, and more. My favorite part is working with the beauty editors across all sites—they all know the sites inside out, and their ideas constantly inspire me.
View this post on Instagram
What might an average day involve?
There really is no average day in my role, but usually, every day consists of at least one press preview or PR meeting to learn about a new beauty innovation or launch, then I might meet a beauty editor to discuss the past week's stories and any key learnings/takeaways, followed by a meeting with our social team to brainstorm new beauty-focused franchises. Since a lot of my role involves long-term strategy, I'm always trying to look ahead and work closely with the editors in chiefs to ensure our bigger beauty moments reflect each brand's POV. We already confirmed all of our tentpole beauty moments for 2023—which is wild! And like I mentioned, I also work more closely with our sales team. We collaborate on ideating concepts for brands on unique campaigns, like a stunning story we shot with Korean brand Sulwhasoo, or a recent series I pitched in partnership with Sephora called Faith's Faves, where I wax poetic about my current favorite products.
What are some recent highlights?
Industry-wise, I just moderated a really meaningful panel for AdWeek with Amazon about recruiting the next generation of talent. I go on Good Morning America or the TODAY Show often to talk about beauty trends (my parents love that!). Editorially, we just launched TZR's Beauty Awards with a really gorgeous video shoot that I beauty directed. We also launched a really meaningful video franchise on NYLON called Beauty Ties, which is all about community and beauty—we shot the first episode with this incredible braider called Susy Odule and her community of Bed-Stuy braiders.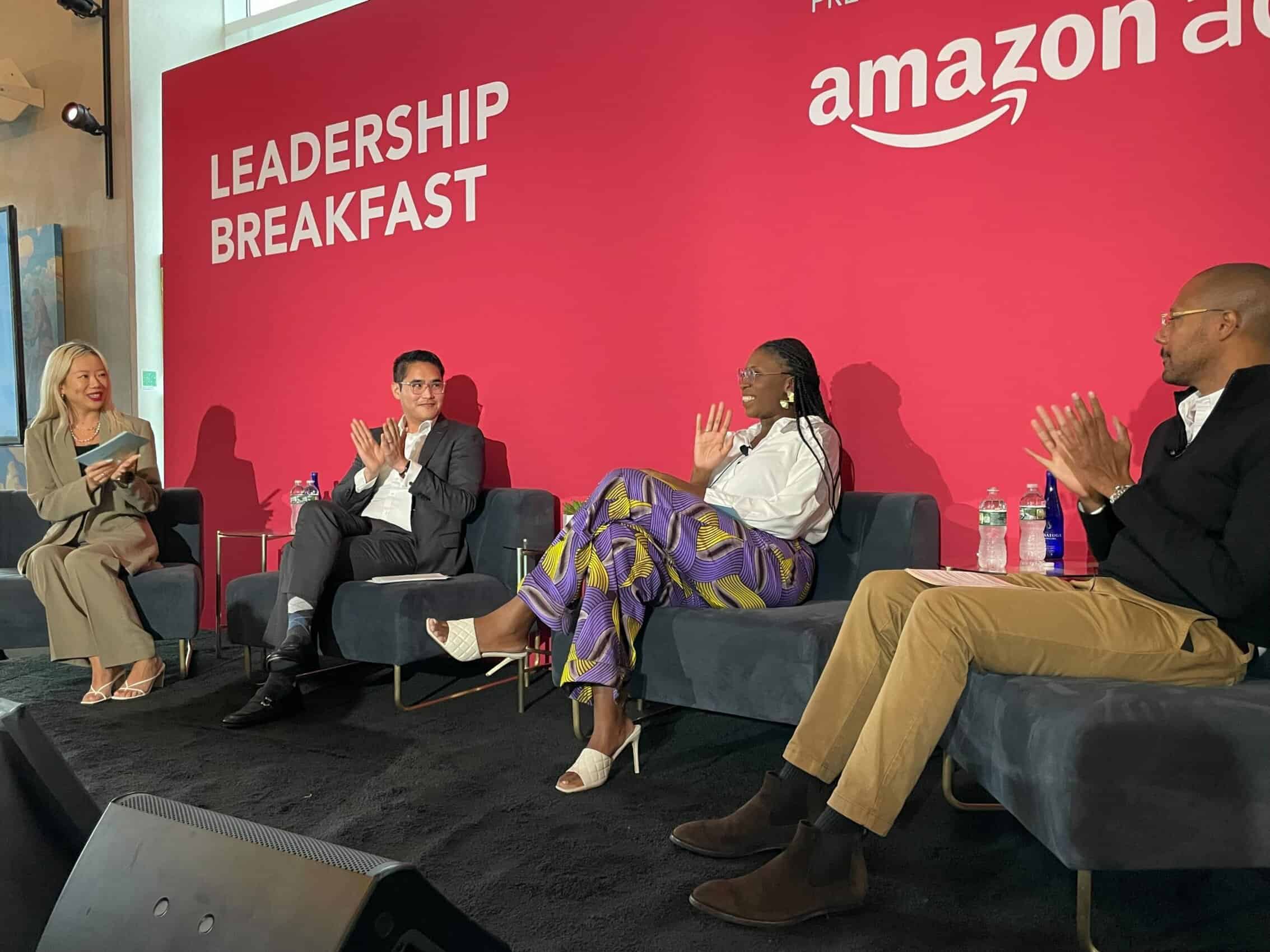 You've written about how important it is to you to embrace your Asian American identity. Have you found ways to further representation through your work too? Tell us more.
My identity as an Asian American—first-generation Chinese American, to be specific—is something that I may have tried to quiet in the past, back when I thought that assimilation or being white-adjacent was the only way to success. But not anymore. I think back to the magazines I hoarded when I was younger and what it would have meant to me to see an Asian person on the cover or even within its pages. I take my responsibility as someone who can make decisions in the editorial world seriously because I know that what we see and consume affects how we see ourselves. Taking on my new role at BDG, I wanted to reshape how accessible and relatable our beauty content was to reflect our readership. The first piece I ever wrote when I got hired at Bustle was a piece celebrating the beauty of monolids, where I interviewed makeup artists and influencers about their monolids and how they use makeup to accentuate this defining feature. This year, I spoke with over 30 AAPI brand founders. I asked them to share their stories on growing up in America and building their businesses, which I think is especially pertinent to talk about in Asian culture because historically, it isn't one that celebrates entrepreneurship, breaking out of a mold, or individuality the way Western cultures do. We also launched our Beauty Roots franchise on Bustle to celebrate how our different cultures and heritages affect who we are today. I loved the installment we did with Chloe Flower, an incredible and glamorous Asian American musician and fashion star.
View this post on Instagram
What's keeping you excited for the future of beauty editorial content?
What excites me the most is the power it holds and the way it can affect change for good. Think about the editorials and advertisements you see now versus ten years ago—choices we as editors make to champion diversity and inclusion have a lasting effect on culture and beauty standards, which affect the people living in the society. We used to live in an age where a select few dictated trends and products, but not anymore. The beauty industry is such a vibrant place, and more and more unique voices are spurring the conversation forward…my TikTok For You Page is proof! There's also so much innovation happening in the product space. False eyelashes meant for monolids, SPFs that don't leave a cast on dark skin tones—all of these things didn't exist a few years back. Though there's so much more work to be done, it's encouraging to see the industry step up and make beauty more inclusive for all and to play a part in that change, however small it may be.
Obviously we have to ask! What are your five ride-or-die beauty items that you couldn't live without?
Ask me this question next week, and my products might be completely different, but for now, these are a few products that have been on constant rotation:
Paula's Choice BHA Toner: My go-to whenever my skin looks dull or congested.
Laneige Lip Sleeping Mask: You'll never find me without one of these lip masks in the near vicinity. I use it before bed and wake up with the smoothest, softest lips. It's a real obsession.
SIMIHAZE BEAUTY Matte Balm in Windburn: The perfect your-lips-but-better lip shade and the matte formula is buttery-smooth and non-drying.
Shani Darden Eye Cream: Sadly, the fine lines under my eyes seem to be multiplying. This is the only product I see a noticeable difference with when I use it.
Ami Cole Mascara: I have tried every mascara under the sun, and this one is the best for my lashes—it's super thickening but keeps a curl. It's magic.
Adding all to cart! Lastly, one piece of parting advice for anyone pursuing a career in the beauty editorial space?
Read and consume everything you can, write as much as possible to develop your voice (and learn from feedback and edits), and don't be afraid to Instagram DM or cold-email someone you admire for an informational interview! People love passion, so if you truly love beauty editorial, find a way to show it.
View this post on Instagram
Subscribe to our newsletter and follow us on Facebook and Instagram to stay up to date on all the latest fashion news and juicy industry gossip.