We caught up with Copious Row's David Chines as the Sag Harbor haunt heads into its second summer season. He gave us the dish on his newest Greenwich digs and where he can be spotted on the East End…
How did Copious Row come about?
Being in the industry and having exposure to so many designers and brands, I saw there was a misrepresentation for many talented brands. Many designers don't produce enough quantity for department stores or they don't want to be in them because it lacks a personal feel. A lot of international brands don't have a footing within the U.S., but make amazing, beautiful things. They make items a lot of people want when looking for something special and unique, but they aren't necessarily the most well-known names. I thought it would be great to have a store to cater to these designers. It would offer a super intimate feeling, and be well-edited and a great shopping experience.
How do you decide which brands to include?
It's tough! It works in a few different streams. I go to all the market weeks, fashion shows, and I work with great showrooms and designers that I either know personally or have been referred to by friends in the industry. I try to bring pieces that I know aren't carried in a lot of different places, whether it's a new designer that's only sold in a few markets or pieces that are unique and have a big following maybe in Rome but not in the U.S.
Any new designers entering the mix this season?
We have a lot of them! I am excited to have Hugo Matha, a Parisian handbag designer that specializes in clutches. He uses lucite or natural wood for the base and either special leathers or exotic skins for the flaps of the bag. He's an artisan and makes amazing pieces. He has no other U.S. distribution, which is exciting…I'm also working with Nina Runsdorf, who has been great. She's a jewelry designer that makes beautiful one-of-a-kind pieces using a lot of different stones, sliced diamonds, rubies, and emeralds. She has a unique interpretation of classical, presented in a modern way.
How about RTW?
I'm excited to be working with Baja East. They do a beautiful job—they are so fresh and innovative. The pieces are versatile, and they work for all types of people.
How has the store changed this season?
After the first season, I saw what people responded to and that I carried unique items and didn't want to play it too safe or too traditional. Anything that was too traditional just didn't sell. This season, I made sure each piece was unique. Nothing is too ordinary or basic—that's not who's shopping at my store.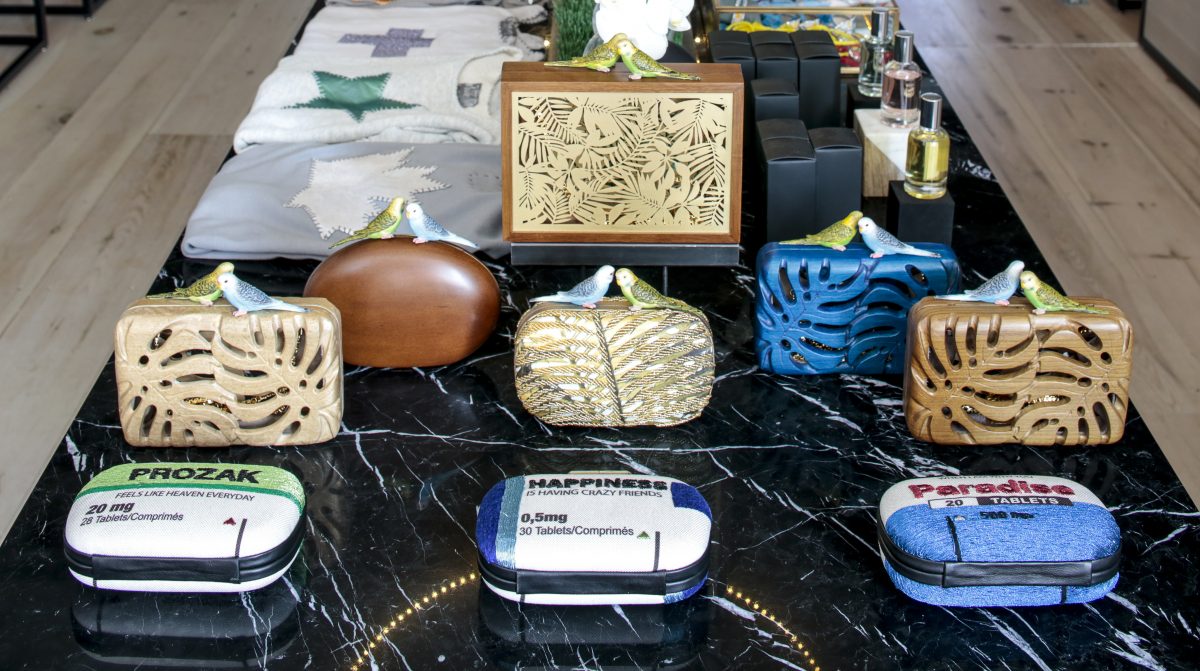 Why did you pick Greenwich for your new shop?
It's three times the size of Sag Harbor, so it allows me to continue to have the same mission with accessories and jewelry, but I am also expanding into ready to wear. It will carry about 12 women's and men's designers.
Any big differences with this store?
It's a bit dressed up in its aesthetic, whereas Sag Harbor is a beach town and features natural elements.
Do you see additional Hamptons locations in the future?
It's a thought, but I haven't made any decisions yet. Sag Harbor is a nice market for me. I love how unique the space is. It's an original carriage house with a beautiful private garden and finding something like that probably won't happen. That original charm with the merchandise is really special.
Have you always been going out East?
I've been going to the Hamptons for the past 20 years. Since I was young, I've spent summers there. That was always my connection to the place. It's so happy and beautiful, and it lends itself to a curated kind of store. When I was thinking of opening the first brick and mortar, it was a natural fit.
What is your Hamptons vibe?
For me, the Hamptons is very calm. It's an intimate place. I like being at home with friends, entertaining, going to the beach, and sitting by the pool. I'm not a partier out there, not to say I am in the city, either. I prefer to stay low-key and have some quiet time.
Care to dish about your fave restaurants?
Sant Ambroeus in Southampton, and East Hampton Grill. It's a great place to eat in winter, too. Nick and Toni's, obviously—everyone loves that!
Where will we spot you on the beach?
Mostly in East Hampton at Egypt Beach.