Sebastian Faena's career is something like a fairy tale. He got his break as a teenager when he met Mario Testino on the streets of Soho. Soon enough, he was shooting Linda Evangelista, collaborating with Carine Roitfeld…and even making his first feature film at age 23. Over Japanese food at EN, he expounded on his charmed life.
You grew up in Buenos Aires. Who were your fashion influences?
Everything that led me to taking pictures and being where I am today is so strange and weird. When I was young, I was always fascinated by Steven Meisel, Steven Klein, and Mario Testino.
How did you learn about them?
From an early age, my family had magazines with women like Linda [Evangelista] on the covers. Even in high school I knew who Carine [Roitfeld] was, because I was a fan. Oh, I would go out to clubs with a copy of Harper's Bazaar in my hands! I liked the eccentricity of it.
Was your family interested in fashion?
Yes. My parents, sister, and brother were all related to fashion somehow. My father owned the biggest wool fabric textile manufacturer in the country, so I would travel with him and go to the factories and have naps on the pieces of fabric. It was all inside me from the beginning.
Did you always want to be a photographer?
Never. It wasn't my thing, but I was happy doing it and was good at it early on. I wanted to make films.
What was your first film?
It was called La Mujer Rota. I was doing photography in New York City at the time, but I didn't think it was going to make me happy, so I made the film and it was like living in this bubble world for three or four years. Mario [Testino] saw it and he became the executive producer, helping me with post-production. It was released in 20 or 30 theaters around South America. The movie was not a success, because it was so strange. It was very beautiful, but I was very young and not thinking about the audience.
Where did you meet Testino?
On the streets of Soho, when I was a student at Columbia University. We started talking because we are both South American. He asked me if he could see my pictures, and eventually, I showed him my portfolio. It was basically just girls from my high school dressed in their mothers' clothing. After school, I would love to go over to my girlfriends' houses and dress them up and take pictures, or go around town and create stories or scenarios. I didn't know it at the time, but I was creating fashion spreads. After looking at my work, Testino said, "There is something here." He talked to Alix Browne, who was an editor at V at the time, and they gave me an assignment right away.
Who was your subject?
Linda Evangelista. The story was inspired by the film Eyes of Laura Mars. Stephen [Gan] really took a chance on me.
Were you nervous?
I had just done my big film in Argentina, so I was totally fearless. I wanted my shoots to be incredible, but the role of a photographer was not something I was scared to lose. I really learned a lot working for V. It was like my playground, and I made many mistakes.
Eventually, you went to work for Testino. How did that evolve?
We became very good friends, and he wanted me to become a creative director for him, so I went to London. Because of Mario, I met Carine [Roitfeld], Stephen [Gan], Tom Pecheux, and all the people I work with today.
Where did you first meet Carine?
On a shoot with Mario in Rome. I left the set to play with some stray dogs, and Carine came after me. I had just met her the day before, and she asked, "What's the problem? Do you think you are better than everybody else?" I said, "No, I just prefer to be with the dogs." I love dogs, you know? She said, "You prefer to be with the dogs rather than with me?" and I said, "Well, yes." That's how we became friends. We still have the same dynamic. We love to bother each other. We're both Virgos—we were born only a few days apart. When we work together, we are like 5- or 6-year-olds playing. We are so free when it comes to the creative process.
How do you maintain your creative freedom when working on campaigns?
People now make decisions commanded by fear and try to be safe in order to keep their jobs. This leads to something not very inspired. We have to be fearless. Most of the time I work with clients who work with an agency I like.
Example, please!
With David [Lipman], it's always great, because he's a dreamer and he's crazy, and he's a very special character who wants the best for everybody. He doesn't care whether he is going to get this client again or not, he's just thinking about how to make an incredible image. It's rare to find people like that. He gave me big campaigns after I had only been working for a short time. I did some David Yurman campaigns, and then Georg Jensen and DVF. Most recently, we worked on the John Hardy campaign with Cara Delevingne.
What's it like to work with Cara?
I love Cara. Honestly, if it works, I kind of fall in love with them for the day. I become them at the same time. It's a very intense, memorable, amazing experience, so you get very close to the person you're shooting without even realizing.
What's the craziest shoot you've ever done?
When I shot Celine Dion for V. It was styled by Carlyne Cerf de Dudzeele. She was one of the most fun subjects I have ever shot and in my head, before that, she was everything but that. But I've rarely done things that are not crazy. I would get bored otherwise.
When was the first time you worked with Carlyne?
We shot "Footballers Wives" for V. It was hard for me to convince her to come to a football field, but she did. In the beginning, we wanted a very sexy woman. Carlyne calls this type of woman a "bourgeoise salope." I've also shot a French prostitute and a human Barbie for V with Carlyne. Some of these were so outrageous they would be on the covers of Argentinian newspapers, and my mother would call me. We both like to provoke, and we like controversy. We're not doctors or lawyers. It's supposed to be fun. Carlyne always defies you and challenges you about whether what you are doing is coming from inside of you.
More details about the human Barbie [Valeria Lukyanova], please.
She didn't speak any English. She's Ukrainian. She was with her husband, who was just a regular guy. He wasn't like a human Barbie man. I didn't get the best vibe from her, but maybe there was a language barrier.
Do you have a muse?
Gigi [Hadid], for sure, because I started taking pictures of her in the beginning. But Carine is a muse, Carlyne is a muse, Dree Hemingway, Cara Delevingne, Carolyn Murphy, Kate Upton…Dree is almost like Tinkerbell, and Kate Upton is like Jayne Mansfield. Gigi is the girl you would dream to fall in love with when you are in high school and she would not pay any attention to you because she was too beautiful to look your way.
You were one of the first to work with Kate Upton. How did that come about?
Ivan Bart called me about Kate, and we did the first fashion spread with her. He saw it in her before anybody, and then I saw it too. Ivan has been so important to my career by giving me incredible girls and having faith in me.
What would people be surprised to know about you?
I like to be isolated and alone in nature with animals. I look for every opportunity to do that in my life. That's when I feel the closest to myself and the closest to God.
Do you have any pets?
My entire life, I've had the most incredible dog called Luisa. She looks a bit like a young Marisa Berenson, but something even more sublime. It's very clear that she would be my dog, because she's the only one possible.
What's next?
My goal this year is to make a movie. I have a fictional story in mind. There are a lot of people I have shot over the years that I would love to be in it, because I like the way they look, the way they walk, or how they talk. It wouldn't be a fashion film, though.
What are your favorite films?
I was a film geek since I was very young. I would stay home all night to watch movies. [Michelangelo] Antonioni first. Red Desert is my favorite film. I also love Zabriskie Point, La Notte, L'Avventura, and L'Eclisse. All of those define my taste today. Also, I love Truffaut, Pasolini, and Fellini, of course. Visconti's Death in Venice is another favorite film. I read the book as well. I would read a lot when I was a teenager. I read a lot of Nietzsche.
How have you grown since you started your career?
In the beginning, even though I was only twentysomething, my life was quite extravagant. Now I feel I have grown more into myself. I'm simple. I see my job as no different from that of a carpenter, a plumber, or a hooker.
 Premiere Issue of CR featuring Julie Ingleby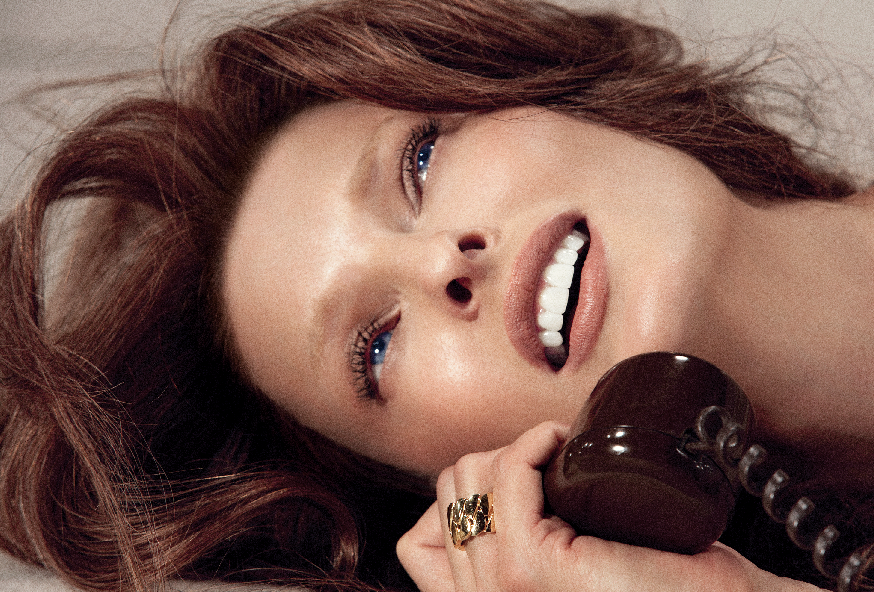 Linda Evangelista for V magazine, issue 52 
 "Nun Head" for Pop