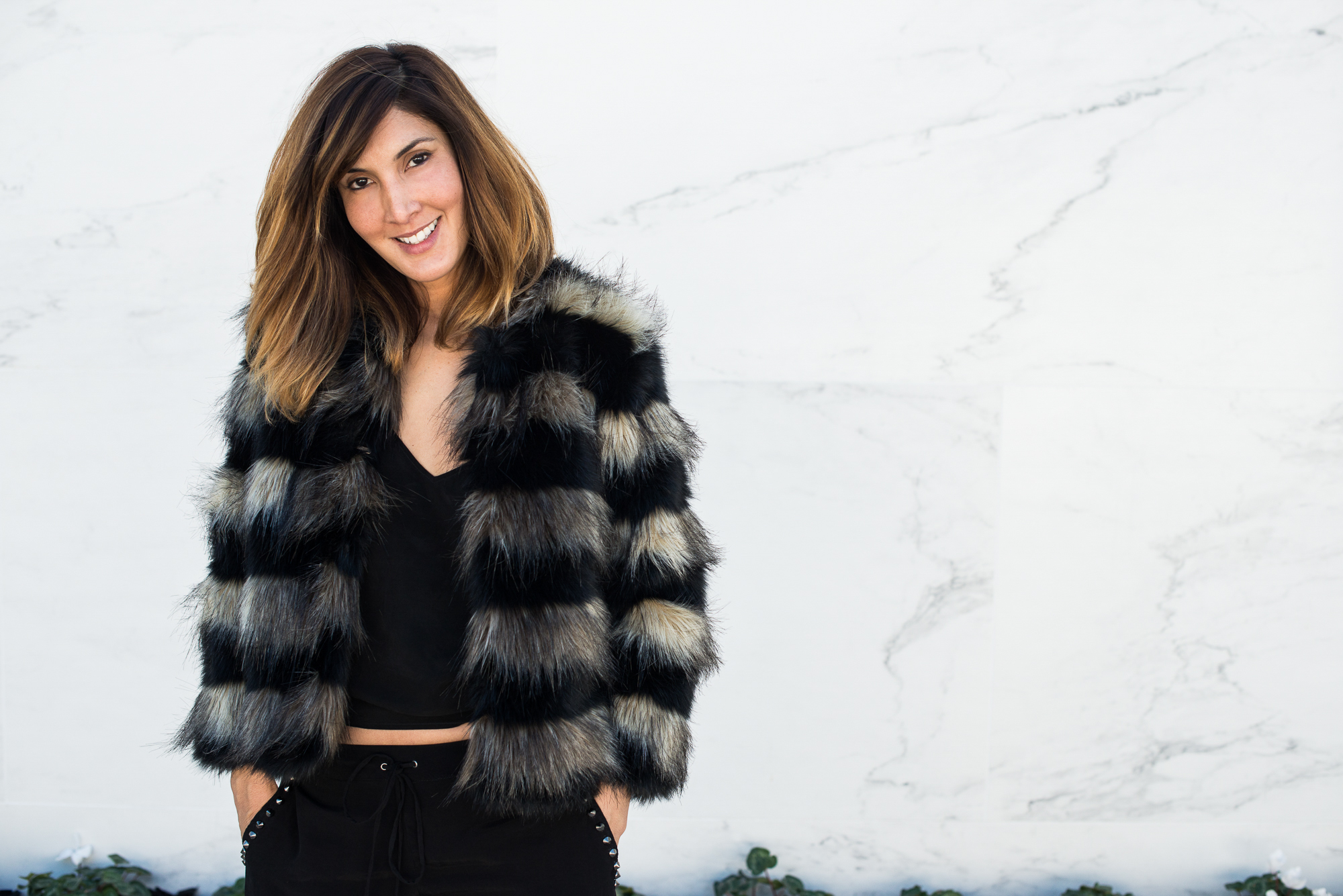 Yvonne Niami makes it her mission to marry doing good with looking good via her fashion label, n:Philanthropy. After 2.5 years in biz, she fills us in on the brand's story, summer plans, entering Bloomies, and a debut campaign with Victoria's Secret Angel Elsa Hosk.
Where did you get the idea for n:Philanthropy?
I had a real estate design/development company with my ex-husband in Los Angeles, and we were always philanthropic, giving back to the Children's Hospital Los Angeles and SPCA LA for animal abuse prevention. I had an uncle who was in fashion for 30 years—he used to work for J Brand, and other companies before that—and growing up around him, I fell in love with it. He would lay out all his patterns on the bed, all the pieces to a dress of whatever he was making. Seeing all the patterns cut and the fabrics, I remember how exciting that was to me. I always wanted to start my own clothing line, but my ex-husband didn't want to. When we divorced I said, I'm doing this! I'm creating a fashion company that's philanthropic.' We've been in business for two and a half years.
What else were you doing before entering the fashion-scape?
I did a little bit of acting in my early 20s, but then realized it wasn't for me. Real estate was something I always loved, and design. My ex-husband and I would sit down with an architect, draw out our idea, and build and sell the homes. So I just drifted away from the whole acting thing and went into the real estate world.
Why did you call the line n:Philanthropy, and what's included?
It's how you'd see a word in a dictionary, n for 'noun.' We are a full women's contemporary collection that has everything from tanks, cool T-shirts, sweats, all the way to vegan leather skirts and loafers. Our girl wants to look good but do good. That's our tagline:  Looking good and doing good.
How do you get your message across in stores?
We have a tag on all our clothes that lets customers know that, by the way, you just helped a child and animal in need, good work. We have another tag that indicates that 10 percent of the purchase goes to pediatric cancer research and animal abuse prevention. The phrasing is witty…being in the philanthropic world with fashion, you can't be too happy. You can't really put on the tag, 'Some of this purchase went to help a 7-year-old with leukemia.' It's just too heavy. It's finding a balance.
Who designs the collections?
I have a design team in Los Angeles, and I also help with the design. I approve everything, down to the fabrics.
The line uses a lot of PETA-friendly materials.
Most our fabrics and our clothes are sourced in the U.S., but our vegan leather is out of China. They do a great job making a faux leather that looks and feels real. We always use faux fur, like a faux mink, which are really fun. Others are really soft, comfortable fabrics made in the U.S. Everything is washable, even our raw silk-like material from from Japan. You can pack it in your bag and it won't wrinkle up.
Who were some early fans?
Early on, Katie Holmes supported the brand…she loved our sweaters. Nicole Scherzinger recently posted to her Instagram a picture of her wearing our Yasmin sweatpants and our sweat top, and that she loves the brand because we give back. Of course those started to sell out. We've had Alessandra Ambrosio and Kylie Jenner wear the line. We seem to attract a great celeb crowd that likes the clothes but also that we give back.
Where can we shop the collection?
We're at Bloomingdales, Neiman Marcus, and a ton of boutiques throughout the U.S. We just got our trademark in Europe, Korea, and Japan, and we're looking to go global. We're doing a shop in shop in Southampton this summer, through September  15. 
Is the Hamptons new territory for you?
Yeah, and we are so happy. We're right on Main Street in Southampton, which is the perfect location. If it works out, we might be able to stay there permanently!
What are some pieces that would be perfect for the Hamptons customer?
Gosh, we have so many…one of our tanks with 'I want to be a dog' embroidered on it. It's super cute. We're giving $10 from every sale of the tank to animal abuse prevention. Everyone on my team is beyond a dog lover!
Elsa Hosk was recently named your first brand ambassador. How did you choose her?
I knew the face of our brand needed to be someone that's cool, fun, but has that charitable aspect to her life and cares to give back. Elsa is the 'Philanthropic Angel.' She had that cool n:Philanthropy look and loves to give back like we do. To be as beautiful as her and to have a compassionate heart, it was the perfect fit. The campaign launches in August and the theme is "Cool L.A. Vibe, n:P tribe…join the Philanthropic movement." Fashion and philanthropy goes hand in hand!