For fashion designer Nicole Miller, quality time in the water is both a respite from everyday life and a source of inspiration for her new beachwear collection, La Plage. This Friday through Sunday (12-8 p.m.) the collection will be available at a special pop-up at The Surf Lodge in Montauk. The designer is celebrating the launch with a party at The Surf Lodge on Sunday from 3-6pm. Come along! RSVP@dailyfrontrow.com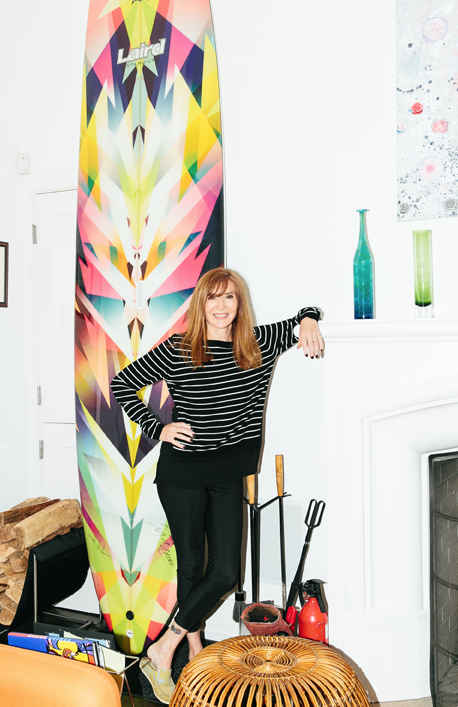 BY ASHLEY BAKER  PHOTOGRAPHY BY TAWNI BANNISTER
At 8:30 on a Saturday morning, Nicole Miller is sipping coffee on her back porch in North Haven. She wears a rash guard and swim leggings of her own design, along with her trademark sunglasses, and offers coffee all around while we wait for Rob to arrive. The Rob in question works for Global Boarding, a Sag Harbor–based water sports outfit that is willing to send a fully stocked speedboat to the dock in your backyard—if you have such a thing, which Miller does. Nearly every Saturday, weather permitting, she can be found cruising in East End waters on water skis or a wakeboard. Because Miller—fashion designer, notorious food fiend, serial entertainer, and perennial beauty—has become very serious about her 360s.
"I was actually always more of a snow person," explains Miller, as she listens for the telltale purr of the boat's motor. "I grew up skiing. But when I went to Antigua for a celebrity Fashion Week, a group of us went waterskiing every day, and by the end of the week, I was dropping a ski. When my son, Palmer, started going to camp with Global Boarding, we asked the instructor to come and take us on Saturdays."
Miller hears the boat sidling up to the dock and gathers her gear, saying goodbye to Palmer and her husband, Kim Taipale. She walks through her garden and slides out of her sandals before she hops, barefoot, over the boat's edge. "Let's do it," says Rob, as Miller weighs the morning's possibilities. She decides to wakeboard, and slides into a wet suit that is not of her own design. (Nicole Miller is in nearly every category, but the brand hasn't yet ventured into full-body neoprene—at least not yet.)
Orienting the vessel toward Harbor Cove, a relatively tranquil spot off the coast of nearby Shelter Island, Rob passes one of Miller's most reliable clamming spots, a shallow area not far from an empty sandbar that's an easy paddle from her house.
"The best way to do it is to go out in a kayak," she explains. "I take one of the net bags and use my feet to look for the softest spot—that's where the clams are. You have to develop a sense—the more you do it, the better you get. I'm at the point where I can walk through the sand and tell if my toes are touching a clam or a rock."
Immersion in the East End's great outdoors is a necessary antidote to Miller's often-hectic life as one of the stalwarts of New York City's fashion scene. Although she was trained as an artist at the prestigious Rhode Island School of Design, her lifelong interest in fashion led her to spend a year in an intensive study of haute couture techniques at l'École de la Chambre Syndicale de la Couture Parisienne. After graduation, Miller arrived in New York and held several successful tenures at design houses before partnering with executive Bud Konheim and hanging out her own shingle in 1982.
Her meticulously cut dresses, often featuring standout patterns and an inventive use of color, made the brand an immediate sensation. In 1986, she opened her first boutique on Madison Avenue. Today, the brand is sold in hundreds of retailers, and its offerings range from her trademark dresses to shoes, bridal, and even a "festival fashion" collection.
The latest focus? Beachwear. With Nicole Miller La Plage, the designer's collection of swimwear, cover-ups, and athletic pieces, she aims to service her loyal following in yet another innovative way.
"There's a lot out there, but it all looked very scuba, and I wasn't really crazy about a lot of the prints," Miller says. "I wanted something that was a little more fashion, without being gimmicky. I don't like those rash guards with crazy crisscross straps in the back. They're not utilitarian." La Plage includes rash guards and matching swim leggings in prints such as a mosaic stripe, along with boxy crochet tops, crepe caftans, floral rompers, and flattering swimwear—many of which are equally suited to the tranquility of a backyard pool as well as the rough chop of the ocean.
Back on board, Miller straps on her wakeboard, and when the boat slows to a stop, she jumps into the water. "Wakeboard is much easier to get up—when we teach people, I always tell them to grit their teeth and close their eyes," she says, applying sunscreen. "But then it's a lot more tricky to cross
a wake!"
Within seconds, she's skiing handily, and the boat picks up speed as she sails back and forth across the boat's wake. After a solid run, Rob slows down and turns around to pick up Miller, who climbs inside. "I didn't attempt the 360 today—it's a little early in the season," she says with a smile. "I'm just getting warmed up."
The boat is reoriented back to North Haven, and as Miller passes her clamming spot, she is pressed to share her best recipe for linguine alle vongole. "I clean the clams, and then I put them in a pan with a little olive oil and garlic. I cover them with the lid and they pop open, and then I pour wine on top of them." As for how frequently she makes it? "A lot," she confesses. "But sometimes, I make them with chorizo and corn!"
A prolific entertainer, Miller has become known around the East End for her homemade feasts, which often draw neighbors and friends like Eric Fischl and April Gornik, and Jay McInerney and Anne Hearst McInerney. "We do more lunches now," she says. "There's a big artist community here, and everyone hangs out together a lot. I actually have people coming over tomorrow."
But first, she's pondering one more turn on the wakeboard. As the boat returns to her dock, she flips through photos of her son on her phone, whose skills in the water sports realm she clearly admires. "Let's go get Kim and Palmer," she says. "They won't want to miss this."