A decade in, it's safe to say that Rebecca Hessel Cohen eats, sleeps, and breathes her LoveShackFancy brand. The magazine editor turned purveyor of floaty, dreamy frocks—and the ever floatier, dreamier lifestyle that goes with them—gathered female founders, friends, and supporters to mark the 10th anniversary of her ever-growing label. And if one ever doubted that the rococo-boho fashion wasn't an extension of Hessel Cohen's own reality, one just needed to look at the thoughtful details of the intimate 40-person dinner hosted at her Sagopanack home, which had been executed by the founder and her hands-on team sans event planner.
Well-dressed guests, including Jennie Garth, Candace Bushnell, Rachel Zoe, Tracy Anderson, and Whitney Port, joined Hessel Cohen for the celebration. Immediately upon arrival, right from the first sighting of vintage pink LSF-logo cars in the driveway, the teleportation to LoveShackFancy Universe was evident. Inside the garden, the evening kicked off with a cocktail hour—or rather, an hour that turned into almost two, as there were simply too many vignettes for attendees to resist impromptu photoshoots. (As one person remarked, "I can't tell if these are models being photographed for a campaign or if these are guests.")
With everything running fashionably late, there was still much fanfare to be made over the exceptional tablescape, which was adorned with custom-made linens in pink Ikat prints, mismatched vintage china, glassware, and candelabras from Hessel Cohen's undoubtedly endless repertoire of trinkets, and hand-painted watercolor name cards; the impressive work of a LoveShackFancy intern. The romantic setting was held under a long trellis, wrapped in vines and floral arrangements by Sag Harbor Florists, and lit-up for the dinner under the stars thanks to strings of fairy lights and hanging chandeliers.
Guests enjoyed a dinner of seasonal fare, before marveling at a decadent dessert display of cakes, cupcakes, fresh fruit, tarts, and meringues. Each attendee was dressed in pieces from the archives and the Anniversary Collection, which launches today in homage to the last ten years with ten special styles, while the full collection was displayed in a gazebo in the garden for perusal.
Also in attendance were Estee Stanley, Pamela Tick, Brittany Byrd, Marina Larroude, Alexa Swinton, Stephanie Horton, Stacy Lilien, Ashley Stark, Luca Facinelli, Rory Satran, Sophie Elgort, Kate Davidson Hudson, Samirah Raheem, Carolyn Tate Angel, Shoshanna Gruss, Elizabeth Kurpis, Kat Hantas, Devin Apollon, Anastasia Ganias-Gellen, Jill Collage, Candice Miller, Renee Barletta, Meredith Darrow, and Jordana Blitz, among others.
Catch a glimpse inside the fête, below: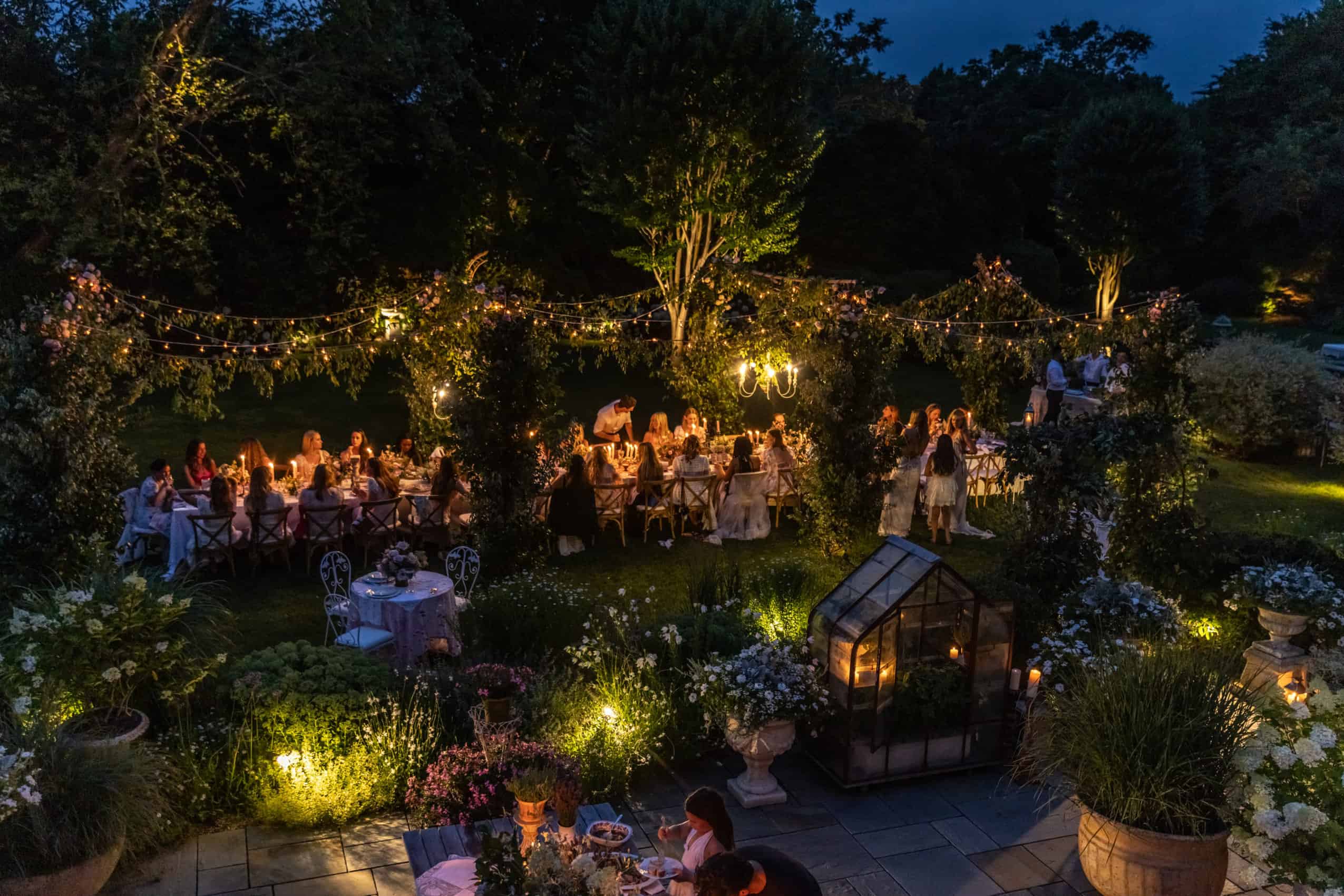 Images: BFA
Subscribe to our newsletter and follow us on Facebook and Instagram to stay up to date on all the latest fashion news and juicy industry gossip.