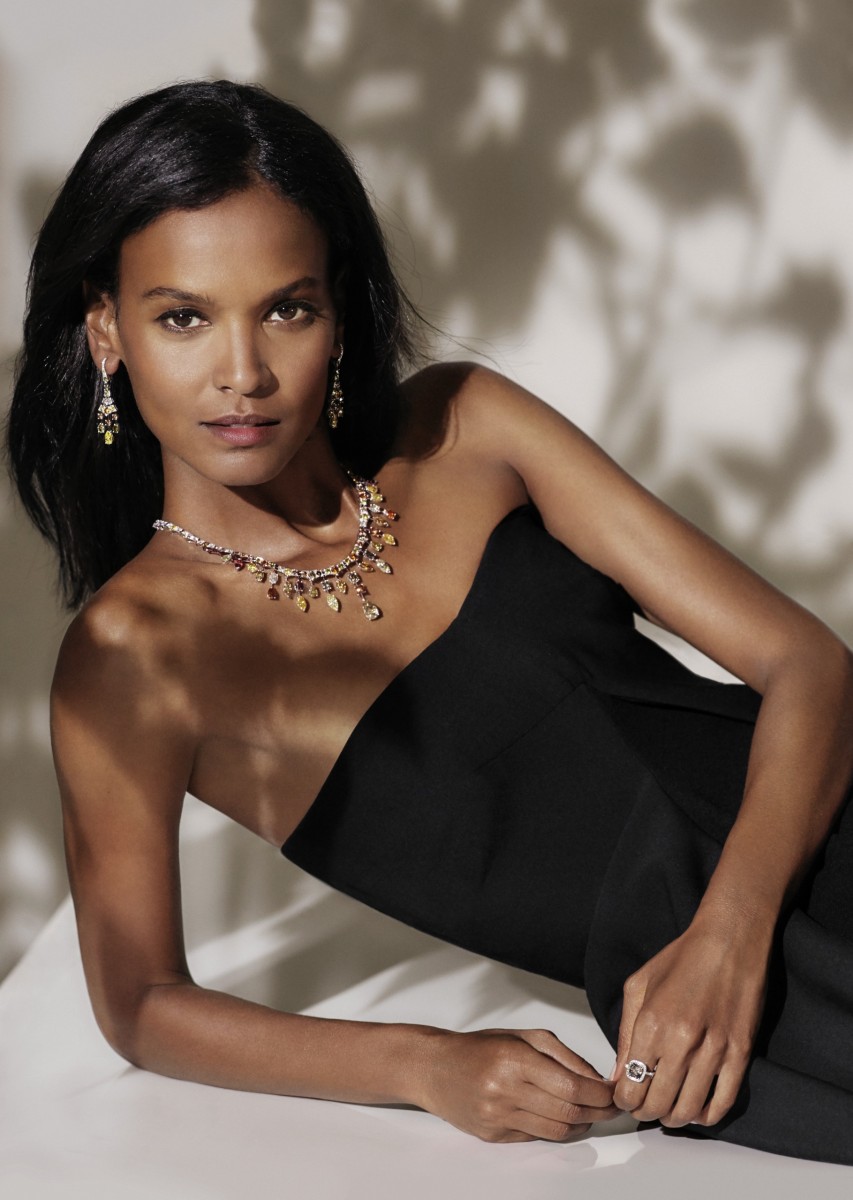 We caught up with model and designer Liya Kebede, who's been chosen by De Beers to participate in its Moments in Light campaign along with Zaha Hadid and Diana Krall. Chatting all-things life, modeling and, of course, diamonds, Liya, who's a total believer in "girl power" broke down what she's been up to lately…
How did you get involved with the campaign?
I was approached by De Beers several months ago regarding the opportunity to participate in their wonderful Moments in Light campaign. Through them I learnt of the amazing work Women for Women is doing around the globe and immediately wanted to be part of De Beers' Moments in Light charitable program. I think it's important that we as women invest our time in helping one another and giving back. Women do so much for their families, communities,  and the world, so it's important that we give them the recognition that they deserve.
Where did you choose to shoot the portrait?
We chose London for our shoot location. De Beers is an English brand and has a rich heritage in London—and of course Mary McCartney is such a Londoner. It was important that my portrait be photographed in a location that felt close to the brand and the project.
What was it like to work alongside Zaha Hadid and Diana Krall, and with Mary McCartney?
The first time I met Mary was when we shot the portraits for the project, and she was such a delight. I didn't have the privilege to work with Zaha and Diana, but we all met in London at the unveiling of our photographs and they were as wonderful and as engaging as I imagined them to be.
What is your favorite moment from shooting the campaign?
I loved shooting with Mary, to be in front of her camera. She has such a wonderful eye, and a beautiful way of shooting these portraits.
Have you always been a fan of De Beers?
I have always enjoyed the De Beers campaigns; they are always so beautiful and classic, and the jewelry is always very elegant.
How do you describe your taste in jewelry?
I am very shy with jewelry, actually. For me it is always very personal and quiet an intimate object. I feel like the kind of jewelry you choose really represents the woman that you are.
What other modeling gigs have you had as of late?
My latest modeling project was the Vogue Paris cover shoot. I was honored to be the first black woman on the cover in the past five years, and especially to be back after I did a cover for them back in 2002. I am also on the current cover of Vogue Germany.
Besides the campaign, what have you been up to lately?
I'm kind of a multitasker. I always have a few things cooking on the stove. Apart from the modeling that I do and I'm enjoying, I do a little bit of acting, which I'm very passionate about. I'm also very much involved in my foundation and my clothing line lemlem, and that brings everything full circle.
What do you think of this new revolution of models that have paved their way through social media?
I am still trying to grapple with and understand the impact of social media. I think it is very interesting what some of the girls have done with it.
Your thoughts on the "girl power" movement?
I think women can empower each other every day through support and encouragement. Women take care of so many things, and with this cause we're able to invest in each other, making sure that women around the world can become independent and learn how to be self-sufficient. I truly believe in women understanding the importance of independence and valuing one another.
Tell us about your clothing line and foundation!
The Liya Kebede foundation was first launched when I was appointed as a World Health Organization Goodwill Ambassador in 2005, and my clothing line, lemlem, came about in 2007. Both look to support my home, Ethiopia, as well as other parts of Africa. While the foundation primarily focuses on maternal and newborn rights, working with organizations to reduce deaths during childbirth through advocacy, education, grant-making, and partnerships, lemlem also provides jobs for traditional weavers who no longer have a market for their goods. All lemlem product is handwoven in Ethiopia. I want to be able to help an array of people, and through these two different ventures, I'm able to do so.
What's next for you?
I'm focusing a lot on lemlem right now, and I'm very excited about all the new developments and collaborations we've been working on. We just launched out first shoe collaboration with Soludos, which is now available on lemlem.com.