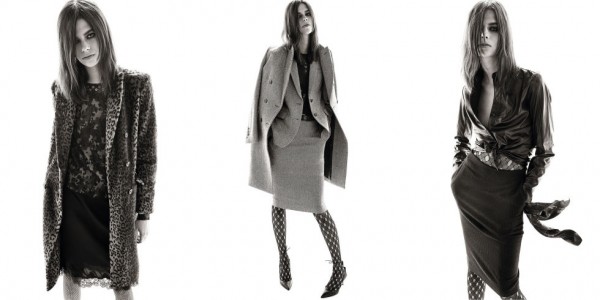 French fashion consultant Jean-Jacques Picart – the man responsible for Uniqlo's sell out collaborations with Inès de la Fressange and Carine Roitfeld and for putting names like Christian Lacroix, Riccardo Tisci and Hedi Slimane on the fashion map – has announced his retirement.  Before giving up his front row seat Picart gave an exclusive interview to vogue.com on the state of fashion and the media then and now.
On fashion now:
"It's a period of rupture, challenge, daring, courage, work—all the things I love.  I knew it was time to leave when I felt myself age. I heard myself saying, 'We've seen this before,' which is something I hate hearing other people say because even if something has the same idea, it will never be worn exactly the same way."
On fashion then:
"When I started, in 1970, it was a little bit like today because it was a period of transition. On the one hand there were the couturiers of the Avenue Montaigne, and all the French elegance and chic that went with it. Ready-to-wear was just beginning, with brands like Cacharel, Christian Aujard and Dorothée bis, Emmanuelle Kahn, and that creative energy balanced out [what was happening on] the Avenue Montaigne. And of course there was YSL Rive Gauche, which was all this French elegance and luxury made accessible. Five years later, designers like Montana, Kenzo, and Mugler arrived and that was a real duel between classicism and aristocracy and the artists who were shaking up the French fashion landscape. The parallels with today are clear. What I miss is a certain lightness.  Today, lightness is rare because we live in a world of anxiety."
On fashion shows:
"Today's 'super-production' show formula is at a tipping point. Up until the Internet, fashion shows were for professionals; now they're for general consumption. But the message for the industry is not the same as the one for the street: Professionals can decode the runway and get excited about things that are 'unwearable,' but the general public takes it at face value, and then copiers can take the unwearable and make it palatable—all of that worries me. And forget standing ovations like the one Alber Elbaz got for his Spring 2003 collection for Lanvin: People hardly applaud anymore because their hands are occupied with their smartphones. You can't have one show serve two objectives. A spectacle is entertainment for fashion lovers, social networks, and buzz; they should happen when the clothes are in-store because people want to buy clothes when they see them, not six months later. I'd love to see the fashion houses with means do a beautiful, scaled-down presentation during Fashion Week, and a spectacle later, which anyway would be a better advertising strategy. Cash-strapped young designers could just focus on the clothes."
Jean-Jacques Picart
On designers being the stars:
"When a house focuses more on spectacle than clothes, or when a designer is more obsessed with his own look than the clothes.   Today, artistic directors are more like symphony conductors who make talented soloists—I don't call them 'assistants'—work in harmony. Phoebe Philo orchestrates well. Hedi Slimane does too. And in both those cases, they've chosen to work at a distance.
On fashion and publishing:
"There's a new tyrant in town—a wonderful one, but still a tyrant—called the Internet. You don't even need to bother remembering things anymore, because it's out there, like some collective memory, and it's reshaping how we think. People read newspapers and magazines on tablets. The way we talk about fashion is rapid and concise—and there are those who have a talent for short and superficial.  But to me, the future of publishing lies in the paper you keep and collect, like the reviews of 100 years ago, not the paper you recycle. The images should be beautiful, the articles by specialized journalists who have had the time to research and write."
On Paris as a fashion capital:
"Thirty years ago, there wasn't much that was interesting happening in the U.S.: You had Oscar de la Renta on the high end, Ralph Lauren was very English, and there was sportswear. In France 30 years ago you couldn't buy a hoodie, so people would buy them in the States. Look at all the young designers there are now, in the U.S. and elsewhere. Paris is still the capital of fashion, but only barely. Who knows what will happen three seasons from now? Honestly, the difference in Paris is the emotion—there are shows where your heart just beats a little faster. London knows how to do that, too. But we do it better."
On fashion's future:
"I see fashion split between what is rare and artisanal, and what is highly accessible and e-commerce. What's rare has no competition. What's accessible is something you can get your hands on easily.  The ones who will be in trouble are the brands that are too expensive for what they are and not specific enough. But I won't name names."