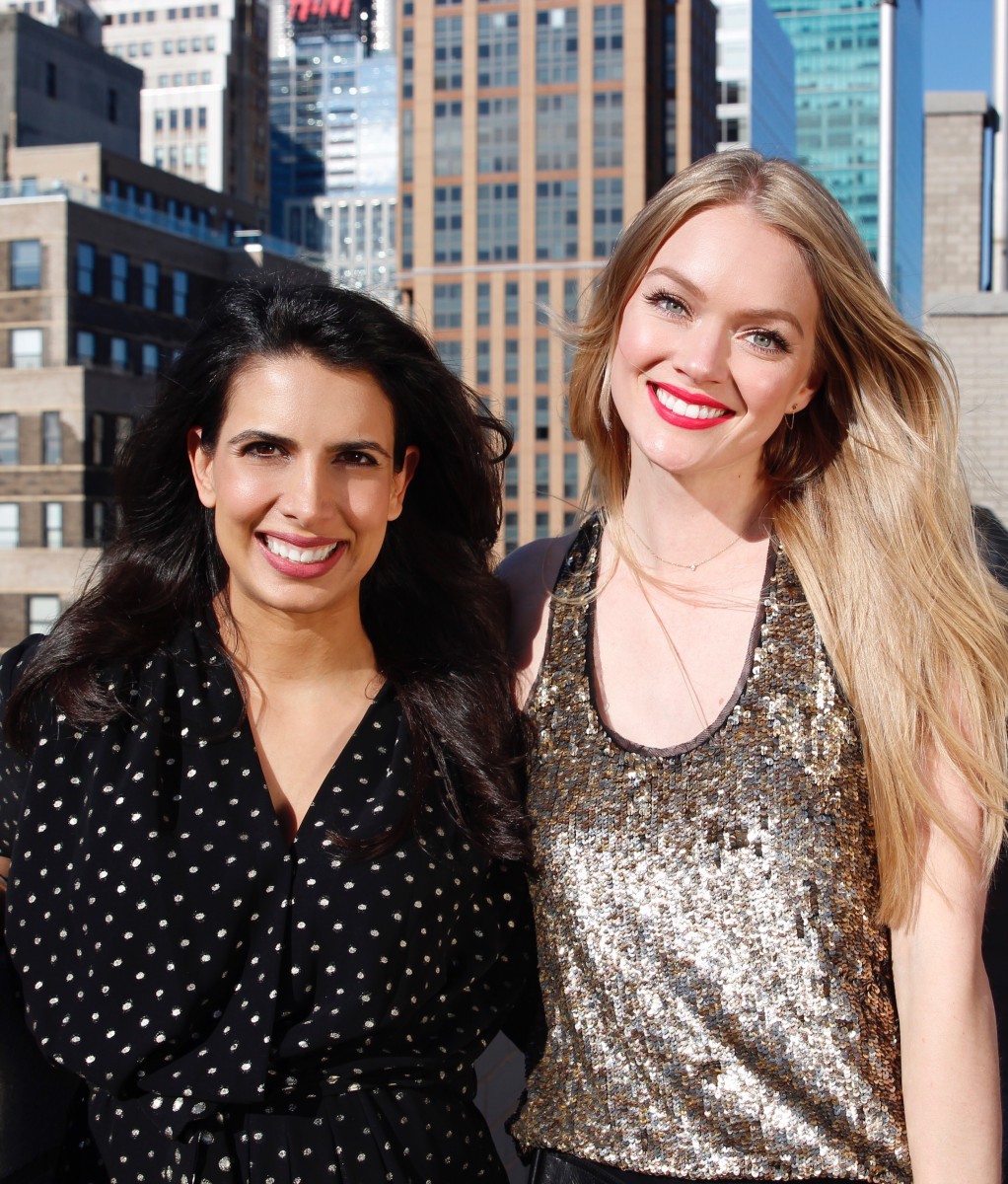 When a top model/Victoria's Secret Angel launches a beauty line, it's bound to take off. Lindsay Ellingson collected all the tips and tricks she's learned in the makeup chair to create Wander Beauty with entrepreneur Divya Gugnani. Last summer, we got a preview of the line when Ellingson was the Daily Summer's cover girl. Now we learn more about how the travel-inspired, multitasking beauty line came about, and what's coming next.
How did you get into business?
Divya Gugnani: Lindsey and I met at a party two years ago, and we bonded over our passion for travel and beauty, but from two different walks of life. Lindsay is an incredible supermodel and has traveled the world, and I'm a working mother and an entrepreneur. But we both shared a need to streamline our beauty routine. Multi-tasking essentials for the woman who's working and traveling were missing from our makeup bag. The second piece of the brand is travel and Lindsay's experiences. International-inspired innovation is a big part of our brand—it's behind the ingredient stories, color stories, and trends. For example, the Wanderout Dual Lipstick that we just launched with Sephora has eight lip-loving ingredients from all over the world, and the products are TSA-friendly.
Tell us more about the new product!
Lindsay Ellingson: Wanderout Dual Lipstick has ingredients that are beneficial for your lips—they're hydrating and give a beautiful matte finish, which is so on trend. I've gained so much knowledge about ingredients from traveling the past 10 years. I've been to India, so we have Stevia and mango seed butter, and from France we have sunflower seed oil. One side of the stick is neutral for day and the other is a pop of color for a night out. We started out with the classic red and nude, and from there we went on to a bright watermelon shade and a beautiful rosy pink inspired by Brigitte Bardot. That's one of my favorites—it' inspired by one of my places in Saint-Tropez, which I spent a lot of time at when I was living in Paris.
What's one of your earliest memories of beauty?
Lindsay: My mom had this gorgeous mirror vanity where she laid out all her products and perfumes. I remember sitting at the vanity, testing and playing with everything. When I was in high school, I was a dancer, and that's when I really got to experiment with beauty. We had to wear stage makeup, so lots of blush, a smokey-eye, red lipstick, lashes, face jewels—we went full on. That was a great education for me. And from modeling, I've learned so much. Every time I sit in the makeup chair, I constantly ask questions, and I work with the best beauty experts in the world. I've absorbed so many valuable backstage keys, tips, and tricks from each one of them, and also developed many of my own.
Divya: My favorite memory is also of my mom—she never left the house without lipstick. There was something about her putting on lipstick that added this level of confidence.
Are any of your products influenced by beauty trends from around the world?
Lindsay: Yes! Last September, we launched our Paris collection. I started my career in France, and I've been captivated by French women's beauty routines. I created the collection to capture the essence of Parisian women—a little flush to the cheek and barely anything on the skin except for highlighter and a sheer red lip. What I learned from living in France is that red lipstick is a staple. French women wear it like an accessory. We also keep an eye on the runways and red carpets for inspiration and incorporate that into our products and collections. We'll be launching more city kits soon!
How do you stay in touch with the consumer?
Lindsay: We love to read the reviews—we listen to the good and the bad, and incorporate that into our products. When we launched in Sephora, we showed pictures of our packaging and of the lipstick on me, but customers really wanted to see swatches. They're beauty savvy and know exactly what they want, so it's fun to engage with them. We've been doing that through Beauty Talk. We also do crowdsourcing with my Instagram. For example, we posted a picture of four different liquid eye shadows and let followers choose their favorite. They chose champagne. It's a really pretty base that you can even put on your lips.
Diyva: Since it's launched, it's been our most successful liquid shadow. It's great to find out what women want by going directly to the source, and to leverage Lindsay's amazing following. They help us name products or vote on shades. We spend a lot of time with women from all different ethnicities, testing and trying the formulas and colors. It's about essentials that are universally flattering.
What are some recent trips that are inspiring new collections?
Divya: We both are from and live in New York, so we have an interesting tribute to our hometown that's brewing. I've got Mexico, Moscow, and St. Barth coming up. Those will be good discovery trips—it's so much fun to go to different beauty stores and discover new brands. In the past, I've traveled to some really cool places, from Honduras to South Africa to Morocco, and so many countries in Europe. I've been bitten by the travel bug.
Lindsay: I'm most likely going to South Africa at the end of the month, which is my favorite place ever, and also to Barcelona. Those are places I visited at the beginning of my career, so I'm excited to discover the cities again.
What are some beauty tricks that you've learned from traveling?
Lindsay: All of my beauty products have to fit into a quart-sized bag. When I'm on a flight, I'm constantly cleansing my skin and hydrating with rose water. I drink lots of water and wear my silk eye mask. It's those little luxuries that make you feel comfortable and keep your skin looking gorgeous.
Divya: I'm afraid of lost luggage, so I travel completely carry-on—even if I'm traveling to India to visit my family for 10 days. And what Lindsay said—drink tons of water. Skip the wine on the plane, and add a dose of eye cream.