Hanako Maeda has been making a name for herself stateside and beyond with her Japanese-influenced designs for ADEAM that are at once both easy to wear and fashion forward. Maeda splits her time between New York and her native Tokyo—this season she opted for just a presentation in NYC, and returned to her hometown to do her big show during Tokyo Fashion Week in the Midtown district on March 18. Maeda takes us behind-the-scenes of her show, giving an insider look into Tokyo's booming fashion week, from the hottest models to the who's who front row.
PREP DAY 1:
My Fashion Week in Tokyo started with styling for the show. My stylist, Tom Van Dorpe, arrived from Paris the day before and we went right into styling. We experimented with a lot of different looks, as we wanted to capture the spontaneous energy of Tokyo. The accessories became the focal point of the styling, and we added finishing touches with geometric Art Deco-inspired jewelry.
PREP DAY 2
Today is the makeup test for the show with the MAC team. I was inspired by a Guy Bourdin-meets-Geisha look, and the lead makeup artist, Rumiko Ikeda Harris, achieved it perfectly with hot pink eyeshadow that extended onto the cheek.
SHOW DAY: BACKSTAGE
It's finally show day. The most rewarding moment is seeing the girls in their first looks and feeling the rush before they walk out onto the runway. I love adding my finishing touches right before they walk out.
SHOW DAY: RUNWAY 
Two of my favorite Japanese girls walked the show. Rina Fukushi is a new face this season—she was a Louis Vuitton exclusive during Paris Fashion Week. Her cool-girl attitude was perfect for the Boro Patchwork cocktail dress. Chiharu Okunugi is one of the biggest Japanese models right now, having walked in major shows and starring in the Chanel campaign. She pulled off the velvet harness gown with an air of elegance. The finale was a magical moment, where the orchestra's delicate piano sonata and the entire collection came together.
SHOW DAY: FRONT ROW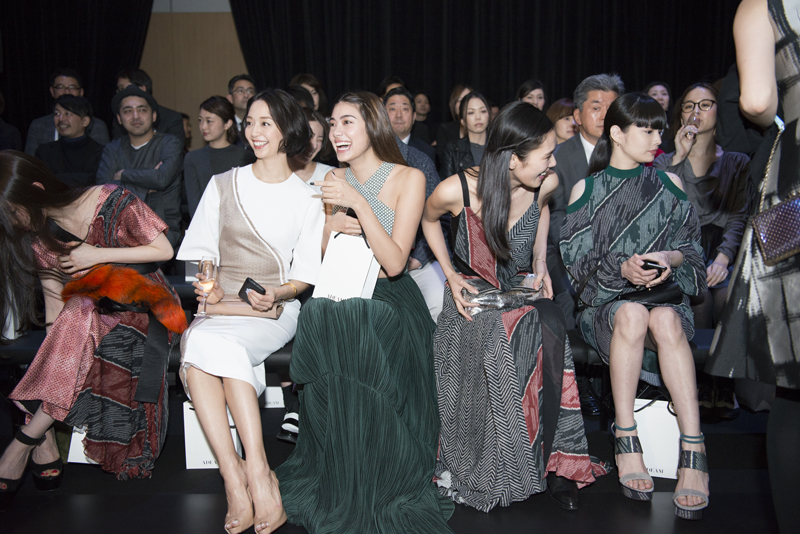 The Tokyo ADEAM girls in key looks from ADEAM Spring 2016: Ayana Miyamoto (in red kimono dress), Hana Matsushima, Hikari Mori, Tao Okamoto, Kozue Akimoto.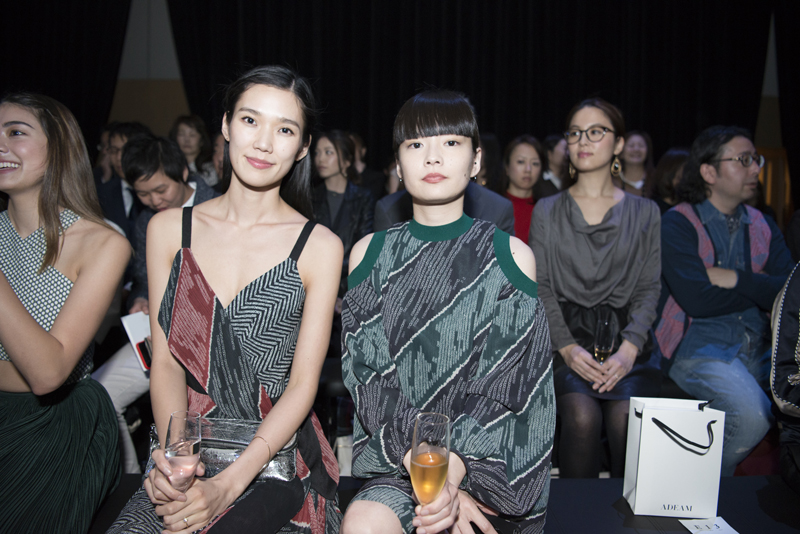 Tao and Kozue both in ADEAM Spring 2016. Tao is a Japanese actress starring in the new movie Batman vs. Superman, and Kozue is a Japanese style icon and model who's a street style favorite.
Japanese bloggers Mappy and Rei Shito. Mappy is a 14-year-old jazz pianist and blogger, and Rei is known for her amazing street style photography in Tokyo.
SHOW DAY: AFTER SHOW
After the show with the Tokyo ADEAM girls: Tao, Maeda, Mademoiselle Yulia, and Kozue.
After the show with Hikari Mori, who is a model and also the grandaughter of legendary Japanese fashion designer Hanae Mori. It was great seeing Hikari again, as she was my date to the NYC Ballet Fall Gala last year when I designed the costumes.
SHOW DAY: DINNER
I celebrated the collection with an intimate dinner at the Ritz Carlton Hotel Tokyo, which is in Tokyo Midtown, the same shopping complex as my store and where the show venue is located. It was amazing to have a mix of guests from all over the world—Tao, Kozue, editor Tiffany Godoy, Tom Van Dorpe, Kyle Anderson from Marie Claire USA, and Miguel Enamorado from Interview Magazine. It was the perfect way to end night with a beautiful view of Tokyo Tower from the window.