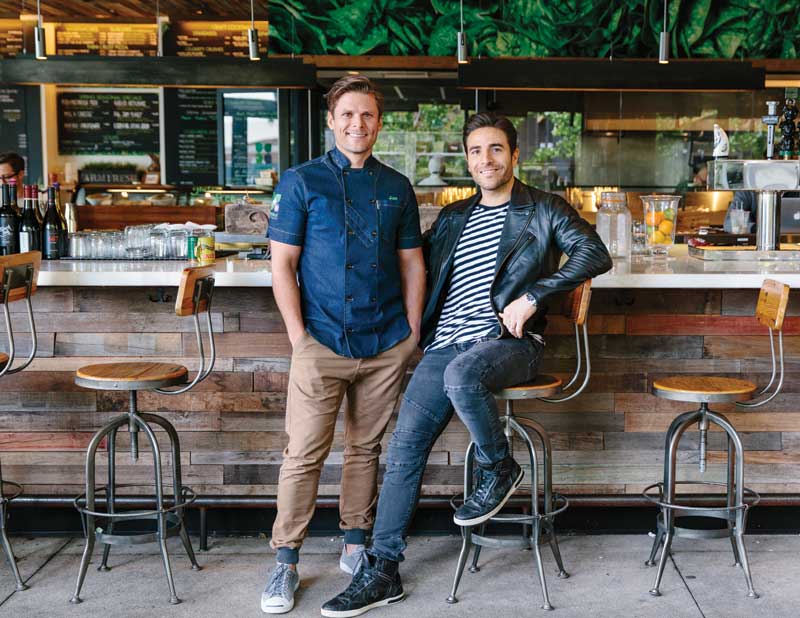 Talk about a power couple—Joey Gonzalez, CEO of Barry's Bootcamp, and Jonathan Rullo, founder of Greenleaf Gourmet Chopshop, are taking over Hollywood Boulevard one leg lift and specialty salad at a time. The duo, who recently welcomed a baby daughter and each opened a Hollywood outpost, certainly have a lot to discuss.
How's the CEO role at Barry's going?
Joey Gonzalez: It's going well—my life has gotten much more sustainable, because I've been able to hire a talented infrastructure. I have a CFO, a VP of real estate, and a director of retail. It's great to have more support and be able to focus on the bigger picture.
Do you still teach classes?
Joey: I have one regular class at Hollywood, and I'll do guest spots and sub. With my workload and a new baby, that's about as much as I can do. I was a client, then a trainer, and then manager/operator, and finally CEO. I understand it from so many different angles.
How is fatherhood treating you both?
Jonathan Rullo: It's awesome! It's so fun to see how our daughter reacts to everything.
How did you two meet?
Jonathan: We were set up through a mutual friend. I was taking his class, and it went from there.
Do you remember that class?
Jonathan: Oh, yeah! When we were doing pushups, [Joey] came over and picked up my feet so it was harder to do. I was like, I have to impress this guy!
Joey, how'd he do?
Joey: The instructors joke that the most attractive student is the one who is equally strong and fast. John was the fastest in the class and had the biggest weights. He was the first student I ever dated.
Jonathan: And the last! [Laughs]
What are people wearing to class in Hollywood?
Joey: People are buying and loving the Barry's stuff. One of our goals was to design our own brand. Now, about 80 percent of what we carry is Barry's. We do so many different things in the class, from sprinting to lunging to planks. We could sense that our students wanted apparel to complement the workout.
What's the design process like?
Joey: We collect photos and pieces off the runway for inspiration. We have a graphic production department and a graphic artist, and every piece is screen-printed. The current collection is called the Midas Touch—every piece involves something gold. Our next one is Leather and Lace, which has fun designs, like peekaboo lace down the sides.
Will you continue to collaborate with designers?
Joey: Definitely! It's so fun to work with artists. We're doing a collection this summer with Julia Clancey of mostly lifestyle pieces called Resort Luxe.
And what's new at Greenleaf Gourmet Chopshop?
Jonathan: We opened a year ago, and to be part of the new wave of restaurants and lifestyle businesses is exciting. When I was growing up in L.A., Hollywood was a strange no-man's-land. Families would run into Hollywood, go to the Pantages Theatre, and leave as fast as they could. Now it's a great destination.
What's the scene like on Hollywood Boulevard?
Joey: It's awesome! It's been branded as this lifestyle, health, and fitness center.
What celebs and movie stars have you spotted at this Barry's location?
Joey: A lot…Juliette Lewis comes regularly, Naomi Campbell, Adriana Lima, Katie Holmes, Jake Gyllenhaal, Elizabeth Olsen.
Who are frequent celebrity diners at Greenleaf?
Jonathan: Jon Favreau, Michelle Monaghan, Teri Hatcher… We have incredible loyalty from the nearby studios. Casts come as teams or we send food.
How do you manage the tourists?
Jonathan: We make sure [the celebrities'] experience is excellent, just as everyone else's. We have a strict social media policy—I don't want customers disturbing their experience. A lot of celebrities have become big clients for personal events, partly because they know we take care of them that way.
Joey: And there's a nice back room, if they're not looking to be highly visible. Barry's has had a celebrity following for so long so clients are used to it. Our classes are darker, so they can have anonymity. I had Justin [Timberlake] and Jessica [Biel] take my class and was able to get them in and out without anyone noticing. It's nice to be able to have that.
And what about your next project, Au Fudge?
Jonathan: Joey and I partnered with Jessica and a few other women to open a family-friendly restaurant, Au Fudge, in West Hollywood. It's very much where our lives are headed.
Joey: Nobody has titles; we refer to each other as OGs. Estee Stanley is the brains behind the creative. Jon and I always said we wanted to have a business together. This is a meaningful addition to our work and personal lives. Who better to do it with than Jessica Biel, who's one of our best friends?
What are some hot items on the Au Fudge and Greenleaf menus?
Jonathan: Some of the most interesting at Au Fudge are our vegan Caesar and vegan burger. At Greenleaf, one of my favorites is the turkey melt. We built our business on our salad, so those are cult classics.
This Barry's location is the largest on the West Coast—what's inside?
Joey: It embraces the bones of the building. It's more modern with a lot of industrial concrete floors and exposed ceilings. The studio is totally unobstructed—there are no columns, making it easy as an instructor to see every person. And the lighting package is different and on a bigger scale.
Are Barry's and Greenleaf connected?
Jonathan: We face each other, which is really fun. We have a group of friends who now do Joey's Barry's class on Sundays and walk across the hall to Greenleaf for brunch. We call it Barry's and brunch.