Ridiculously good-looking model and actor Jon Kortajarena has captured the hearts of Tom Ford, Hollywood, and your Daily with…well, you get it. After watching him work his magic on-set during our cover shoot, we sat down with the Spaniard to get some tips on how he stays so beautiful, inside and out.
You seem to really love modeling.
When you're a model, people try to make you feel guilty for what you do. I don't feel guilty at all. I'm enjoying it. I know it's just an illusion that you're selling to the world, but to really sell an illusion, you have to truly believe in what you're doing. This is what I do when I work as a model. Now that I'm acting as well, I've gotten the confidence to feel more free as a model. It's been important for me to become an actor—not only because I'm growing up and this is part of my evolution, but also because it's letting me be more creative as a model.
Do you create characters for yourself when you're modeling?
I have to, otherwise I feel really clueless. If I see myself doing different positions to look beautiful, I die. I'd rather have a character, so I can excuse what I'm doing. I imagine a story or a message that I'm trying to send. It's intimate, because this only happens in my head. Sometimes you share with the photographer, but most of the time it's just for yourself. As an actor, I feel like I can do it for the rest of the world.
What kind of character did you create for our shoot?
With Irina, I thought, "How would I take care of something so precious, and how would you do it in a fun, relaxed way?" When I was [shooting] alone, the stylist wanted somebody really free, who doesn't give a f**k about how he looks. With that theme, it was easy to allow myself to be creative.
Modeling aside, you've had quite the acting career, beginning with your memorable role as Carlos in Tom Ford's A Single Man.
After A Single Man, I went to acting school for a few years. I've been doing TV series and movies, and I'm excited about that. I've been working on Quantico, and I also did The Aspern Papers, a movie with Jonathan Rhys Meyers and Vanessa Redgrave that's coming out in a few months. I'm also signing on to a new project, but it's still not public. It's going to give me work as an actor for the next few years, and I'm happy about it.
It's not that common for models to transition to acting as successfully as you have.
When you become an actor, you really want to tell stories. That has been my passion since I was 17. When I was younger, I couldn't find a way to be an actor. I'm from a small town and a humble family, but things happened the way they should have happened.
How has Tom Ford impacted your trajectory?
He's been my mentor; I learned everything from him. Before I started working with Tom, I was thinking about quitting modeling. He saw in me what nobody else saw before. He taught me about how the industry works, what people expect from a model, what masculinity means. He really introduced me to high fashion, but he also introduced me to a universe of masculinity, sensitivity, and creativity. It's hard to explain in English, but he definitely has been a guide for me.
Sounds like you're saying he's elegant.
He's elegant, but not only with clothes. His actions are elegant, the way he treats other people, the way he creates, the way he works as a designer but also as a director. As a director, he's unbelievable. He has every frame of the movie in his head. He knows exactly what he wants, and he's very kind. He never loses control.
Do you call him Tom or Mr. Ford?
Tom. I've worked with him a lot—right now, I'm the face of his fragrance campaign. Obviously, if the situation required, I would happily call him Mr. Ford, but I think there are situations where it's not necessary.
Who else in the fashion industry has really championed you?
Karl Lagerfeld and Olivier Rousteing. I also consider Madonna to be my guide. Sometimes I wonder how I've created a personal relationship with her, and I definitely think it's because she's a guide. My agents have also been important.
What's it like working with Irina Shayk?
I met her when she was 17. We're the same age, and I remember the first time I saw that face. I thought, "This is something special." I knew she was going to be successful, because she has the most amazing face, but she's also feminine, funny, and smart. Now, years later, when we work together, it's always so much fun. It feels like a connection that doesn't happen very often.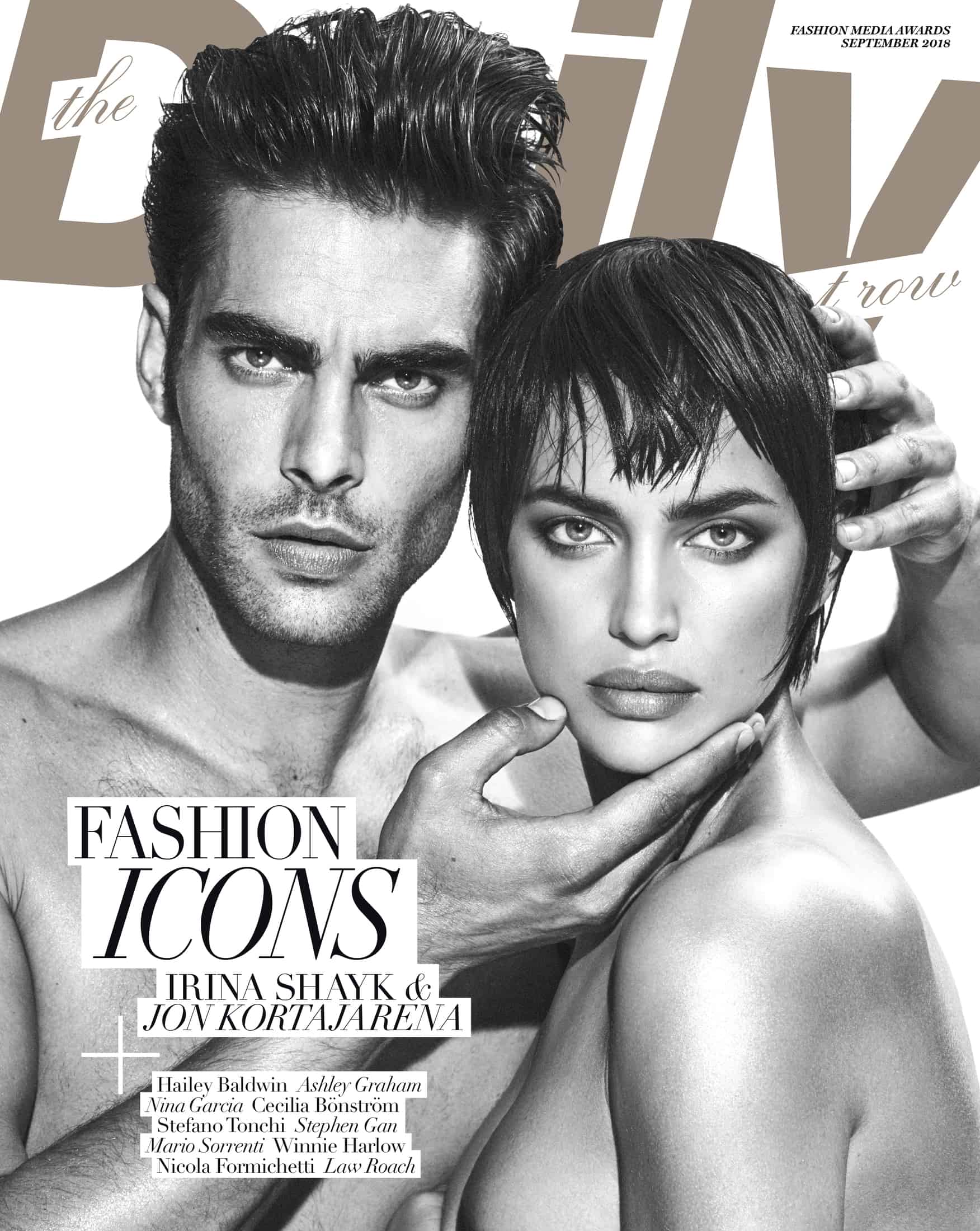 How do you take it when people go gaga about your looks? Apologies, but I have to say it—you're so handsome!
[Laughs] I can always tell when it comes from the heart. That's what makes it personal; it makes you sigh. There are very few times when people give compliments and you really feel what they're saying.
Do these compliments ever make you feel awkward?
It's funny—a friend and I recently went out to dinner, and we asked to sit at an outdoor table. The owner said, "No, we are fully booked. I'm sorry." So I left, and somebody at a table was like, "Hey guys, are you leaving?" We were like "Yeah," and they were like, "No, no, no. Let me speak to the owner." My friend told me, "Dude, they don't know if you're a good boy. They don't know if you're smart. They don't know what your values are. They don't know anything, but beauty can sometimes give you certain privileges that, if you use it in the right way, can be really fun." But I always think that your values and the person who you are should never be based on your beauty or how you look. Then you lose everything.
Did you ever go through an awkward stage in your youth? Please say yes!
Nobody ever told me I was beautiful or anything special. When I started modeling, I was 18, and I was shocked that someone wanted to make me a model. I was a little fat, and my face didn't have the right proportions—everything was big. After a few years, everything settled in the right place.
What do you do when you're not modeling or acting?
When I'm not working an as actor, I'm taking a lot of acting classes. I also like to read, and I have a small boutique hotel in Lanzarote, Spain, called Casa Sua, where I spend a lot of time. The hotel also requires a lot of time and effort, to make sure that everything is done exactly as I want it to be. I also work with Save the Children-—we're planning an expedition soon—and Greenpeace. I try to balance a little bit of everything. I obviously spend time with my friends and family, too.
Where do you live now?
London. It's a good place for me to work as an actor because there are many auditions and many opportunities there. As a model, it's a convenient place to be, because it's close to all the European cities. I speak the language, too! It's not like France, where I don't speak a word of French.
Congratulations on your anointment as Male Model of the Year. Did you ever win anything when you were younger?
My life has gone further than my dreams. When I started modeling, I never thought this would be my path, or that this industry would impact my life so much. Everything has happened step by step; nothing came fast. In a way, it's great, because it gave me time to put my success in the right place. I've had time to observe. I can't imagine how it must be for guys who do one job, and suddenly, they're super famous. That must be really hard. I feel grateful for how everything has happened. Sometimes, it was tough; I felt that because I couldn't speak the language, people thought I didn't have the capacity [to do the work]. Afterward, I realized that I don't have to prove anything to anybody. I just have to prove it to myself. After 15 years of modeling, I've shown that I am more than a beautiful face, or someone who was in the right place at the right time.
How do you stay in such good shape?
I have to thank the universe, because I don't do sports. I don't really care about what I eat, but recently, I quit drinking soda and a few other things. Basically, I run a lot, so I guess it must be from that. I really like running to escape from my thoughts, and that also helps my body. From now on, I have to be more careful. Beauty is a gift. You have to take care of it, but even if you take care of it, you know it's going to go.
A very special thanks to The Daily Front Row's 2018 Fashion Media Awards sponsors: Zadig & Voltaire, Sunglass Hut, LIM, Moroccanoil, Fiji Water, and Kim Crawford. 
Subscribe to our newsletter and follow us on Facebook to stay up to date on all the latest fashion news and juicy industry gossip.