For the past decade, Irina Shayk has held steady as one of fashion's top talents — and no wonder, given her intelligence, verve, and all-around gorgeousness. The Russian-born model, represented by The Lions, reflects on her favorite moments and reveals her plans to continue pushing her career forward.
You're receiving our Fashion Icon honor! How does it feel?
I mean, I never dreamed of it. It feels cool, it really does. I just worked hard, and I thought that maybe one day, success will come.
You've been in the business for quite a while. What have been some of your favorite moments?
Every time I go to work—it doesn't matter if it's a "money job," catalog, or a cover shoot—it's a different experience and perspective. I learn so much that every day is a highlight. Of course, being the first Russian girl on the cover of Sports Illustrated and doing a Steven Meisel shoot were important. I'd never dreamed of working with [Meisel], and he was one of my favorite photographers. Peter Lindbergh is another. The highlights of my career have been life experiences, traveling, growing, and learning.
What was it like to look at the collage of all your work on the wall during our shoot? How did that feel?
I'm very critical, so I looked at it and was like, "Oh, wow, okay, that's good but…." I like to challenge myself to always be better. In my head I was like, "Okay, that's what it's missing. We need to do something more." It's all about never stopping where I am but always achieving more.
Which photographers are you eager to work with, and what's still on your bucket list?
There are a lot of things on my bucket list! Yesterday, I shot with David Sims, whom I love. I admire his work, so he was definitely on my list. I want to shoot editorial with Steven Meisel. I have shot two campaigns with him, but I always wanted to do something editorial with him. And maybe I will do a line of my own.
A fashion line?
Maybe not; maybe something else. I can't tell you yet. I'm working on it.
You recently created a capsule collection for Ellen Tracy. What drew you to the brand?
Ellen Tracy is famous for its work with supermodels in the '90s, and girls from the '90s are still working! It was a time when fashion celebrated one's body, and now is also a delicious time in fashion. I also created a bag in collaboration with The Kooples. I love immersing myself in something new. This is a really cool chapter in my career: It's more about the creative process than just being on set. Though it's not like I'm not in charge on set. I love to control things in my head. I love to know the light and stuff.
Which fashion icons did you love when you were growing up?
I'm from a really small, remote coal-mining village in the middle of nowhere. We had a few schools, one road, and one movie theater. We didn't have fashion magazines, so I never imagined that I'd have this job that I'm doing right now. My icons were definitely my mom and grandmom. When I was 15, my father passed away, and I grew up in an family of women. I learned that a woman can do anything she wants. Women are strong, and my icon now is a strong woman who can handle problems, who can handle herself, live powerfully and independently, and love her body. My true icon is a regular woman—not a model, not an actress—who can handle herself and deal with her life.
Do you feel like we are living in a pivotal moment for women?
Yes, of course. I'm from Russia, and 18th-century Russia was ruled by women. Lately, there's a big feminism movement, with what's going on in modeling and the movie business. Change is always a good thing, and I see a change in how women handle themselves. We live in a time when a woman can raise her voice and stand up for herself. It's a great change, a great time, and we should enjoy and celebrate it.
Who are some of the supporters who have championed you throughout your career?
Carine Roitfeld, definitely. She introduced me to Riccardo Tisci, and he hired me for my first Givenchy show. That was my first big fashion runway show ever. And Carlyne Cerf [de Dudzeele], who booked me for my first page in French Vogue, for a calendar on the 12 most beautiful, successful models. There were all these big names like Isabeli Fontana…and then me. Donatella Versace, too. She was the first one dressing me for parties and red carpets. She's my biggest fan, always. Then she hired me for a campaign with Steven Meisel and to walk in the Versace runway show. Also, Edward [Enninful] gave me my first W cover.
Those are pretty good champions. They don't get much better than that!
I've learned that in fashion, so many people are followers. Those people I named? They're not followers. They're not afraid to be judged. They took a chance on me, and said, "You know what? She is having a fashion moment," when the rest of the world said, "She's too sexy, too commercial." It's so wonderful that fashion gives more chances for the up-and-coming generation. Rowan [Papier] is an amazing photographer: When you open his books, there are no Vogue covers, but that doesn't make him any less important than somebody else. He's just taking chances. In this business, it's really important to give people opportunities and to look outside the box. My supporters gave me a chance.
How did you discover Rowan?
Rowan's my longtime friend. When I started to shoot with him for [Italian lingerie brand] Intimissimi, I was pregnant. Usually, I don't talk about my personal life, but I really want to get this out. Intimissimi said, "Oh, we need to shoot you." I said, "No, I'm not feeling like I want to go out there and take pictures. The only way I'm going to do it is if Rowan does it." They were like, "Oh, we've never shot with Rowan." I said, "Look, here's the thing. It's either Rowan or nobody." I've worked with Intimissimi for so many years, and I know them and I love them. They said, "You know what? We looked through his stuff. It's not much, but let's give him a chance." We got the most beautiful pictures ever. They ended up doing billboards out of them. It was a huge success in Italy. That was a big moment for me and Rowan; it was the beginning of his career and my career together. Since then, we've shot a lot of stuff together. He really knows his stuff, and he's open to trying anything. With Rowan, it's about teamwork.
You and Rowan worked with stylist Rushka Bergman on this cover story. She's quite a force!
Look, Rushka is known to be this creative, fantastic, fun, crazy woman. I've known her for so many years. I did a Kanye West video [2012's "Power"] with her. She's all about art and ideas. She brings cool, crazy, amazing, fun energy on set. She's Serbian and I'm from Russia, so we connect. She definitely gave good ideas for the cover. When we were shooting, she was like, "Ask Jon [Kortajarena] to hold your head, like you're showing her beauty." It ended up being so cool and so out there…it was my favorite shot. To get a great picture, you need to have a bunch of creative people on set, to come together with ideas.
You and Jon were a match made in heaven. You look so perfect together on the cover. What's it like working with that hunk of a man?
I've known Jon for more than 12 years. I shot my first Guess? campaign with him in Los Angeles, and I connected with him right away. When you meet him for the first time, you feel like you've known him from a past life. I've been working with him a lot—he has an amazing sense of humor, and all we do is laugh together. I remember we did a job in London and they were like, "Oh, Irina and Jon, you have to dance together." It was so funny, because when we shot with Rowan, he was like, "Oh, you should dance together." What is it with people asking us to dance? What I love about Jon is that he's a really intelligent, smart person, and he works hard. I can relate to him as a human being; he's a down-to-earth, hardworking guy.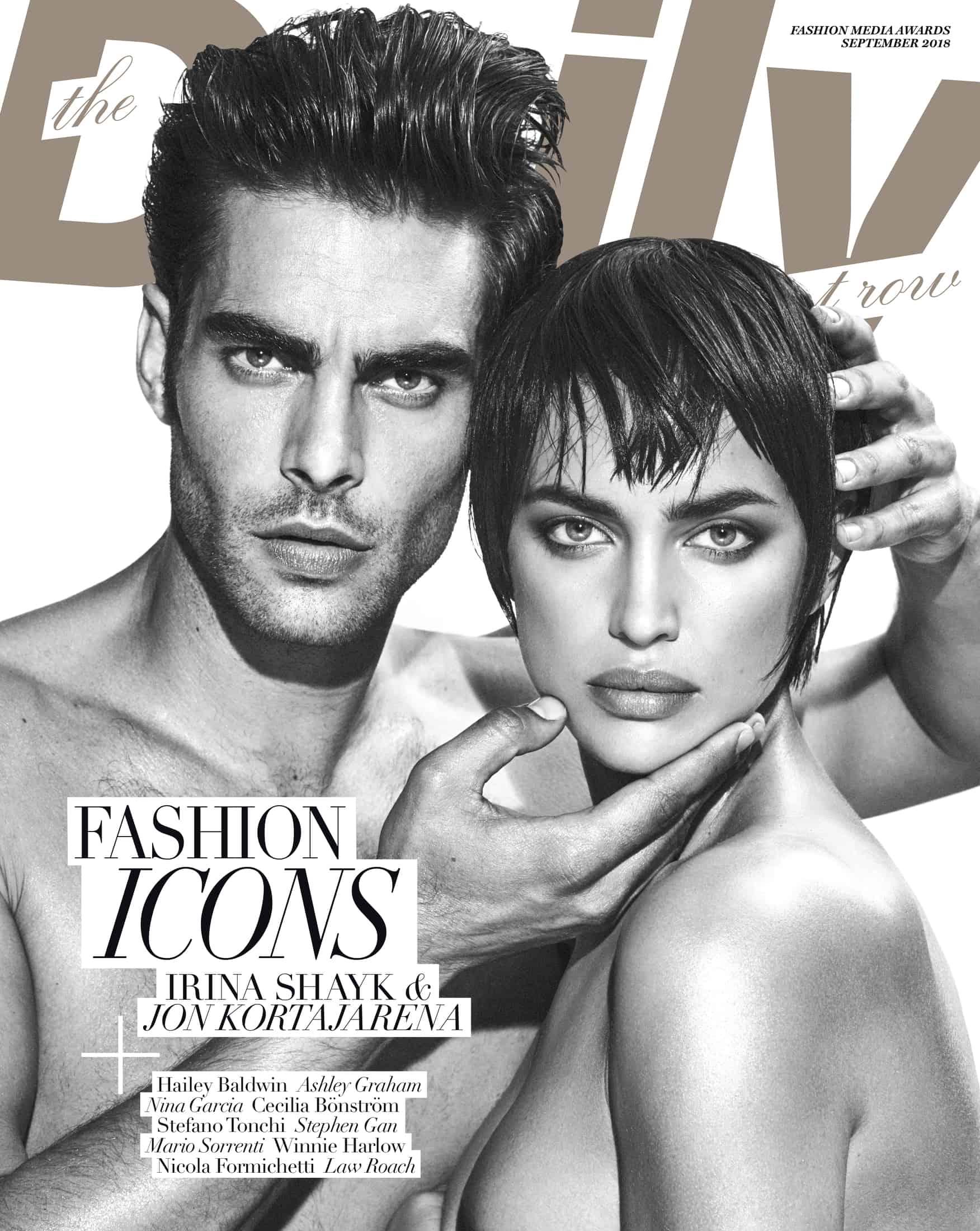 You've been working for more than a decade now. How has the business changed since you began?
It's changed a lot. It makes me really happy that designers are starting to use models of different shapes and sizes to celebrate a woman's body. You can see sexy coming back, which is really exciting. There's definitely a change in social media, too—social media and technology are taking over. It's kind of scary, because you go out there and see people sitting at restaurants and scrolling through Instagram. I'm like, "Oh, my God. What's going to happen in 10 years?" It's a little bit scary, but on the other hand, you can use social media as a platform to raise awareness and stand up for something. It's good and bad at the same time. Models used to only have a book; now you have a technological "book," social media. Clients go on Instagram, they look at your followers and what you're doing. I'm not a big social media girl, but you have to do it for work. We're living in a new world. The old world does not exist anymore. I talked to my friend the other day and she said, "Oh, I didn't post on Instagram for five days and all my friends hit me up, saying, 'Oh, my God, are you okay?' What's going on with people? If I'm not posting on Instagram it doesn't mean I'm not okay."
Some funny and weird things have been written about you over the years; The Daily Mail recently reported that you take three baths a day. Is that true?
[Laughs] I don't take three baths a day. I said, "I could literally take three baths a day," because I really love my bath. Interviews can be funny, because English isn't my first language. So sometimes maybe I'll word something wrong, or make a joke and people take it seriously. There are a lot of things that have been written about me that are not true, but I'm not the kind of person who goes out there like, "No! That's not true!" I just let it go.
What do you like to do for fun?
Once a week when I'm in New York, I get together with my Russian friends, and we do the Russian bath. We go inside a hot sauna, this guy comes and he does this treatment that heals your soul and your body. It opens up your pores. It's a ritual I grew up with. Then we cook and eat Russian food. Every week, I look forward to it. I feel like I'm back in Russia. I just hang out with my friends, too—we'll go to Nobu to talk and eat; the fun stuff, go to the spa, do my nails…just something chill, nothing crazy.
What do you watch on TV?
Oh, my God. Don't ask me that, because I'm literally about to cry. I'm on the last episode of The Handmaid's Tale. I'm not a big TV person. I could literally name the five shows I've ever watched in my life: Scandal, which is over, then Revenge, which ended a couple years ago. My friend was like, "You have to watch The Handmaid's Tale." I got so addicted, it's insane. I literally watched the first season in one day. Now, I'm on the last episode of Season 2: I'm watching 10 minutes at a time, because I don't want it to be over. I'm praying Season 3 comes out soon.
How do you want to be remembered?
As a person who has a sense of humor. My friends know I love to make fun of things. In this world we live in right now, you need to have a sense of humor.
A very special thanks to The Daily Front Row's 2018 Fashion Media Awards sponsors: Zadig & Voltaire, Sunglass Hut, LIM, Moroccanoil, Fiji Water, and Kim Crawford. 
Subscribe to our newsletter and follow us on Facebook to stay up to date on all the latest fashion news and juicy industry gossip.