It looks like Interview magazine might be coming back from the dead after filing for Chapter 7 bankruptcy and shuttering on May 21st. A memo obtained by The Daily and written by Interview publisher Jason Nikic reveals that the magazine will return with a September 2018 issue.
The memo states that editor-in-chief Nick Haramis will return to the helm with Rihanna's stylist Mel Ottenberg joining the staff as creative director, replacing Karl Templer. "Over the coming weeks, our editorial and creative teams will take the responsibility of making this rebirthed Interview as beautiful, as creative, and as visually stunning as ever," wrote Nikic. "We are equally committed [to] bringing the same set of creativity, acumen, and devotion to the business of Warhol's legacy as we have always brought to the editorial side. When we look into our crystal ball, it tells us the future looks bright indeed! And we hope that you, our patrons, continue to have faith in the importance Interview has played in its role as the "Crystal Ball of Pop" by supporting its rebirth and giving this icon a chance to driving pop culture for the next fifty years."
The full memo below: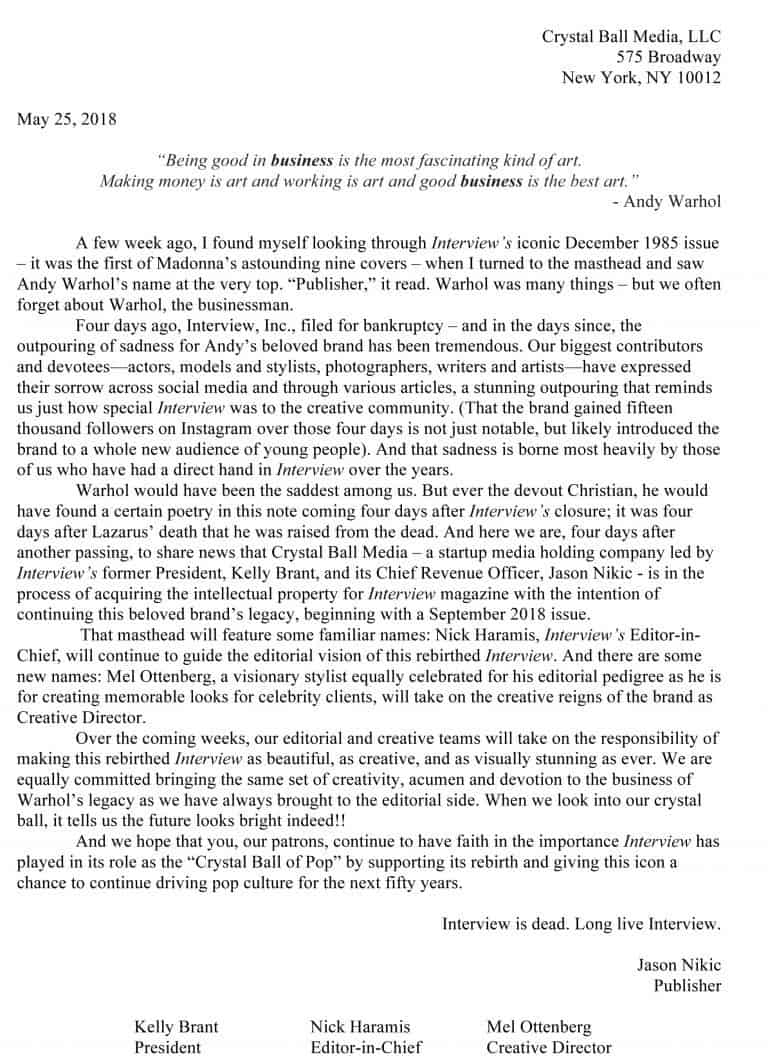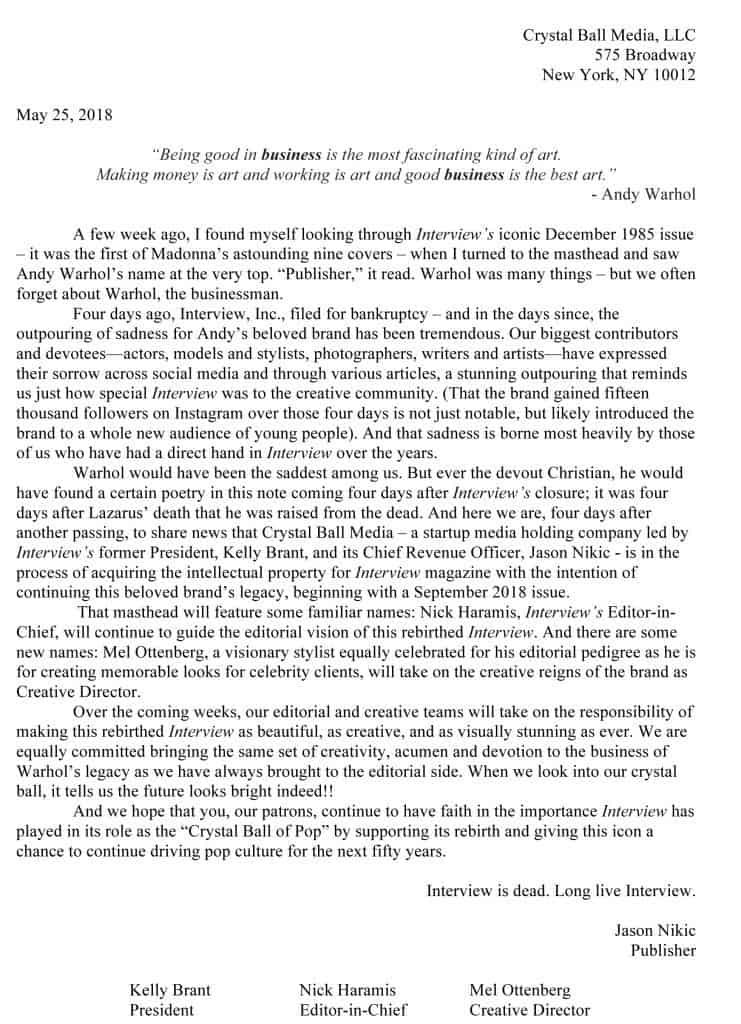 Interestingly, the memo also names Kelly Brant, the former Interview president and daughter of Interview owner Peter Brant  as president of startup media holding company, Crystal Ball Media. The newly-formed company is working to acquiring the intellectual property associated with Interview, but likely not the financial problems.
Last week's bankruptcy revealed that Brant Publications owes money to 300 writers, editors, photographers, models, and agents, among them former Interview editorial director Fabien Baron and his stylist wife Ludivine Poiblanc, who are suing the magazine for $600,000.
Last week, Baron issued a statement regarding the closure, writing, "I am saddened and surprised by the news that Brant Publications has chosen to shutter the cultural icon that Interview has been since its founding by Andy Warhol. The abrupt decision to liquidate the magazine is regrettable given the myriad other options that were available to avert this outcome.  The artistic success of the magazine was due to the extraordinary work of a raft of talented contributors, many of whom are unfortunately now creditors due to the owner's flagrant disregard for their welfare."
Interview's closure last week brought public attention back to the struggling brand with Kim Kardashian, Andy Cohen, Iman, Naomi Campbell, and Marc Jacobs just a few of the names mourning the potentially-faux closure on Instagram.
Subscribe to our newsletter and follow us on Facebook to stay up to date on all the latest fashion news and juicy industry gossip.