It's not just the beaches, balmy weather, and alfresco bashes that make the East End special. There's major chicness to delight in, as these well-dressed regulars prove. Ahead of The Daily Summer's Hamtons' Most Stylish party this weekend, we asked our favorite Hamptonites to talk all things fashion.
1. RACHEL ZOE
Personal style philosophy: "In the Hamptons or Europe during the summer, I'm all about relaxed glamour — metallic printed caftans, raffia bags and shoes, and always dramatic jewelry."
Beloved brands: "YSL, Chanel, and Hermès, for their combination of luxury, quality, and style, and their ability to transcend time while staying relevant and modern. Of course, I love my own collection and wear it religiously. Also, Chloé, Peter Dundas, Givenchy, Giambattista Valli, Ralph Lauren, and Valentino."
East End shopping haunts: "What Goes Around Comes Around for amazing vintage, and The Perfect Purse in Southampton—they have an endless wall of Birkins and Kellys. I never get tired of strolling down Main Street in East Hampton, and I love to shop the local boutiques in Sag Harbor and Amagansett Square."
Best fashion advice: " 'You may intend to be known for something as a designer, but ultimately your customer will decide what you are known for.' — Diane von Furstenberg, when I first launched my collection. Also, 'Never leave the house without lipstick.' — My forever glamorous mother."
I'd never be caught wearing…
"A sweatsuit or sneakers! It would be a challenge for me to dress down. I truly believe, at least for me, that workout clothes are meant only for the gym!"
2. NINA ADGAL
Personal style philosophy: "All. Over. The. Place. Most days, I'm super practical and my go-to is a pair of jeans and a tee or sweatshirt; other days, I feel like dressing in vintage dresses and fun accessories. It depends on my mood!"
Beloved brands: "I recently have mostly purchased vintage designer items on sale, which is so fun; my favorites are from Céline and Gucci. I mix that up with Zara pieces, especially for trends I know I'll get sick of."
East End shopping haunt: "My favorite vintage store ever is Deep Blue Vintage, at The Montauket. [Founder] Cristina Horan is so incredible at finding gems, and the sweetest girl, too!"
I'd never be caught wearing…"Pink dresses. I've had so many bad experiences, so I'm steering clear of them! Besides that, I don't understand the tiny glasses thing. It's weird and awkward to me, sorry."
Summer uniform: "If you catch me heading out for the day, probably oversize jean shorts and a bikini top, no shoes, so I can be ready to jump in the ocean. If I'm going somewhere fun, either a flowy, short summer dress, or jean shorts with a crop top and sneakers."
3. DR. SHEG ARANMOLATE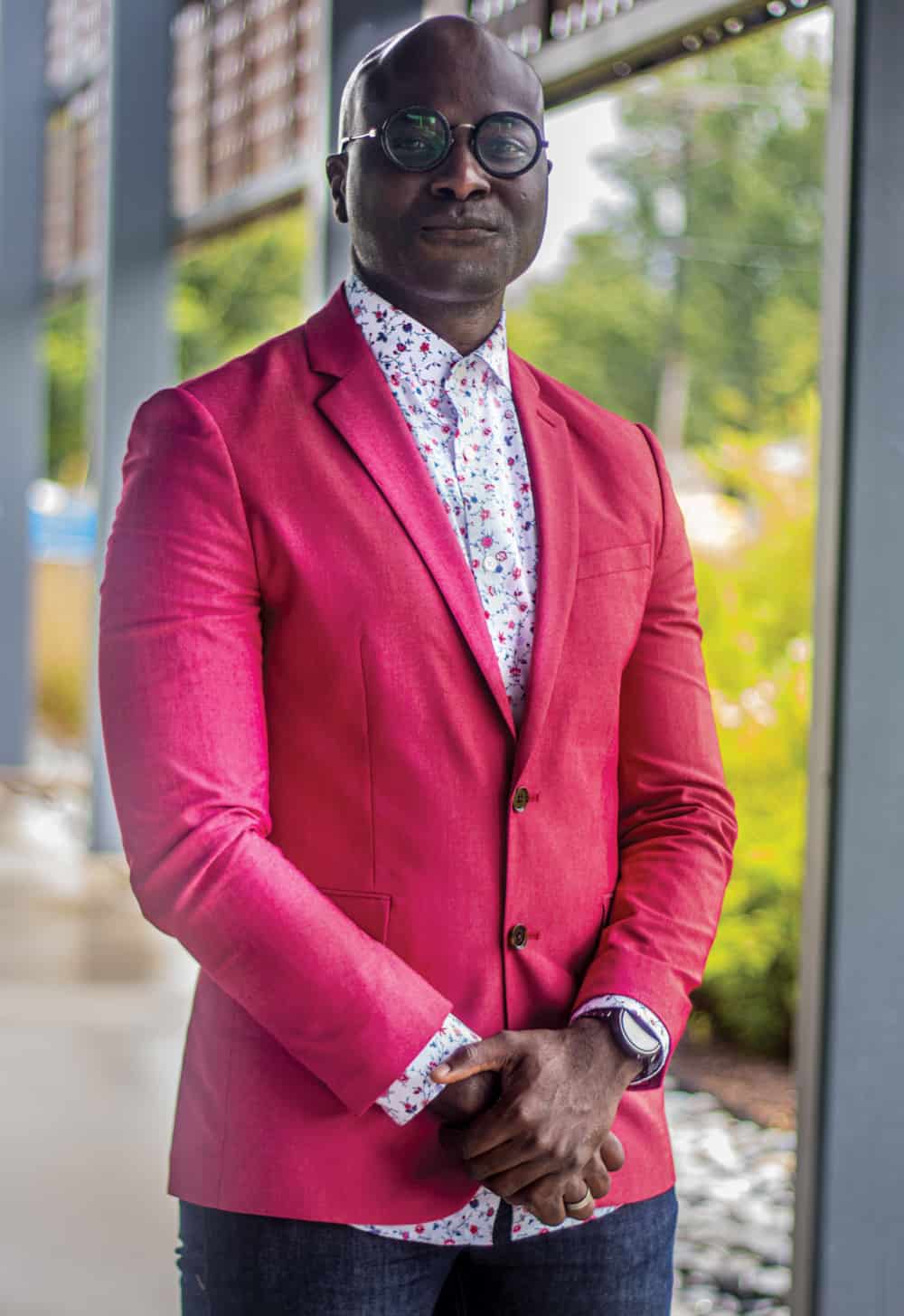 Dr. Sheg Aranmolate (Courtesy)
Personal style philosophy: "Exude the current mood of where you are, and what the weather is. Dress according to the seasons, the environment, and the occasion."
Beloved brands: "The Photographer line from Express is my go-to. I used to have a hard time finding cuts that matched my body type; I was born in Africa but have more of a European influence, because part of my family lives in Europe. I'm really big on the slim-fit look, and not many big American brands were doing that. For shoes, I usually go for a British brand, H By Hudson."
Accessories obsessions: "I'm mostly a watch and shoe guy. I buy really good shoes — they last a lot longer. Most guys have one pair of sneakers and one pair of loafers, but once I buy a nice shoe, I keep them really well — I probably have 25 pairs. And my guilty pleasure is automatic watches. There's an Italian brand, Momodesign, that came out with some Vespa-ish automatic watches. I love retro designs and I have a Vespa scooter, so I wanted a watch to match."
I'd never be caught wearing… "Flip-flops and socks. That's one of my pet peeves. I think it's ridiculous."
Summer uniform: "I went to boarding school in Africa, and the younger students had to wear shorts and button-ups, and the senior students got to wear pants. Wearing those shorts, I just felt like the lower person on the totem pole, so I don't really wear shorts. I'll wear a nice button-up with a pair of slim-fit pants that match the weather, though some days I'll wear a polo, if I'm going golfing or something."
Summer skin regimen: "I use Leovard's Skincare System for my face, which has cleanser, tonic, and serum. It keeps my skin smooth and helps with some aging, because I'm getting up there in age now. For my body, I use the moisturizing lotion, which is good for head to toe. I use the Luxury Lip Luster, too. I'm a complicated person when it comes to my ideas and my daily lifestyle, but I'm kind of the Marie Kondo of skincare."
4. TRACY ANDERSON
Personal style philosophy: "I wear whatever feels good to me. I also wear my favorite things over and over, because they feel good to me."
Beloved brands: "Victoria Beckham, because she knows how to cut clothes for women in a beautiful, striking way, and she tells a story of strength and femininity in all of her pieces. I love the way Carolina Herrera is able to achieve a perfect, playful elegance with incredible sophistication. Also, Loro Piana — I could live in that cashmere forever! I would rather buy one of their sweaters and wear it multiple times a week for decades than have hundreds of sweaters from other places."
East End shopping haunts: "Tenet and Loro Piana."
Best fashion advice: "My grandmother, who is 95, always said to never leave the house wrinkled. She was the best at ironing. To this day, a perfectly pressed white dress shirt is one of my favorite staples."
I'd never be caught wearing… "A tattoo. I love to be naked, and I swear I would scratch it off."
Summer uniform: "I love G. Label's Martindale seamed bustier dress. I'm in easy cotton dresses all summer, like a proper girl from the Midwestern cornfields."
5. RAMY BROOK SHARP
Personal style philosophy: "Sexy, yet sophisticated."
Beloved brands: "Saint Laurent, Chloé, and Tom Ford. Anthony Vaccarello's designs for Saint Laurent are incredible, and Chloé does boho chic so well–I love that look. Tom Ford is the epitome of sleek and cool. His designs look great with jewelry. Not only is he a talented designer, but he's also super creative in other areas!"
Fashion inspo: "Diana Ross in the height of the '70s."
East End shopping haunts: "Blue One, Jennifer Miller, Corner Closet, WildSide, Bandier, and T.J. Maxx."
Best fashion advice: "'Buy your jeans slightly smaller, even if you have to lie on the bed to zip them.' — a true quote from my mother, when I was in high school!"
I'd never be caught wearing…"Ballet flats. I love wearing heels because I like to feel tall!"
Summer uniform: "I've been living in my Marcie Dress and Paris Sleeveless Dress this summer. They're both so easy to wear, look great with statement necklaces, and can be dressed up or down. Plus, they're easy to pack and travel in!"
6. GEOFFREY ZAKARIAN
Personal style philosophy: "Classic foundation, but with slight subtle upgrades."
Beloved brands: "Tom Ford, Eleventy, and Sunspel. All are true to form, proper yet still a bit edgy and appropriate."
East End shopping haunts: "Orlebar Brown and Ralph Lauren."
Best fashion advice: "'Never dress down. Always one step up. It respects who you're going to meet or do something with.' — my father."
I'd never be caught wearing…"Flip-flops or muscle T-shirts, and absolutely never on a plane or in public."
Summer uniform: "Light, unconstructed linen jackets, James Perse T-shirts, and Ami sneakers."
7. SHOSHANNA GRUSS
Fashion inspos: "Cate Blanchett. She always wears things that are fascinating, fun, and tailored to perfection. Julianne Moore always looks impeccable and age-appropriate, and Naomi Watts is stunning. I also like to see people in the street. I'm always interested in how people put together their look, especially when traveling."
Design process: "I try on every piece in my collection before we move into production. If I'm not crazy about it, then we won't make it. I only want to sell pieces that I truly love and get excited to wear. Recently, I've been bouncing some ideas off my oldest daughter because she can wear the line now. It's so fun to have her involved in the whole process."
East End appeal: "I go to my house in Sag Harbor, no matter the time of year. I love the change of pace and being able to spend time outside. It helps me reset. Even though I'm a born-and-bred city girl, I'm a beach girl at heart. I've been fortunate to travel the world with my family, and the beaches here are some of the most beautiful ones the world has to offer."
8. CLAIBORNE SWANSON FRANK
Personal style philosophy: "Classic American, and a bit bohemian — I'm inspired by the fashion of the 1960s and '70s."
Beloved brands: "Veronica Beard, Valentino, and Emilia Wickstead. I love how each of these brands celebrates women; they're classic but have a nostalgic vibe in both their design and craftsmanship."
Fashion inspos: "Lauren Hutton, Jane Birkin, and Charlotte Rampling."
9. DRIA MURPHY
Personal style philosophy: "West Coast, but polished. My personal style reflects being born in California, but influenced by living in NYC."
Beloved brands: "Phoebe Philo for Céline, Francisco Costa for Calvin Klein Collection, and Markarian. These designers all reflect different times in my life. For that reason, they'll always be all-time favorites."
Fashion inspos: "Sienna Miller and Brigitte Bardot."
East End shopping haunts: "I love spending time at my friend Joey Wöelffer's store in Sag Harbor. She has curated such an eclectic variety of vintage clothes, jewelry, and textiles. Another dear friend, Sasha Benz, opened a stunning boutique in Montauk, Wyld Blue, that I am always shopping at. I love Communitie East for hats and silk dresses, too."
Best fashion advice: "My Gigi, aka my grandma, used to tell me, 'You can never be overdressed, but if you're underdressed, people will notice.' She is still one of my fashion inspos."
I'd never be caught wearing…"Tevas. Just not for me."
Summer uniform: "A swimsuit, a cover-up, and a healthy dose of sunscreen with a hat on, always — ultimate summer look means chic sun protection."
10. FREDERICO AZEVEDO
Personal style philosophy: "Tailored. However casual or formal the outfit, I think it's important to always look tailored."
Beloved brands: "Christian Dior, because it's what I like to wear. Dior as a brand has this distinct feeling that flows throughout everything they make, and it aligns with how I usually feel. Berluti has the best shoes and leather goods; the texture is unparalleled, and their small, elegant details remind me of tattoos. And Tom Ford — for inspiring us all to be sexy."
East End shopping haunts: "Ryland Life Equipment and Tenet."
Best fashion advice: " 'Remember the dress code on the invitation.' —My mother."
I'd never be caught wearing… "A jacket and bow tie with shorts — it's style nonsense to me."
Summer uniform: "Navy blue pants with a light blue or white shirt and a blue jacket. To me, that outfit means summer —blue is the ocean, and white is the sand."
Read the complete new issue of The Daily Summer below!
Subscribe to our newsletter and follow us on Facebook  and Instagram to stay up to date on all the latest fashion news and juicy industry gossip.