Read today's dose of chic intel right here…
Separates and Outerwear Ruled the Givenchy Runway
Designer Clare Waight Keller toyed with geometry this season. Specifically, she played with dualities like round and sharp edges, soft and hard silhouettes. Outerwear and separates were a highlight in particular, with pieces that had a timeless quality to them. There is a growing trend in Paris for '80s-style wide shoulders this season. Keller managed to have a unique take: perfectly rounded sleeves that have the volume du moment, but are distinct enough to stand out from the crowd.
Ray Kelvin Has Resigned from Ted Baker (WWD)
Last December news broke that Ray Kelvin, CEO of Ted Baker, had sexual harassment complaints filed against him by former and current employees. Kelvin quickly went on voluntary leave as an independent investigation was conducted. The investigation is still ongoing, but Kelvin has officially stepped down. He still holds at 35 percent stake in the company.
Fashion Nova Sued by a Photo Agency Over Unauthorized Use of Images (The Fashion Law)
Paparazzi photo agency BackGrid has filed a lawsuit against fast fashion retailer Fashion Nova for copyright infringement. The suit claims that Fashion Nova has been using BackGrid images without authorization. BackGrid is suing for monetary damages, as well as any profits made by Fashion Nova from the images.
View this post on Instagram
Thom Browne Delights With an Office-Themed Show
Though Thom Browne is known for lavish, intricate, and artistic runway pieces, his brand is also a go-to for pared-down grey suits. Not that these suits are boring by any means — they are instantly recognizable thanks to their cropped trousers and boxy silhouettes. This season Browne gave his trademark suits time to shine by having an "office" full of models open the show. As they typed away, the new collection took to the runway.
Trompe l'oeil was an important design detail this season. Several dresses featured stitching and fabric meant to resemble separate pieces. It was fun, surreal, and completely up Browne's alley. The designer also toyed with silhouettes this season, featuring wider trouser legs and roomier outerwear.
Diane Von Furstenberg Displays Portraits of Powerful Women by Artist Ashley Longshore
To celebrate International Women's Month Diane von Furstenberg has teamed up with Ashley Longshore to pay tribute to powerful women. Longshore painted 37 portraits — including ones of Ruth Bader Ginsberg, Jackie Kennedy, Marlene Dietrich, Cleopatra, Oprah, Gloria Steinem, and Rosa Parks, among others — featuring Furstenberg's most iconic prints. The paintings will be on display at Furstenberg's flagship location at 874 Washington Street through May. All of the art will be available for purchase on-site.
The Ellen MacArthur Foundation Teams Up With Fashion Brands to Help NYC Recycle
Starting today New Yorkers will have more resources when it comes to being ethical about fashion. The Ellen MacArthur Foundation has joined forces with the NYC Department of Sanitation and the NYC Economic Development Corporation — as well as brands like ASOS, Gap, Reformation, and Zara — to help NY recycle old clothing. Titled #WearNext,  the aim is to reduce the amount of clothing that ends up in landfills. 1,100 clothing recycling drop-off points have been established throughout the city. The campaign, which runs through June 6th, also encourages consumers to find ways to repair, reuse, resell or swap old clothing.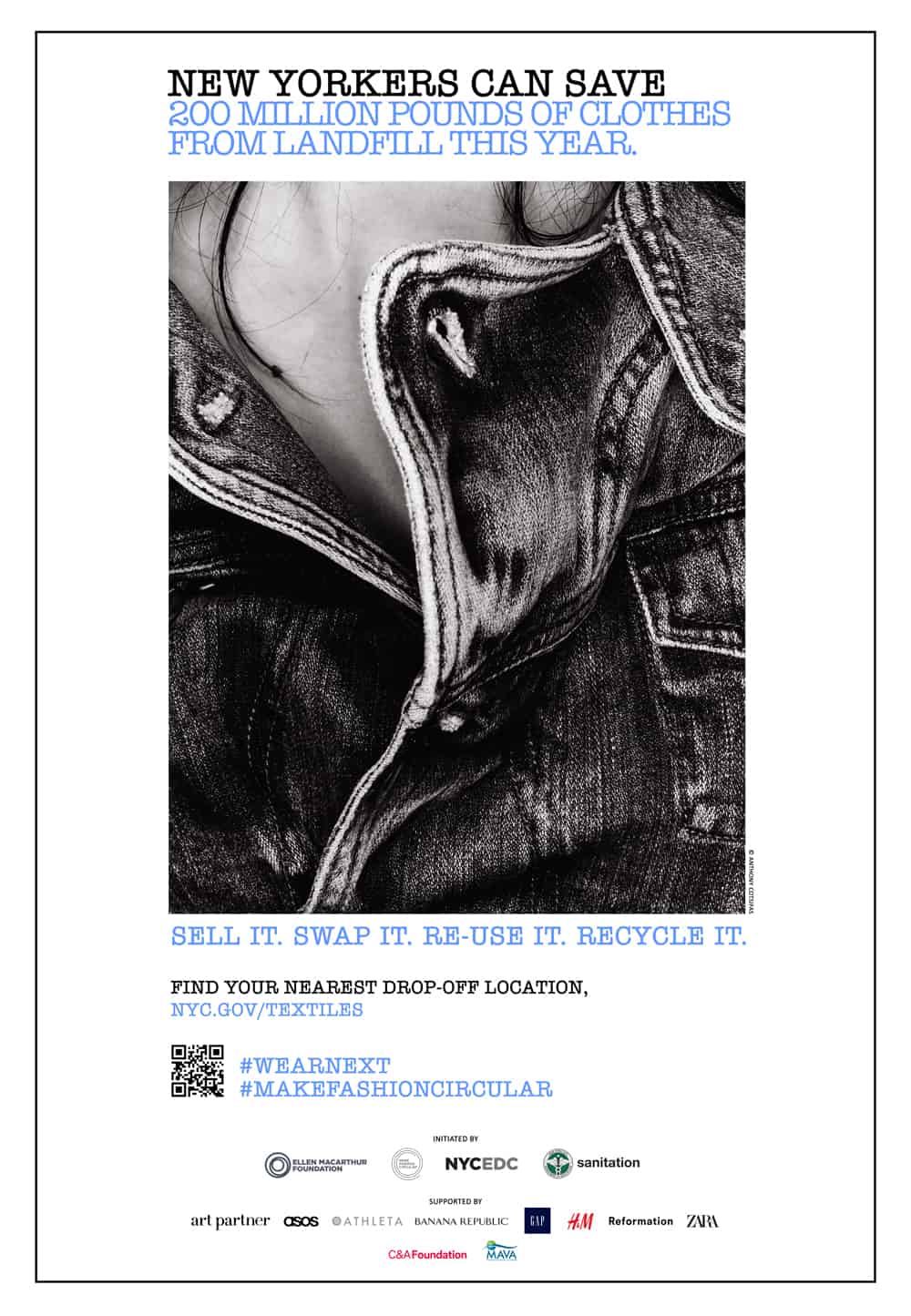 Subscribe to our newsletter and follow us on Facebook and Instagram to stay up to date on all the latest fashion news and juicy industry gossip.