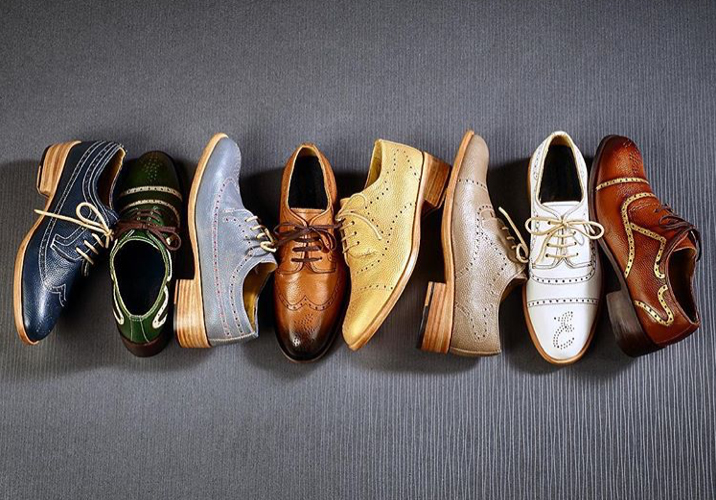 Florsheim, the American men's shoe brand founded in 1892 in Chicago, has partnered with American luxury shoe designer George Esquivel for a special collaboration of men's and women's brogues (and the first women's shoes by Florsheim in 40 years). The collaboration came about after Florsheim and Esquivel were introduced by a mutual friend, who had known the Florsheim brothers for years, according to Esquivel. Esquivel, a longtime admirer of Florsheim, bought his first pair from the brothers' co. 24 years ago. "They were vintage from the '40s, and I could tell because they had a wooden shank," he told The Daily. "This was when I first started designing shoes. I don't have the original pair of shoes, because I took them apart to see how they were made. The construction was amazing."
The line is inspired by Florsheim's classic long-wing and cap toe styles, which were updated with Esquivel's modern aesthetic. Each pair is handmade, including the cutting, sewing, and lasting, which takes several days. Each features an "F" on the right toe and an "E" on the left to celebrate the two brands. Wickett & Craig, an American tannery (est. 1867) based in Pennsylvania, helped to create the special pebble-grain leathers and unique colors. Natural hides were specially produced to be hand-painted by artisans in Esquivel's atelier.
Wickett & Craig is one of the last great American tanneries, said Esquivel. "There are so few tanneries because it's an expensive and difficult process to tan leather. It's a lost art. Like a lot of manufacturing, it's one of those trades that has left the United States. It's very sad. I have used them in the past with my own collections because they have great quality."
The women's shoes feature a slightly elevated heel for a feminine touch on an inherently masculine design. The collection, which ranges in price from $595 to $950, is available now at FlorsheimxEsquivel.com; the women's collection will also be available in exclusive styles at Barneys New York.