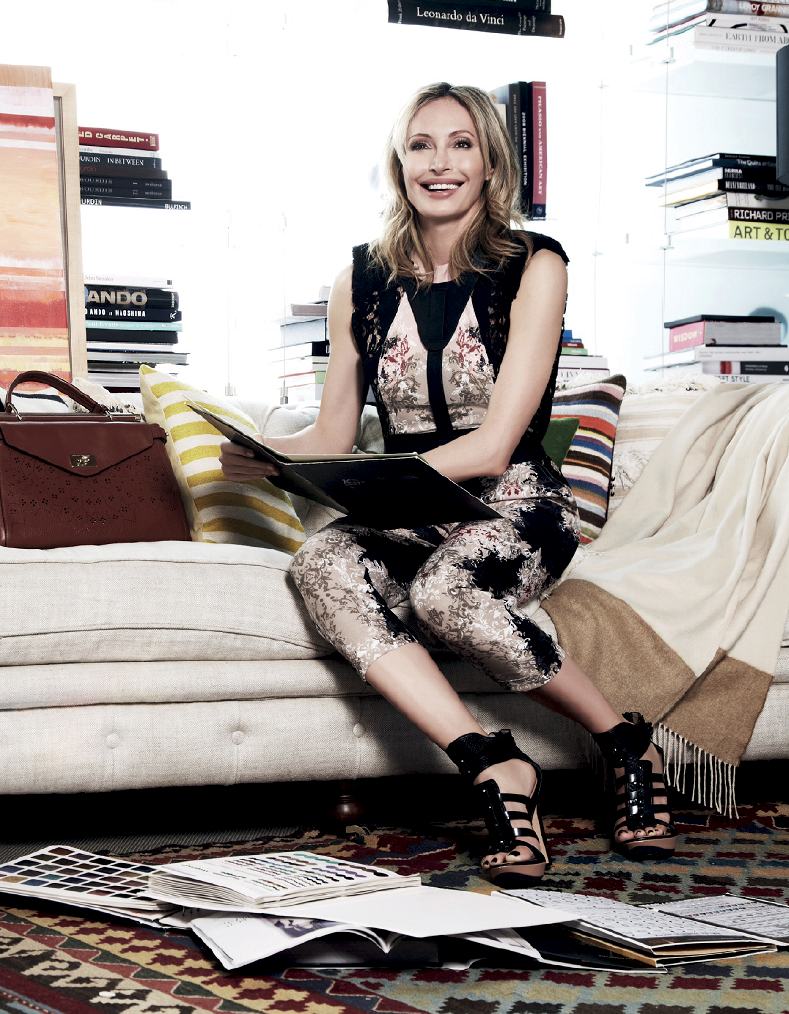 Fresh from the pages of The Daily's special Hollywood issue, and following last week's inaugural Fashion Los Angeles Awards…This year marks the 30th anniversary of Hervé Léger, a red-carpet mainstay and one of the few major American fashion houses to call Los Angeles home. The brand's chief creative director Lubov Azria, who works day-to-day with her husband, Max Azria, explains the brand's longevity and timeless appeal.

Why is celebrating an anniversary important to you?
It's our history. It's important to remember where we came from and where we are now. It's great to reflect on our accomplishments and the brands that we built. We reflect back and move forward. It's also great to encourage everyone—our colleagues and our customers. It has been an incredible experience! We didn't start Hervé Léger. We bought the company and then it took us about six to seven years to figure out the process and determine how to relaunch it.
What took so long?
When we first acquired Hervé Léger, the biggest challenge was to keep it authentic. We tried to work with Hervé Léger himself, but that didn't work out. We hired two other designers to follow in his footsteps, but that didn't work out, either. We brought the line back to Los Angeles and I worked with technicians for about two years to figure out how to make it right. The brand is known for a particular way of hand-knitting—it's not woven. Rachel Zoe is a very good friend, and she wanted to dress young celebrities like Nicole Richie in the line. The next thing we knew, they were on the cover of magazines like People and Us Weekly. Suddenly, there was a huge demand for the dresses, and we weren't ready for it. Even today, it takes between three and six months to make one dress. It's a true labor of love.
Have you heard the name butchered over the years?
Absolutely! In one of our first conversations with Hervé Léger, I asked him about his name being so difficult to pronounce. I asked him what Americans call him, and he looked at me and said, "Harvey Legger." I lovingly refer to him as Harvey.
You're a rare example of a major American brand that is headquartered in Los Angeles. Why are you based there?
The weather is a big part of it, and the other thing is the space. Our work space is incredible, and we have the most beautiful warehouse. We have light! We dress celebrities, and Hollywood is here. And also, the best flea markets!
Are you based downtown?
Yes. It's been incredible to watch the changes over the past four years. Skid Row is still there, but people are embracing it. Before, downtown was vacant. We have the best restaurants downtown now. Now, we go for dinners at Church & State or to the theater. Even though L.A. is considered a big city, it's always felt more like a town to me. Now with the rebuilding of downtown, it's truly becoming an urban city.
Would you ever stage a fashion show in L.A.?
We've thought about it. I wouldn't do the major show, but I would consider Resort or Pre-Fall. The major shows have to be in New York due to the international press presence.
Which designers are you friendly with in town?
We know Juan Carlos Obando, Rachel Zoe, and Trina Turk, but we don't get to hang out as much as I'd like. We need to find time to get together!
Where did you and Max [Azria] meet?
We met on a job interview. I was with my best friend shopping on Sunset Plaza and we walked into a store. The manager of the store was Max's best friend. My good friend started a conversation with him and one thing led to another. She said that I was a designer and Victor, the manager, said, "My best friend owns a company called BCBG. They should really meet because he's always looking for talented people." They exchanged numbers, and I called Max and went in for an interview. On the interview, after looking at my portfolio and résumé, he only asked me one question: Was I detail-oriented or global? I told him that I'm very detail-oriented, and he hired me right there. No love at first sight! In our relationship it's about respect first and love second.
What did he mean by asking you if you were "global"?
His English was very bad.
When is your anniversary?
July 11th. To celebrate, we have a white party, because I hated my wedding dress so much. Every year, I buy a new white dress and we redo our vows.
Love that! How many years?
We're going on 25.
How are you and Max able to work and live together?
Respect for each other. He's senior to me, and I have so much respect for what he has accomplished. He mentors me all the time. It also helps that his office is way on the other side of the building! We visit each other. We understand each other's jobs and priorities.
What were you like at 30?
Very overwhelmed. I was married with three kids and three stepkids and a full-time job. I was a mess.
Things are better now?
Yes! I learned how to meditate.