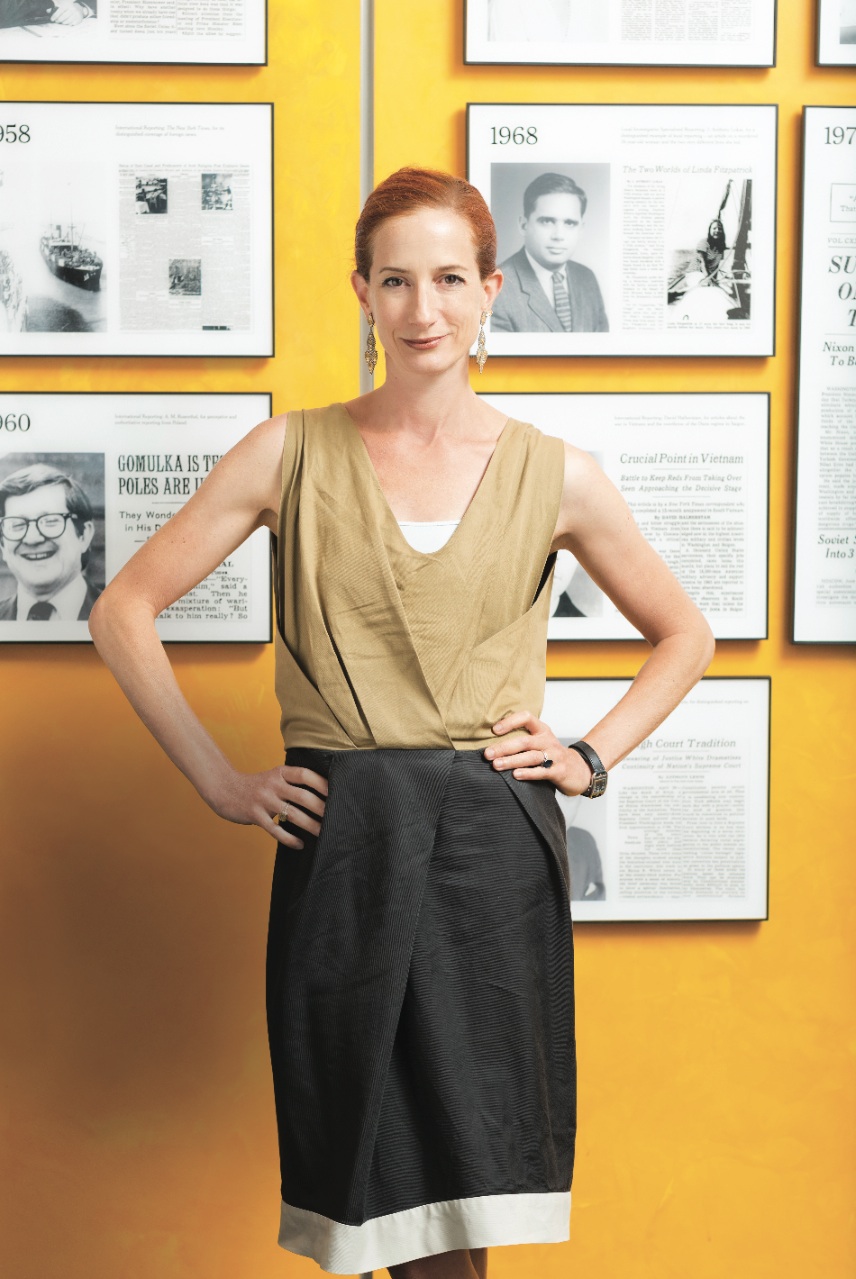 After clocking nearly a dozen years as the Financial Times' go-to fashion gal, Vanessa Friedman arrived at The New York Times to tackle the big, bad title of chief fashion critic—and also serve as the paper's fashion director. Just don't call her the new Cathy Horyn!
BY ALEXANDRA ILYASHOV
Was a stint at The New York Times always in your grand career plan?
It was never in my plan to really have a plan! I grew up in New York, so the Times was always my paper—my romantic idea of what a newspaper was. When this opportunity came along, it was impossible not to grab it.
Was it a big transition?
It's interesting to be the new kid again! That's a huge learning experience. No matter how much you think you know in this industry, your role is really different when you go to a new place.
Did your writing voice change for the new gig?
No, I don't think my style has changed, but I take my reader into consideration a bit differently. The Times has a much bigger, broader readership than the Financial Times, so I'm speaking to a much greater variety of people.
How would you describe your voice?
I try to connect fashion to the rest of the world; to situate it in readers' lives. That's important for someone at a general-interest newspaper. I tried to do that at FT, and I try to do it at the Times.
Were Cathy Horyn's shoes big ones to fill?
Well, I'm not trying to fill her shoes; I'm wearing my own. I have enormous respect for Cathy, and I've known her personally for years. I was usually seated with the U.K. press, across the runway from Cathy and the American press. Sometimes, we were lucky enough to sit near each other. I admired her for the 12 years I worked at the FT. I wouldn't ever try to replicate what she did or who she was. I have my own voice and a different take on the world—and that's okay.
Did Cathy contact you when you got this job?
Well, she tweeted about it! [Laughs] We had lunch. I really like talking to her. A lot of times, what we talk about isn't fashion-related. We talk about our families. I've seen her in many airport lounges before flying from Paris to New York, when everybody is bleary-eyed and exhausted.
Cathy has been feared by some designers and banned by others. Are you playing nicer?
I'm not trying to be nice nor mean. I'm trying to be neutral. I get criticized a lot by designers because when I'm at a show, you can't tell what I'm thinking. I have a poker face. I don't think that's a bad approach!
Your title is chief fashion critic and fashion director. What does a fashion director do at a newspaper?
It refers, in part, to the fact that I bridge The New York Times and The International New York Times. It seemed like the simplest way to combine two roles with two different titles into one.
Do you like being involved with the International New York Times' Luxury Conference?
I was the editorial coordinator for the FT's Business of Luxury Summit for 10 years, so it's very similar. I do it with Deborah Needleman, and we have a great time! Conferences are fun—you get to explore your subject in a different way.
After being at a U.K.-based paper, do people assume you're British before you speak?
When I was at FT and I wrote a column about Mark Zuckerberg and his hoodies I got a lot of e-mails saying, ''You stupid English person, you know nothing, you don't understand." I was already based in New York!
Why was fashion important to the FT reader?
It's a $180 billion-dollar industry! These are huge businesses, and the creative and corporate sides are becoming intertwined. That's a very FT subject. Fashion now has its tentacles in other industries, like technology, hospitality, and film.
Do you ever get hate mail when you pen negative reviews?
If a subject calls you up and raves crazily about something you've written, it might be too much along the lines of what they wanted, and if they get mad, you might not have been fair. If you get no reaction, it's because you have been fair, critical, and objective enough on both sides.
You can't like everything on the runway. Do you have a checklist of qualities that make a great collection, or is it a gut reaction?
It's not a gut reaction. I think a gut reaction is more about blogging. I look for what a designer is saying—or not saying—and how it relates to what they've said before, and how that, in turn, relates to the outside world and makes sense with women's lives.
You're pals with Sally Singer, yes?
We first met when I landed in England in 1996. Friends said, "There's another American in London in media, you might like her!" She's been incredibly supportive of my new job.
Would you like to work at Vogue with her someday?
I would love to work with Sally, but I'm very happy where I am right now. I actually worked at Vogue a long time ago as a contributing editor, in 1994 and 1995, before I went to England.
You spent some time at The New Yorker many years ago, too.
That's really where I started writing: I learned about story structure, sentences, word choice, and how to build a story. I'd been at Vanity Fair for a year and a half—that was my first job in magazines. At The New Yorker, I was writing for the "Talk of the Town" section—doing that job, you really learn to do whatever lands on your plate.
Would you ever want to switch over to the glossy grind?
I really liked newspapers. I never thought I would when I started out, but I really enjoy the opportunity to live in real time. I don't think I want to give that up! I don't have a sort of commercial responsibility. I really can say whatever I think in a newspaper as a critic—that role doesn't really exist in magazines. Another thing I enjoy at newspapers, which you don't get to do in magazines, is to look at fashion holistically. Not only in terms of designers, but what happens on the corporate side of things and how the business itself works.
Do you have friendships with designers or does it get dicey?
I've known many designers for over a decade, and I've followed their work with great interest and enthusiasm. But we don't eat ice cream together while watching sappy movies and talking about relationship issues. The word "friend" has become a bit of a hot button topic in our world since Cathy's piece on L'Wren Scott and her piece in the current Bazaar. It now has a negative taint it doesn't deserve—there are lots of degrees of friendship, ranging from pleasant acquaintance to tell-all, and it's important to differentiate between them.
Is it easier to do your job thanks to this separation between personal and professional?
Maybe. It's just the way I do my job. When you cover an industry, you appreciate how much work goes into it. I know how hard designers work on their collections, how much they care about them, how many hours go into it, how much emotion is involved. It's difficult when you have to tell them, "Well, you wasted your time this time around."
When you do write something critical, is it tougher to fall sleep at night?
It's harder when you go to an event soon after a bad review and run into that designer and you're like, "Oh, sorry." It happens all the time! After I've written something critical, a lot of designers want to talk about it and understand things more. I think that's completely fair and it's part of my job, so of course I do it.
What excites you about NYFW these days?
I'm interested in this sort of transmogrification of Fashion Week into a performance art. A critical mass of designers seem to be thinking about things in a more entertainment-like way than in the past, like Gareth Pugh, Opening Ceremony, and Ralph Lauren.
Does the performance aspect detract from the actual clothes?
Yes, you don't see the clothes as much; it's about the concept. Arguably, the point of a runway show for many designers is actually a concept, not the practical derivations. You certainly don't see the seams, the fabric, or the way something is put together in a show, but you do see how it moves on the body. It's harder to deconstruct a garment, but may be easier to deconstruct an idea.
Where do you usually do your writing?
Ideally, at my desk, with my computer and a glass of water. But in reality, I'm often writing on the subway, by the side of the runway, or on a bench by Lincoln Center.
So which young talents are on the radar?
Young is a weirdly fungible concept in fashion. Really young designers, like an Alex Wang, will drop out of school, start their own labels, then they stay "young" for many years. So, what does a young designer really mean? In Italy they call designers in their mid-forties young—because they're not Armani, who's almost twice their age. It's funny!
A few names, please.
Thomas Tait is a really talented, interesting guy. Christopher Kane is young, still, but he feels very established now. Joseph Altuzarra is incredibly young—he has no stores, and has a staff of 12 or so people, but he's won CFDA's Womenswear Designer of the Year award. It really depends how you measure success: It's possible to get huge buzz and respect in the fashion world, and still be a small company.
If you were an up-and-coming designer, where would you show?
I'd never want to be showing—it's so awful! It's so hard for young designers to fight their way through. A lot of established brands occupy most of the space in these Fashion Weeks. There was a time when New York and London's schedules were less crowded; there was space for young designers. I'd show online, I guess!
Where can we find you off-duty?
I live in Park Slope, so I'm often around the area. I do trapeze with my kids on the West Side Highway or in Williamsburg.
How did you start swinging?
I started when my middle child was in kindergarten—a mother in her class thought it'd be a great way for a group of kids to learn not to be afraid of heights. My eldest daughter and I thought it was fun. You either like it or you don't!