Amid rosé, nibbles, and yards upon yards of white lace, Love Shack Fancy designer Rebecca Hessel Cohen ushers us inside her Sagaponack abode for a luxe and delicious lunch with her chic set of pals and their tots. 
What's the story behind your home?
My husband and I bought this house two years ago. My parents and his parents both have homes here, so I've been coming out my whole life. When we had our first baby, we wanted to find our own house. I love old, and my husband likes new and modern, so we were looking for something that we could make into our own. When we found this house, it was like a dark dungeon, so we painted it all white and mixed in antiques and furniture that we've accumulated over the past two years. It's a really fun, relaxed, and amazing beach-house-meets-farmhouse.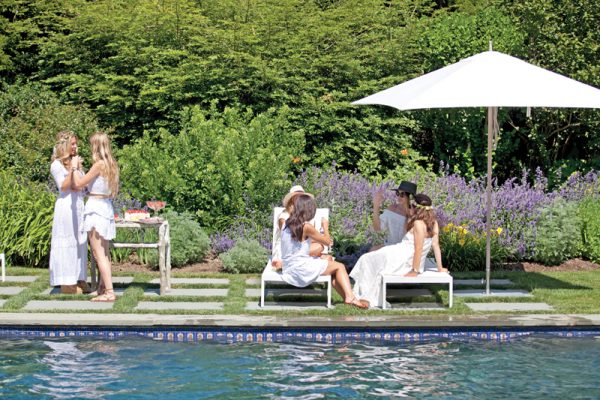 Do you entertain often?
We have house guests almost every weekend—mostly our close friends and their children, so there are always kids running up and down the stairs, through the halls, and outside. We usually host a nice lunch for 10 or 12 people on the weekends. Sometimes, we organize dinners that are more of
a to-do. We're constantly entertaining—the more, the merrier!
What was the concept for this particular lunch?
I recently threw a fairy-themed party for my daughter's third birthday—we had about 150 people here—and that inspired me to extend the theme to a lunch. I threw this party on the longest weekend of summer, during the solstice. One of my Swedish friends told me about the Midsummer Night Festival, a tradition that's held there around this time every year. We love anything beautiful and feminine, especially when it involves white, lace, and flower crowns, so this is my interpretation of a Midsummer Night Festival as a nice lunch. We did a version of a maypole in white tulle and lace, and we also brought out our white lace tepee, which we have at a lot of parties.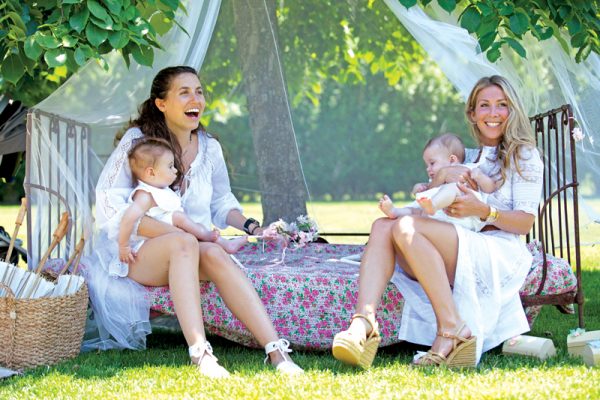 (Rebecca Hessel Cohen, right)
How did the décor embody your brand?
Many pieces in our summer collection are white, and the interior of our house is nearly all white as well, so we decided to make it a white party. My whole world is relaxed—nothing too formal or fussy—but I'm really into aesthetics, whether it's lighting or the tables and chairs. I pay attention to the details; everything embodies Love Shack Fancy and the mix of old and new.
Which friends came?
One of my best friends, Jordana Blitz, who just launched her catering company, Little Gem. My friend Nadejda [Savcova] who's a model, Colleen [Crivello], who has the company Mini Mode, and her daughter, Alba, were there too. We also hosted my good friend Sari Sloane and her three daughters—she and her husband started Intermix.
What's the biggest challenge of hosting a kid-friendly party?
I think we have it under control now. We had a whole situation set up for the kids: barbecue pizza, arts and crafts with a girl from Shine, a camp in Sagaponack, music, and an ice cream truck. They were in heaven.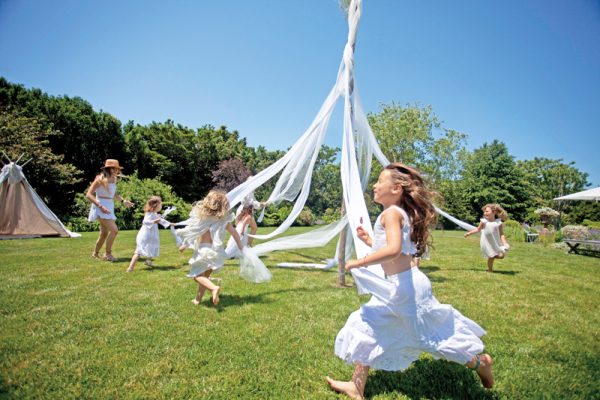 How did you come up with the name Love Shack Fancy?
My mom was the creative director at Seventeen and then did lifestyle styling for a few other magazines. She collected vintage clothes, props, and furniture and was going to start a prop house company at our house in Bridgehampton called Love Shack Fancy. She never ended up launching the company, and years later, when I was starting my brand and tried coming up with the name, nothing felt right. But Love Shack Fancy did, and now it's this world of its own that originated from my mom's ultimate Love Shack Fancy house.
When did you launch your brand?
In 2013. Before that, I was a senior fashion editor at Cosmopolitan. I spent about seven and a half years there, and worked at like every other magazine before that. I worked in magazines for a long time—I'm not a trained designer.
What made you think there was a market for these kinds of clothes?
I never thought there was a market—it just happened organically. My wedding was in my mom's backyard in Bridgehampton, and I designed the bridesmaid dresses to reflect the flowers in her garden. I worked with a patternmaker in the Garment District, and I loved the dresses so much I made them in different prints and colors, and then I added a few other easy, silk pieces. Because I was always traveling on photo shoots for work, I lived out of a suitcase, and those were the pieces I wore. It became an effortless, easy, and relaxed uniform. After a year of playing around, I left Cosmo. I was sitting on the beach with Lisa Marie Fernandez in St. Tropez, and she gave me the last push. That first summer in August, I was selling out of little trunk shows and in my car. I did a pop-up at a store called Wellness in Sag Harbor and then at Blue & Cream.
I officially launched the next summer!
What's the feeling of your summer '16 collection?
There's a lot of white and blue, and many of the pieces are inspired by vintage pieces from my closet. There's a Victorian dress, cute miniskirts and crop tops, and off-the-shoulder dresses with crochet and lace trim—effortless, forever pieces that are timeless. One of my closets is entirely full of white clothes, and every time I look at it, I'm so happy. I love the purity
PLUS! Meet the Chefs from the Luncheon!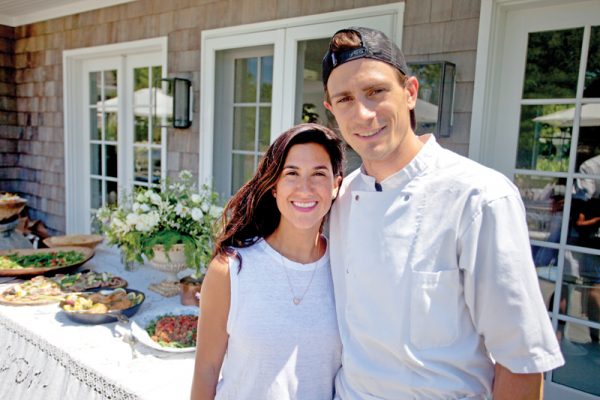 In April, former fashion executive Jordana Blitz launched Little Gem, a full-service catering company with food by chef Tolya Ashe (right) that also focuses on weekly meal delivery.
Jordana, what inspired the transition from fashion to food?
Food was always a large focus of the fashion events that I produced. I was looking for the next challenge and opportunity, and was intrigued about life in the back of the house as opposed to the front. Catering felt like a natural extension of my experience, yet would also provide exciting new ones.
How did you meet Tolya Ashe?
We were introduced by writer Marshall Heyman, a mutual friend and industry colleague. Tolya studied at the International Culinary Center and quickly gained a following of loyal clients, ranging from young families to celebrities. His cooking combines a focus on freshness and wellness with the skills acquired working in private homes and restaurants.
What kinds of events do you cater?
Our events range from in-home cocktail parties, brunches, and dinners to fashion press presentations, political fund-raisers, charity events, photo shoot lunches, and product launches. We've worked with Amazon Fashion, Late Night With Seth Meyers, Saturday Night Live, Kenneth Cole, Lacoste, Valentino, and others.
What was the inspiration for Rebecca's lunch?
The Love Shack Fancy garden lunch was inspired by the Swedish midsummer solstice. We aimed to incorporate seasonal Hamptons ingredients into a classic Scandinavian menu. We will cater any event we can drive to—or even fly, for the right client!
Click HERE to read the full issue of the Daily Summer