He's not a household name or an Instagram sensation, but Albert Kriemler of Akris is the go-to guy for more women than we dare to count. The Swiss designer was in New York this week to receive the Couture Council's prestigious honor for Artistry of Fashion, and for the occasion, he will show his Akris collection here for the first time. What took so long?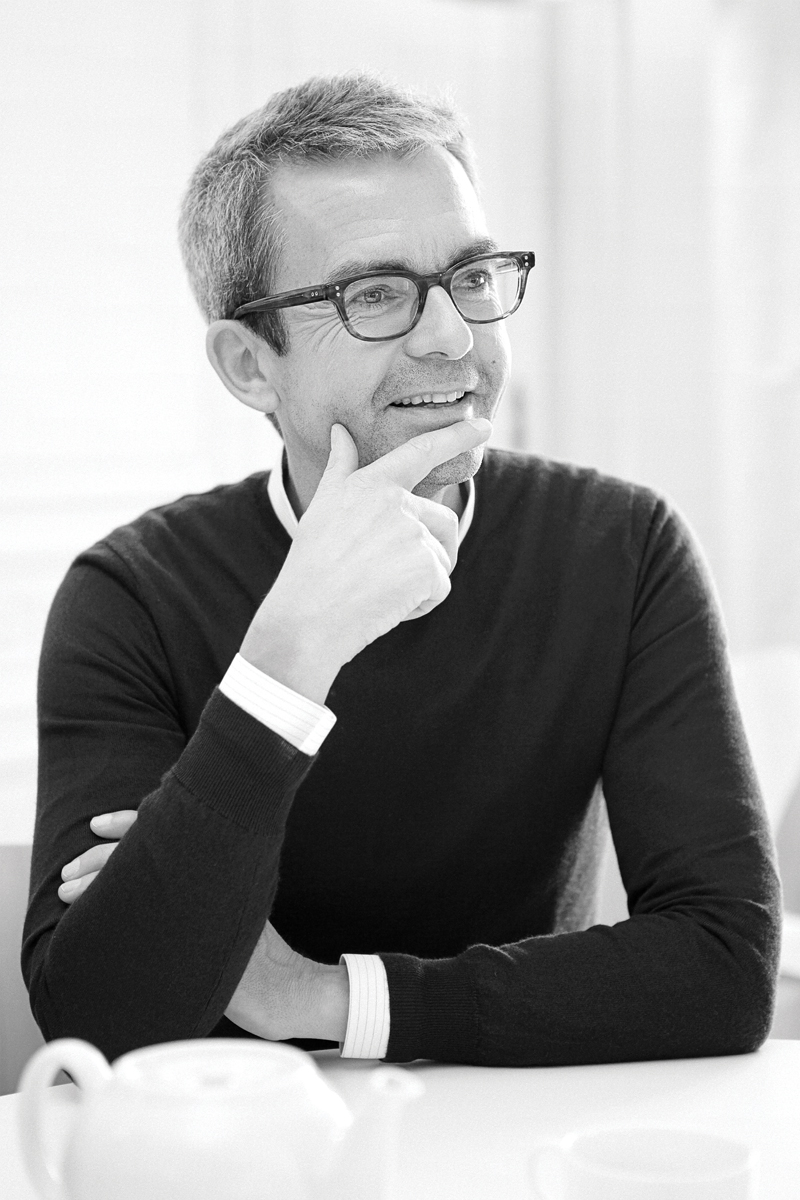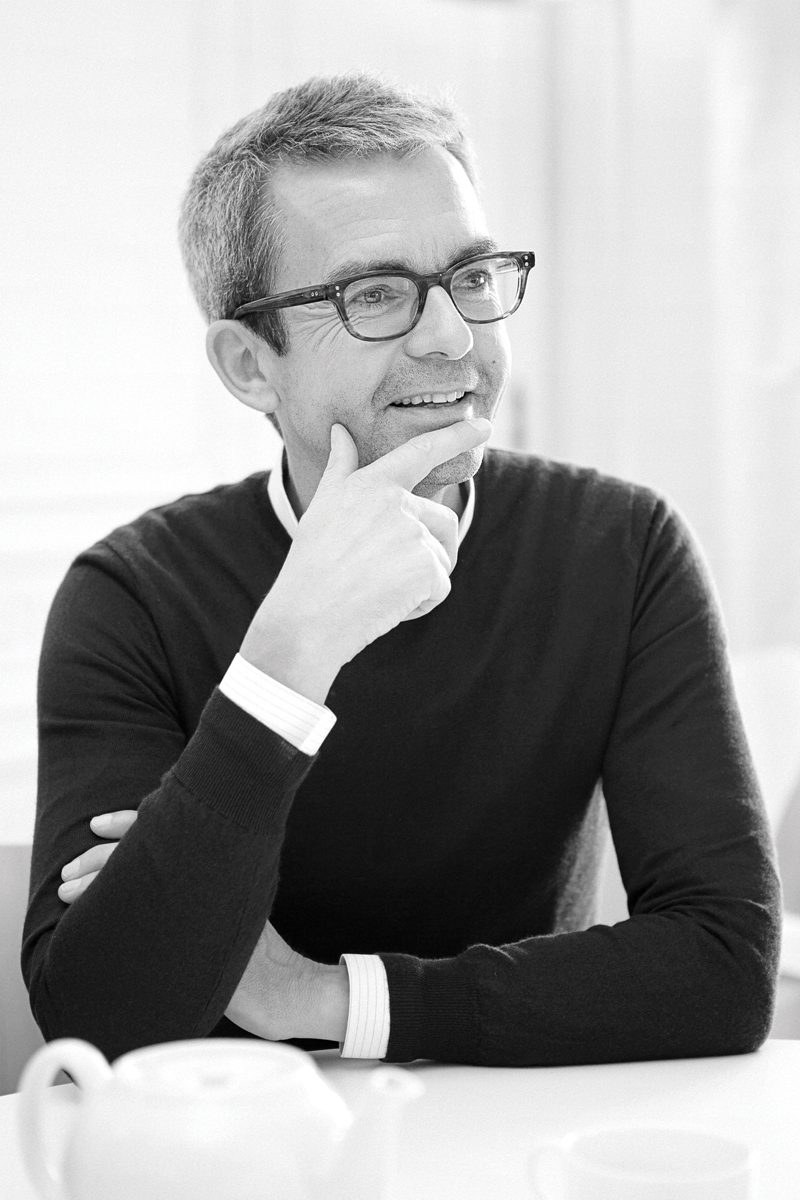 How did you find out about this award?
I was notified by [director and chief curator of the Museum at FIT] Valerie Steele. I could not have been more surprised!
What did this mean to you?
When two preeminent museum curators like Pamela Golbin and Valerie, a fashion pundit like Suzy Menkes, and other stellar opinion leaders decide that I'm receiving this award, following in the footsteps of Alber Elbaz, Dries van Noten, Karl Lagerfeld, Oscar de la Renta, and Valentino, what can I say? I lack the words to describe how I feel about it.
How come you decided to show in New York this season?
When I visited New York on September 21, 2001, I met Anna Wintour for the first time in her office, and she said I should show my collection here. At an event years later at Saks Fifth Avenue, she mentioned it again. When I was awarded by the Couture Council, I felt this was the right time to follow her advice and show here for once to pay homage to the city that has welcomed me as a young designer and offers so much love and respect for our work every day.
Why do you love New York City?
It is the only place in the world where five continents meet. People here have no preconception about where you come from—what matters is whether you are doing something interesting. It is utterly competitive, but you are welcome to come here and do what you want to do. Everybody here is just a tad more professional than a person at the same level in any other big city.
What are you most excited about showing in New York?
That it is New York.
Nervous about anything?
Nothing…on a first view.
You've had such a long relationship with Bergdorf Goodman. How did that relationship begin?
When I was 19, and just before I started working in the family fashion house, my father gifted me a trip to New York for one week. On that trip I discovered Bergdorf Goodman. Standing in front of the famous windows, I thought, if I am ever going to be somebody in this industry, I want my collection to be seen in these windows. Ten years later I had my first meeting with Dawn Mello and Joe Boitano at Bergdorf's to show my collection, and we got our first order.
What has it meant to you over the years?
For those who love fashion, Bergdorf Goodman is a unique specialty store, the epitome of culture and taste, with impeccable service—and last but not least, those incredibly creative windows on Fifth Avenue. It will always be a special place for me, as it gave us a great initial platform to speak to the New York woman.
How have you managed a longtime collaboration with Steven Klein?
Mutual respect. We first worked together in 1996 on a Stella Tennant campaign in his Greenwich Street studio.
Do you have a favorite campaign from over the years?
Probably Daphne Guinness in the campaign that launched our iconic bag, the Ai.
Of the many changes you've instilled at the company since you took the helm, which has been most impactful?
For sure, starting to show the collection in Paris in 2004.
What have been your greatest inspirations over the years?
The evolution of women, my mother, the arts, and architecture.
Where do you see the fashion industry going?
We're going through a revolution of information and communication technology. Fashion is reflecting that—in marketing and communication, and in entirely new distribution channels. We see much more information about everything, but it has become more difficult to find valuable, reliable information based on expertise. Consumers want information to be mainly visual, via images and films and less through edited and thoughtful text. It is more emotional, but it lacks layers of knowledge and reflection. Silicon Valley is not only changing the system, it is already inspiring dress codes and wardrobes. We will see changes in lifestyle and face new issues. Generation Z is actually very much about a healthy and sustainable lifestyle, and if you think about it, who needs these short production cycles? I like it if you can wear something season after season. I like the idea of a wardrobe resembling a collection, a treasured investment with longevity. It is not about the most, it is about the best. It is about dressing a woman's body in a way that makes her feel perfectly right.
You've had a singular vision at your brand for so long. Thoughts on all the recent designer moves?
In a family-owned fashion house like ours, you are very much in control as a designer, on every level. You can shape the work conditions and your ecosystem, especially if you are vertical, which my brother secured. When you are a designer who, after establishing a brand, attracts a big conglomeration to hire you, you relinquish control. It can be increasingly difficult to maintain the integrity of your own fashion vision. This can put pressure and suffering on designers, who need to express themselves and who want to grow and evolve. Fashion is much more than looking at beautiful clothes and creating something that is visually pleasing. Yes, women love the glowing colors and the bold prints this season, but it is the artisanship, the know-how. The feel, the tactile side of the fabrics you wear on your skin, and the fit  translate into body language and add to a woman's presence and charisma. If you have the opportunity as a designer to create what women dream about, it is very fulfilling.
Will you eventually turn to the immediate runway-to-retail model?
As everybody else is doing, we are considering our options. But we have not yet decided. Going to New York for one season is a good way to think about what we want to return to, and what we want to see changed.
The Financial Times once dubbed Akris "the most successful label you've never heard of." What did you think of that?
It was a shortcut for our modus operandi. We established our culture and strong customer base flying under the radar. As luxury brands become more and more flashy and the 100 newest must-haves are trending on every smartphone, there is a growing desire for something that needs knowledge and an advanced sensibility for a design language. Something personal. We are not noisy, but those tangible elements of our identity speak loud and clear to those who want to delve deeper into fashion.
How can the fashion world improve?
Fair working conditions in production, less collections, more sensible timing of the shows. Being more real, which in fashion means fulfilling the desires of women.
Any thoughts on the relationship between fashion and social media?
As is obvious from the "see now, buy now" discussion, social media is disrupting the fashion show model. They empower the consumer to get direct access to a formerly closed world of fashion presentations, which used to have strictly defined roles and rules. It will be difficult to show new product so extensively on social media and make the consumer wait half a year until it arrives in the store. As Ken Downing from Neiman Marcus put it recently, it's like showing someone a Christmas gift six months beforehand.
What would you like to do in life that you haven't done?
As a young man: Study fashion in Paris and live in New York for at least a year. But one of the best bits of advice I ever got was: Don't think about what you don't have.
Give us your best advice for younger designers starting in the business.
Go your own way. Learn the craft, every day. Follow your gut feeling. Dream. Do the math. Listen to women and follow their advice. And don't get lost in an ocean of images.
How do you want to be remembered?
Ask me again in 30 years.