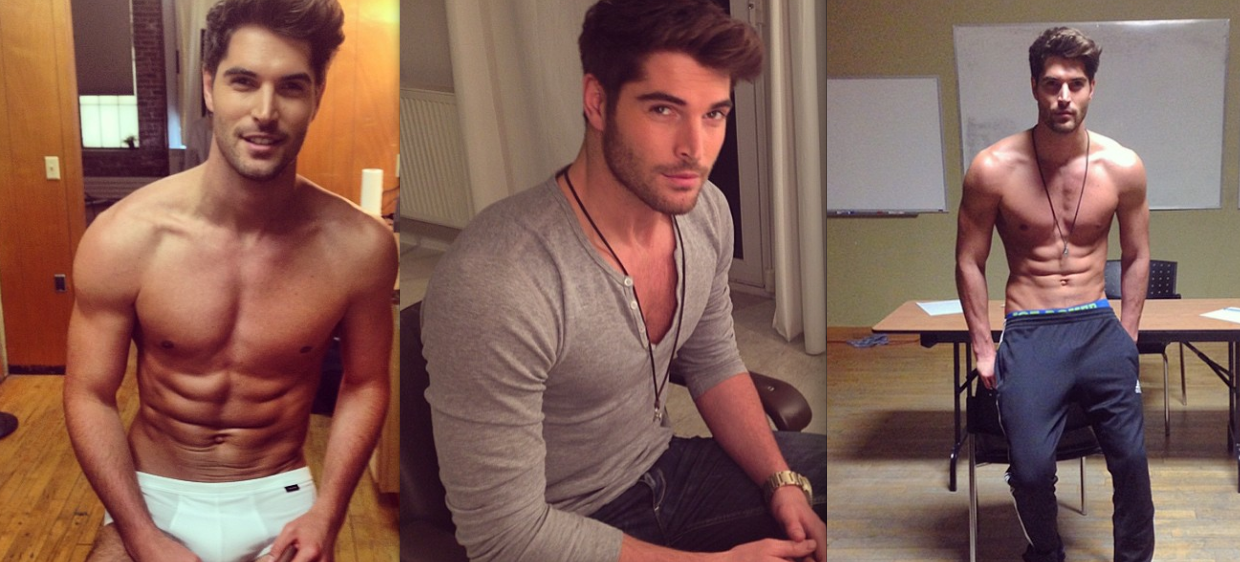 How did model/actor Nick Bateman end up with 1,138,067 followers (and counting!) on Instagram? (More than Cher! Hundreds of thousands more than David Gandy and Barbra Streisand! And not too far behind in followers from Karlie Kloss and Kate Upton) The Daily sat down with this humble Canadian to find out how he's rocked the social media world via Instagram and Facebook, (where another million plus follow him) and turn himself into a brand. There's even a calendar coming your way. Who's really breaking the Internet? Meet Nick. 
Let's get straight to the question! Who the hell is Nick Bateman?
Nick Bateman is a guy from Canada who, at four years old, wanted to be a ninja turtle, so he started doing martial arts. Through that, I started training and I found a bo staff, which is a weapon used in martial arts from Japan. It became my passion so I started training. I wanted to be a regional champion and once I saw regional championships come my way, I was like, "If I can do this maybe I can be a world champion." Then I trained, went to the world championships, got my butt kicked, then realized, "Wow! I have a lot of hard work to do." After over 10 years of training, I won my first world title.
How did the modeling thing come about?
When I was 17, after I won my first world title, I had a friend who was a promoter for karate tournaments. He ended up doing an event for ESPN International in Miami called "The Best of the Best." While I was there an event was going on for Model Universe; not quite high fashion stuff. I wasn't technically allowed to be in it because I wasn't 18 yet at the time. Somehow I got in, though, and I did it for fun. One of the judges discovered me and introduced me to Calvin Klein while we were there. I walked up to Calvin and my friend said, "Nick, this is Calvin," and I said, "Nice to meet you." I knew who Calvin Klein was, but I didn't know that was Calvin Klein. I saw some guy in a white shirt and jeans and I'm like, "OK, bye," I walked away and my friend said, "Did you just walk away from him?" and I'm like, "Yeah why? Who was that?" and he said "That was Calvin!" and I'm like, "Calvin who?" and he said, "You just walked away from Calvin Klein!" He took me back and I talked to Calvin. He thought I had a good look, though I don't know why. Back then, I looked like a total fool: I had spiky hair and no facial hair.
What was Calvin doing there?
I don't know. It was not the place for him, because Model Universe is more about bodybuilding. I lucked out by meeting him, though. After I went back to Canada, I started modeling. My first big campaign was for Abercrombie & Fitch. I was on the bags for about two and a half years.
What's it like having your face on a bag? 
Very fun. The Abercrombie experience is funny because they fly 120 people down for the casting. Then they meet you, and they send 40 people home without even shooting them. Everyone has to be plain. The girls wear no makeup. Then, they bring you into a room with Bruce Weber.  Everyone in the room is scared sh*tless.
Did you get recognized from being on the bag?
Yeah! A lot of people would say, "Oh, you're the guy from the bag." Anyone who worked at Abercrombie, was like, "Oh my God," because they saw my face everyday. So I did get noticed quite a bit.
Did you save the bags?
Yes! They're dwindling because I give them out to my family. I think I have three bags left. I'm gonna frame one, because that's a good memory. Especially being shot by Bruce Weber.
Do you consider yourself more of a model or actor nowadays?
As long as I'm happy doing what I'm doing, that's what I want to do. I'll never be one thing. This sounds so cheesy, but one of my idols is Forrest Gump. As weird as that sounds, he's one of those people where he was ignorant and full of bliss. He wanted to do something, he did it, and he did it good. He put his heart into it, and that's the type of person I am. Right now I'm considering myself more of an actor, because that's where I wanna go with my life. Even when I was modeling, I didn't like to consider myself just a model. I was always an athlete and a martial artist, who became a model, for the fun of modeling.
Let's talk about your epic social media presence.
I started it about a year and a half ago. I realized that if you're smart with it, it's something entertaining for people to follow. I've always treated my Instagram like a TV show. I make sure I post everyday so people get an inside view on my life, whether I'm working, hanging at home with my dog, or traveling, I'd always try to post something so that people knew what's going on in my life. It grew rapidly for me.
Tell us more about making your 'gram feed like a TV show.
Say you're tuning into watch Dexter: if you tune in that one day and Dexter is about food, you'd be like, 'I'm here to watch Dexter, I don't want to see food!' If you tuned in next week to Dexter and the whole episode was about landscape, if I wanted to watch a landscaping show I'd go watch a landscaping show. People follow me because they want to see what I'm doing with my life. I try to keep that in mind. It's helped me build myself into a brand. We're still in the transition era. Everyone's like, "Is this social media thing for real?" I talked to some of my agencies and they're like, "Nick, it's just a social media following. You still haven't shot the Prada campaign," and I'm like, "I totally agree with you; there's definitely upsides and downsides to both, but I think there's something there [to the social media following]."
How many pictures do you take of yourself to get that one good shot?
It depends on what kind of day I'm having. If I went out the night before, or a bad day, or a meal where I'm bloated, sometimes I take twenty photos. Sometimes I'll get it on the first shot. Now, I tend to take 10 to 20 photos; it's the same as the photo shoot. You want to take a couple photos and pick the best one. When you're pushing it out to millions of people, you gotta look your best. You have to treat yourself like a brand and business. Only put out high-quality stuff.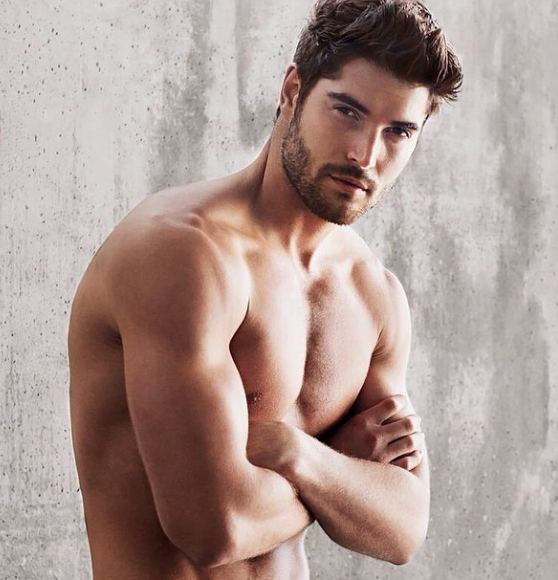 Your posts get hundreds and sometimes thousands of "likes" within minutes. Thoughts on that?
It still shocks me a little. It was hard for me to believe at first, because it's only been a year. I'm very honored and lucky that people have embraced my social media. I can't say anything more than that. People come up to me on the streets and are shaking when they see me. I'm so honored. When I see people that are shocked and shaking when they see me, I'm honored: those are the people that help build your brand! The people that are good to you? You gotta be good to them.
Do you read the comments?
Sometimes. It's hard because on some of my photos, I have over 3,000 comments. The funny thing is, half of the comments aren't in English, so I can't even read them. My manager speaks Spanish as well as English, and she tells me that the Spanish comments are quite dirty. Girls can be pretty perverted.
How so?
One of the comments that I thought was funny and is starting to die down now because it's been overused is "My ovaries exploded." I'm like, "What?" Then girls get into fights being like, "Why don't you like this picture?" It's funny, but again, I'm nothing but honored. I think there are many other guys that could do what I'm doing. They just have to use the algorithm that I'm doing.
Kate Upton is famous for her social media presence. Why do girls have more followers typically than the guys?
Guys have a little too much manliness sometimes. They're like, "I'm too manly to take a selfie." They just don't want to do it. They don't want to dedicate time to social media because they're like, "I'm just gonna enjoy my life. Whatever. If someone wants to follow me, they'll follow me." When I'm taking pictures, I'm thinking about it as a business sense. How do I maintain this? How do I keep growing this? Instead of being like, "Let's look really good."
Who do you follow on Instagram?
I don't follow people I don't know. I'll go on the 'Explore' page to check out other people and see what they're up to, but I usually just follow my friends. I don't follow too many people, to be honest.
And then there's your Facebook page…
It's ridiculous! I had no one on my fan page, and then I posted this video of me spinning my bo staff around my neck with a beer in my hand. It got 380,000 views, 50,000 shares, and 60,000 comments. Within two weeks, up to half a million people liked it. Then I started posting photos on Facebook similar to my algorithm that I post on Instagram, and it grew insanely fast. That shocks me, because now I get almost double the amount of likes on my Facebook as I do on my Instagram. I'm baffled. I don't even know what to say; it's still surreal to me! I posted a photo a few weeks ago, and I got almost a quarter of a million likes on Facebook.
And now you're living in L.A…
I don't know the city well yet. I'm very lucky to be coming here in the stance that I'm in. Not many people get to come to L.A. with a movie that's confirmed, the following that I have, and the things I have going for me. I feel like I need to keep working hard, stay humble, and keep the Canadian side to me. I can't let L.A. get to me; some people get here and let things change them. There's good and bad in every city. Wherever you are, there are great people everywhere. There are also gonna be people that aren't so great.
How do you make money?
Endorsement deals sometimes pay on Instagram. From time to time, I can choose to endorse a product. I'm not doing too many. I want to keep my Instagram more for my follower,  and not for advertising. If the right deal comes along, I don't mind promoting a product that fits my brand. If I use something, why not share that?
What's your goal?
I want to make movies with my good friends. All I care about is being a happy person. I could wake up in a year and be like, "I don't want to be an actor anymore." As long as I'm happy doing what I'm doing, that's all I care about.
Where does your happy attitude come from?
From martial arts, and from my mom. My mom is a very young-at-heart type of person. I love her to death. My mom taught me it's better to be poor in a ditch eating French fries living your dream than it is to be rich and miserable. That's how I live my life. Whenever I feel like I'm having a bad day, I'll think, "Well, there are some people that don't have food. Some people can't walk. Some people are in  wheelchairs." By comparison, there are some people that live on the other side of the world that would be happy just to have a chair and not be in the dirt. I always think of the positive side of things.
Do you get recognized frequently?
Usually when I go out at night. During the day, people often aren't brave enough to ask for a picture. When I'm out at night, I get a lot of requests, which is surreal to me! But my friends just know me as Nick Bateman, the martial artist.
Any Instagram tips?
Just post your life! Don't worry about people thinking you're narcissistic by posting so many selfies, because people are gonna think what they're gonna think. If you're narcissistic, you're narcissistic. You can still be a narcissistic person and be nice to people. If you're gonna post a seflie, don't do it of you in your bathroom saying, "Happy Sunday!" You should be doing something. People want to see that you're traveling or working or working out.
You do a lot of shirtless selfies.
A lot of the modeling jobs I shoot are underwear shoots. I shoot mainly underwear and bathing suits, so that's why I'm usually with my shirt off. If I'm in a hot place like L.A. or Miami, I don't want to have my shirt on anyway. I'm the type of guy who relaxes with my shirt off if I'm home. Sometimes I look at my Instagram and think, "Have I posted too many with my shirt off? Is it stating to look like this guy is a dick?"
Nobody seems to have an issue with that! Let's talk about your management company…
Rogue Management is an agency that I just started with Aileen Manso, who used to be one of my bookers at an agency. She was the best booker I've worked with. Very kind, very understanding, and she knew how to book the jobs. At one point I was like, "If I ever make it big, I want you to be my manager." I've been very lucky to do so well, and she decided to quit working at an agency.  If I can sell my face to Instagram and get these amounts of likes, I feel like I can sell a product.
Do you think that ad agencies should be looking at the stars of Instagram?
Very much so! Social media is the big thing right now. Everyone's looking at it. It's weird to think that people are on their phones more than they're watching movies and television. Kids these days, all they do is sit there on their phones. Statistically speaking, if someone posted a picture and it got 300,000 likes in a day, and another person posted a picture and got 5,000 likes, which person is clearly capable of selling a product better? You can't click "like" on a billboard. You can't click "like" on a commercial. People could shoot me down and say I'm wrong, but I guess time will tell…
Follow Nick on Instagram (in the rare chance you aren't!) HERE.
The Daily Front Row is also on Instagram HERE, so follow us as well!