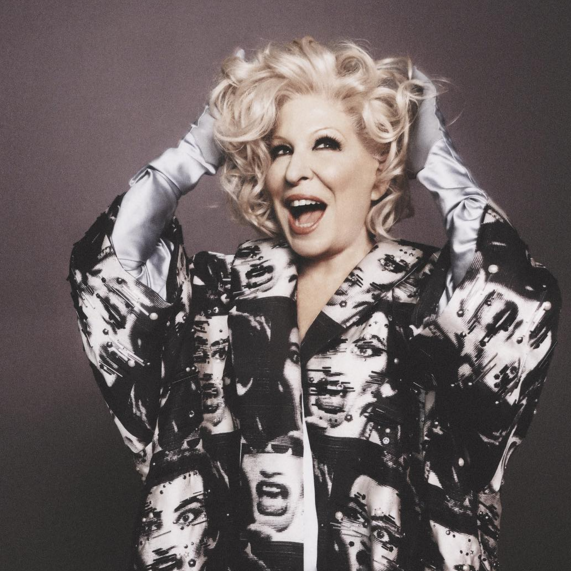 This is divine. Marc Jacobs announced on Instagram that Bette Midler will appear in his Spring 2016 campaign joining comedian Sandra Bernhard and director Lana Wachowski. It's another diva worship moment for Jacobs who turned to Cher last year to be one of the faces of his Fall 2016 campaign. Midler, who on occasion sits front row at pal Michael Kors' show during fashion week, made an appearance at the Marc Jacobs show in September at The Ziegfeld Theater, which was our first hint that the designer and icon were up to something. (Debbie Harry was also in attendance. Could she be the next announced campaign face?) Jacobs wrote a heartfelt love note to the Divine Ms. M yesterday on Instagram when he revealed the image.
MJ's words:
"What a privilege it is to know your heroes.
My earliest memory of Bette Midler was somewhere around the age of nine years old. I remember (at that young precocious age) hearing about her performances in the basement of the Ansonia Hotel's, Continental Baths. I vividly remember the genuine excitement and love I had for Bette's music. I was curious and excited by her energy, power and the exuberance in her voice and bold, brassy glamour. To this day, I still credit Bette Midler (unbeknownst to her) with a large part of my foray into fashion design. At age ten when I discovered the image drawn by Richard Amsel for her album cover, I was so instantly enamored by the silhouetted Bette in a black dress wearing platform sandals with a wedge of red curly hair that I recreated it on the back of a jean jacket with acrylic paint and embroidery floss and proudly wore it to school.
The onset of the spring/summer 2016 season began with my interest in the pride of being an American, however, I have always maintained that I'm a New Yorker above all else, a different breed entirely – one whom at nine years old is aware of the Continental Baths and more importantly the sexy, glamorous and sublime, Bette Midler.
After a conversation with Katie Grand about New York nostalgia she had recommended a documentary on the BBC that profiled Bette throughout her career and New York City. While I have always felt a certain connection with and influence by Bette, the moment that struck me so profoundly was a statement she made about her footprints from the past disappearing as she retraced old haunts of her once familiar New York. It all felt so relevant and apropos of the pieces of the yet-to-be collection that lay before me weeks before the show. It reminded me of the pride I felt in having the privilege of calling myself a born and raised New Yorker.
To her beauty, her brass, her glamour. To that energy, vitality, verve, nerve and curve…
I'm so happy to share this beautiful portrait by David Sims."
Paging Barbra Joan Streisand for Fall 2016.