No one loves a juicy piece of gossip like talk show host Wendy Williams, who's hosted her daytime broadcast show since 2008. Another one of her passions? Fashion, which she's made a part of her career by launching an eponymous fashion line for HSN two years ago and continues to design for today. Williams brought us into her dressing room (it was as bedazzled, colorful, and fabulous as you could ever imagine) to discuss her latest collection, her evolving relationship with fashion, and of course, the "hot topics" she's living for right now… 
You've been collaborating with HSN for two years. Do you consider yourself a designer?
In my real life, personally speaking, I do, but I understand if people only see me as being a talk show host. I also understand where people might think I just slap my name on something because I'm busy hosting a talk show, and that because I was approached by HSN I'm never in the meetings. That's not the case. I am a designer. I have a little showroom at home where I sit and fantasize about what's next. I read all the magazines. I love fashion and particularly affordable fashion. I got the HSN award for 2015 Best New Brand. There's a lot of competition because they take on a lot of people per year, so that made me feel really good.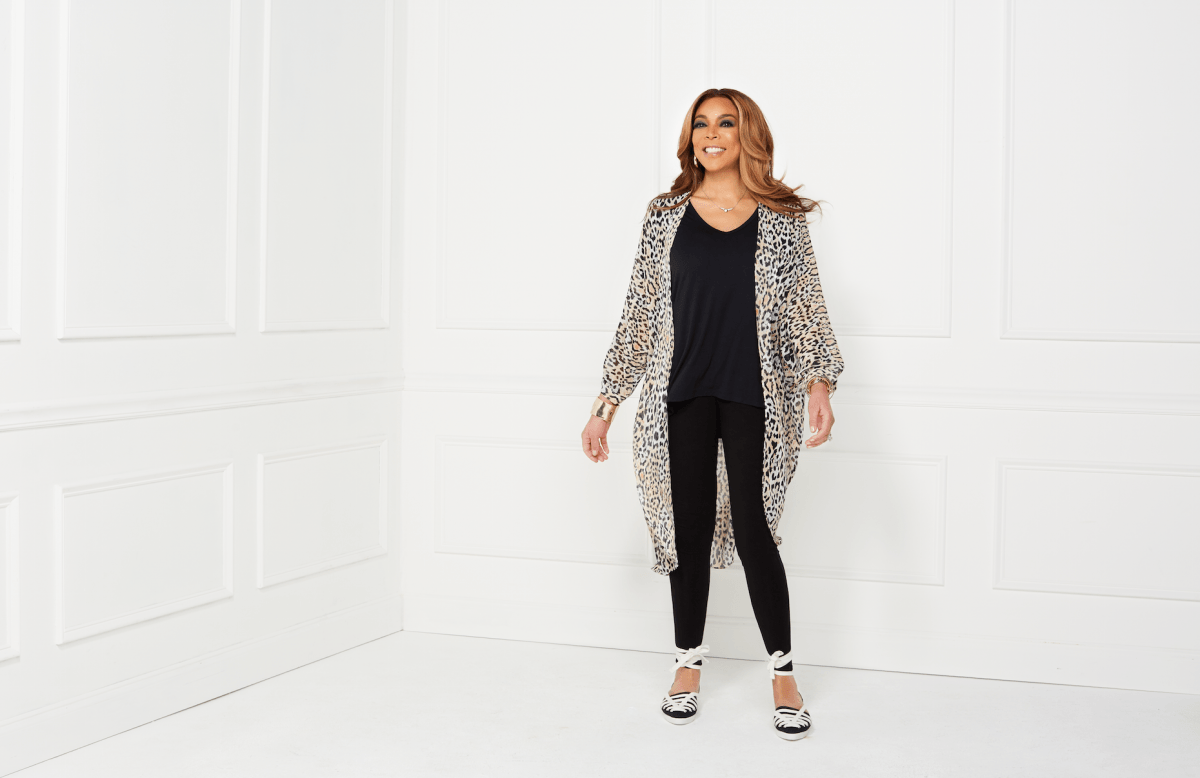 How do you see your line evolving in your next collection, launching this May?
Moving forward, it's more than just wrap dresses and pencil skirts. Now we are knee-deep in shark-infested waters. My shoes are open-toed, which is perfect for Spring and Summer—with the exception of one pair that's a closed-toe, but it's real cute. I love caftans—they up the ante with a pair of jeans and a t-shirt. I'm also introducing jeans in three different washes, and I hope everyone likes them.
Does going on HSN have any similarities to your talk show?
It's similar because it's live, live, live, and I love live TV when people call in—it's so cute. It's different because I'm not running the show. I totally rely on whoever my host is to drive it. I love going down to Tampa. Last time I was there, Iman was across the aisle with her line. In my opinion, HSN really is a well-oiled machine. I try to be as inclusive as I possibly can, and that includes [designing for] every age because you know, those 20-year-old girls, they love Aunt Wendy, which is killer to me! It's so flattering. But so do their grandmothers who are 70. It's very, very flattering and I definitely keep all of that in mind. The meetings are endless, but whenever I get there and sit on my set and see the girls model, I'm like, ugh, its so worth it.
NEW YORK, NY – APRIL 24: Wendy Williams attends the Good Shepherd Services Spring Party hosted by Isaac Mizrahi at Stage 37 on April 24, 2014 in New York City. (Photo by Mike Coppola/Getty Images for Good Shepherd Services)
NEW YORK, NY – SEPTEMBER 08: Wendy Williams (L) and Elvis Duran speak during The Elvis Duran Z100 Morning Show at Z100 Studio on September 8, 2015 in New York City. (Photo by Andrew Toth/Getty Images)
What's your personal style?
I like a plain palette. I wear the same thing to work every day: a pair of my leggings, a nice t-shirt, and my Wendy sneakers. My style is quirky and kooky. I'm a woman of a particular age; I've got the nerve to have a topknot going on right now. What the college campus is going on?! But I love it and I don't care. To me, handbags, coats, jewelry, and shoes really make the outfit. I am very distressful of my body. You gain 10 lbs. and all of a sudden nothing fits, you lose 10 lbs. and all of a sudden nothing fits. My personal style is not for the faint of heart because fashion is just fashion—style is how you remix it and make it your own.
Your dressing room is quite amazing.
I'm glad to say, we are a flashy family. My husband [Kevin Hunter], he's got an amazing sense of style. And my son [Kevin Hunter Jr.], he's got an amazing sense of style, too. The three of us together are ridiculous. For Mother's Day last year they gave me this Saint Laurent tiara—I'll wear it just because it's Wednesday. How ridiculous is that? I will walk out of this building and act like, What are you looking at? But that's what I love about New York—it really gives you a chance to own your style.
Who are your friends in the fashion industry?
"Friends" is a relative word but I do love Marc Bouwer. He's very sweet. Norma Kamali, personally speaking, is one of my favorites. I've been wearing Norma Kamali clothes since my mom bought me my first Norma dress in high school before she had a boutique and she was selling in Bloomingdales. I love Betsy Johnson, and I find Diane von Furstenberg interesting—her history with men and fashion and the whole bit. She's a real go-getter. I love Isaac Mizrahi, personally and professionally. But I try not to get close to the flame because I want to wear everybody. Just like people think now that I have a line, every day is a Wendy day with wardrobe, but it's not that way. I've taken my queue from a couple of people that I idolize fashion-wise with their business, especially Jessica Simpson, who in my opinion has done a fantastic job of keeping things affordable. She wears her own stuff but you will also see her in a pair of YSL shoes the next day. She has a good balance and a really attainable look. I'm friends with my wardrobe stylist Memsor—he is so much fun to shop with because I don't have to say anything.
NEW YORK, NY – APRIL 16: Wendy Williams (L) and Isaac Mizrahi attend the Good Shepherd Services Spring Party 2015 hosted by Isaac Mizrahi on April 16, 2015 in New York City. (Photo by Mike Coppola/Getty Images for Good Shepherd Services)
NEW YORK, NEW YORK – APRIL 07: (L-R) Andre Leon Talley, Wendy Williams, and Marc Jacobs attend as Marc Jacobs & Benedikt Taschen celebrate NAOMI at The Diamond Horseshoe on April 7, 2016 in New York City. (Photo by Dimitrios Kambouris/Getty Images for Marc Jacobs International, LLC)
Do you get a lot of style questions from your fans?
I get style criticisms. As far as questions, they're always ones that I don't really care to answer because my website is such a comprehensive look at what I'm wearing on the show. They'll be like, "Oh my gosh, your dress is so beautiful where did you get it?" Go to wendyshow.com goddamn you, or hit the Instagram! [Laughs]. I'm not going to come out and make a commercial out of, Today is a Wendy dress, today's dress is DVF, today it's Maggie London…who has time for that? As critical as I am when I'm on TV, in real life I don't like to criticize people's style. I mean, I might judge you, but I'll keep my mouth closed, 'cause I don't want anyone criticizing mine. What I do out there on the floor is pulled together by hair, makeup, wardrobe, and my sensibility knowing that I'm talking to the coffee clutch at 10 o'clock in the morning. But when I get off the show, now that's a whole other thing. I am young. I'm like 18!
What do you usually do after the show?
Today I am going to the hardware store. I have my grocery list ready and I have a pile of paychecks from my son's ice cream shop job that I promised him I was going to deposit.
You post on Instagram #WhatWendyWore, but what would #WendyNeverWear?
White jeans. They show everything. I'm not a fat girl, but I do have cellulite. I lost 50 lbs. at a time in my life that if I had done it in my 20s, everything would have snapped back and everything would be lovely. I always swore I would never wear horizontals because they just add to everything, but last week I did wear a fully horizontal dress, and I looked good. I looked good and I didn't look fat. Here at the show I'm willing to take fashion risks because, thank God, there's always tomorrow to come back.
So what's your favorite piece of gossip right now?
First of all, I need to know more about what is going on with Mary J. Blige and Kendu. Mariah Carey and Nick Cannon have been spotted for like the last five days everywhere together. In my opinion, they're doing this for me so that we get to talking, because Nick is coming on the show [this week] as not just a guest, but I invited him to co-host the whole hour. He told me no question is off limits. It's going to be the best day ever.