The parfait thing to do before getting ready to show your latest collection at New York Fashion Week? A trip to somewhere fabulous, of course. Nicholas K's creative director Nicholas Kunz recently embarked to Andaman and Nicobar Islands (along with bro and business partner Christopher Kunz). Amid prep for their NYFW show, which takes place Thursday morning, Nicholas dishes on all the highlights…
What made you choose Andaman and Nicobar Islands for your latest vacation?
​I was reading an article about ​a National Geographic director in the '70s who tried to go to Sentinal Island, and received an arrow in his leg when they got close. Sentinal Island is part of the Andaman and Nicobar archipelago and has remained untouched by modern civilization. It's inhabited by indigenous people, the Sentinelese, and is now protected by the Indian government.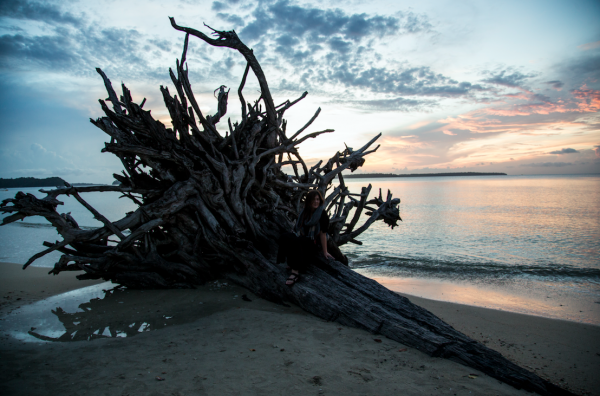 Have you been before?
I haven't! We were there for seven days​ and stayed in bungalows on Havelock Island called The Wild Orchid. We wanted to explore the archipelago a little more, but foreigners were not permitted on some of the islands.
What was the most interesting thing that you saw?
 The tree graveyard on the beach, left over from the tsunami. The scale of it was surreal.
What is the culture like?
Pretty diverse, but probably more similar to Indian. It's situated in an archipelago in the Bay of Bengal.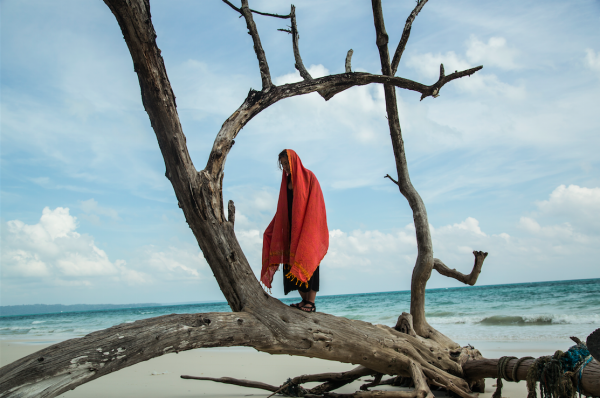 India is to the west and Myanmar is on the East. Most of the Andaman and Nicobar islands belong to India, while a few in the north belong to Myanmar. Six aboriginal tribes inhabit the isla​nds, and four are thought to have come from Africa 60,000 years ago. 
We know you and Chris are super adventurous—tell us about some of trip's activities!
Mostly diving, deep sea fishing, shopping at the local markets, and ​riding motorbikes around the island to explore.
And scuba diving?
Yes! I'm an avid diver and have traveled to various places around the globe to dive. It's definitely my favorite sport!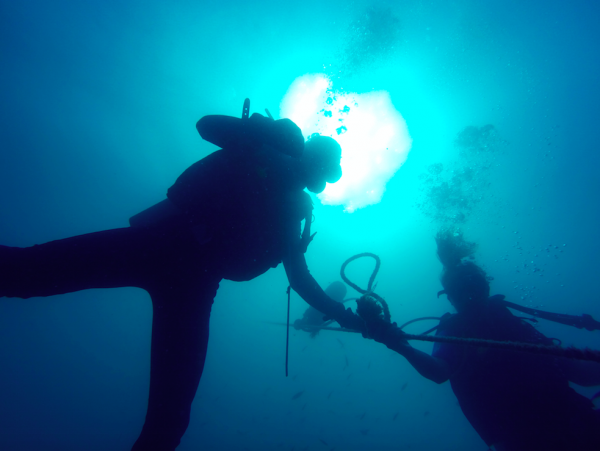 What's the fashion like there?
Beautiful, colorful sarongs and saris. Their use of color is so inspirational.​ For someone who wears black on a daily basis, it made me want to wear color…or black with a pop of color!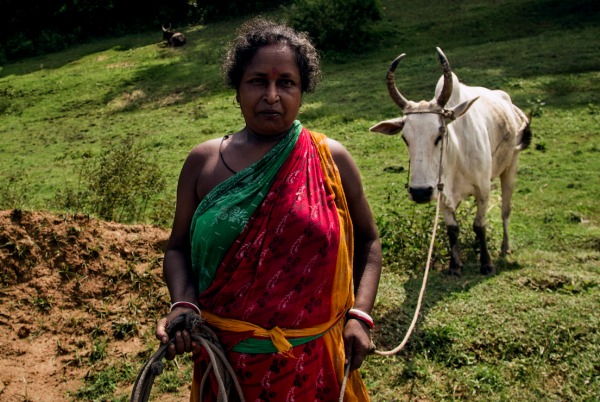 Most interesting thing you discovered?
Salt water crocs. We stayed at one of t​he​ most spectacular beaches in front of the Sea Princess hotel in Port Blair en route to Havelock Island​, only to be told we couldn't swim in the water.​ Betel nut also known as the areca palm nut, was all it all over the floor, everywhere, drying in the sun. People chew it; it stimulates you similar to tobacco and apparently gives your body a warming sensation and heightened alertness. 
Will you take Andaman and Nicobar as inspiration for future collections?
Yes, we collected a lot of colorful sarongs and patterns. The way people used color was breathtaking—even the men love to mix color with neutrals.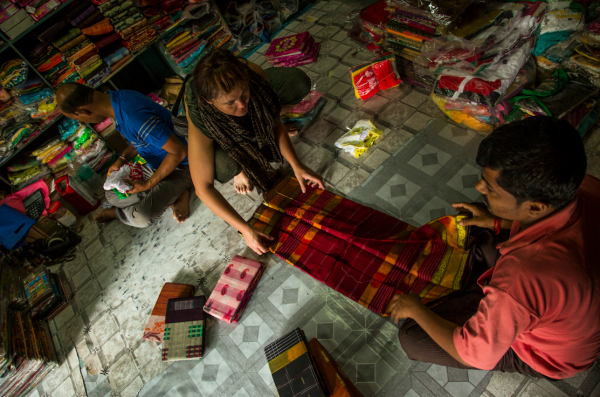 What were some essentials you packed with you on the trip?
Four sarongs from India, Teva universal luxe, ​Nicholas K Astra dress in two colors, Draper short in two colors, and a few carlo T's, two bikinis, sunscreen, and shades. The lighter, the better.
How long was the flight?
We were on a business trip that started in Hong Kong, then to Shanghai, ​then to New Delhi, India, then to Andaman and Nicobar. It took us six hours to get to Port Blair from Delhi—we were overnighted in Port Blair as we missed the last ferry. The next morning we took the ferry to Havelock Island—half of the ferry was newlyweds as it was the wedding season in India. All of the women had beautiful stacked red bangles. The ferry was 2.5 hours in choppy water; after an hour all you could hear was heaving and staff running back and forth….it got pretty intense.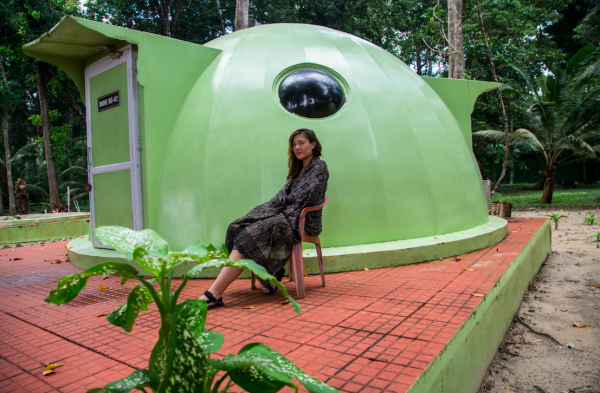 Was this trip meant to be pre-NYFW relaxation?
I like to think I can relax, but I'm definitely more into the adventure.
Were you on your phone/social media much, or did you refrain?
None of the hotels had functioning Internet​. Wireless did not exist. Some places claimed to offer it, but it was an hourlong mission to download emails. Apparently the Internet was coming all the way from Chennai. It was the joke of the island. I have to say, it was liberating.
Your photographs feature quite a few people—did you talk to them or were you just photographing them?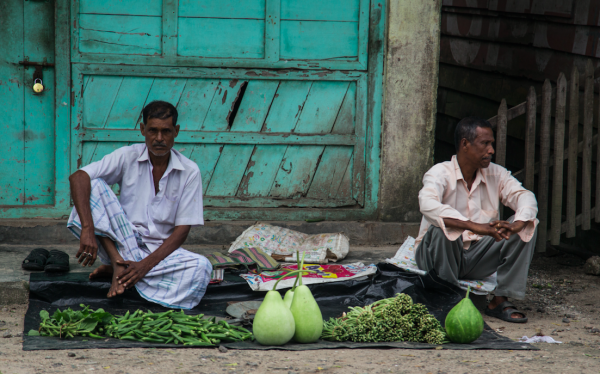 Both—the locals were quite friendly​ and it's a small island, so it has a more intimate feel. It's likely if you stop by someone's house to ask them a question you would be welcomed inside to meet the family.
What was the food like there?
Thank god I love fish…it's a lot of seafood with Indian spices. One of the best places on the island was called the Golden Spoon. It was a shanty, but right across from the fish market.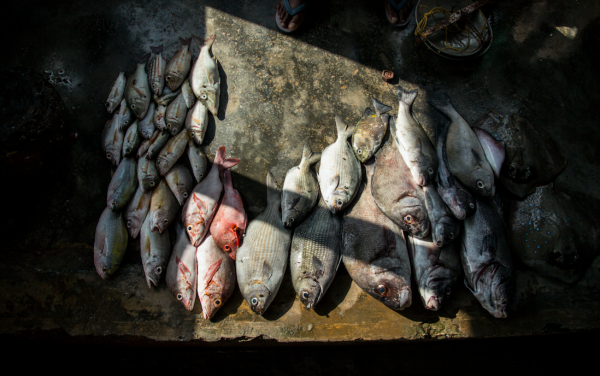 Do you want to go back?
Yes, there is so much to do and explore. Since transportation is limited, you really need a good month to experience the islands.​ I would love to explore Neil Island and maybe some of the Myanmar islands.
Where to next?
We are awaiting on ​an invitation from our friend Tanya Tagaq, who is an award-winning Inuk throat singer, to visit her in in her hometown of Nunavut, Canada during their Arctic char run. Tanya…I hope you are reading this!
Post-NYFW plans?
A quick escape to our upstate cabin, and then off to Paris!​