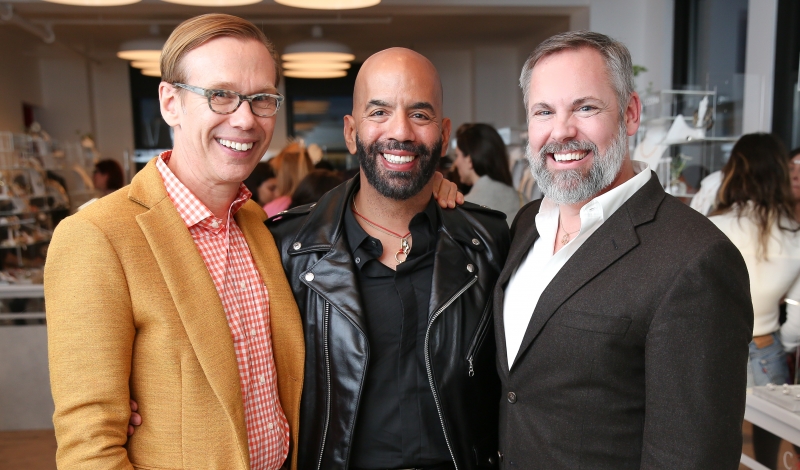 The CFDA Supports Jewelry Members with Second Showcase
|
Yesterday, the CFDA hosted its second jewelry showcase to highlight a selection of the organization's 79 members who specialize in baubles. The CFDA's first jewelry showcase, in 2013, was founded by CFDA member Simon Alcantara and jewelry consultant (and former W editor) Talya Cousins as a way to generate exposure for the growing category within the organization. The event, which was held in the CFDA headquarters on Bleecker Street, was co-hosted by Alcantara, who is the chairman of the CFDA's official jewelry committee, the committee's co-chairman, Mish Tworkowski, and secretary, Dean Harris.
"It has been hugely successful," Alcantara told The Daily. "It took us about two years to do the second one, but now we're going to start doing it twice a year. We were just trying to figure out the best way to do it." Designers featured in this year's showcase included: Angela Cummings for Assael, Ashley Pittman, Catbird, Coomi, Dean Harris, Ex Ovo, John Brevard, Mish New York, Nicholas Varney, Paige Novick, Scosha, Sharon Khazzam, Sidney Garber, Stella Valle, Stephen Dweck, VSA Designs, and Alcantara. "The committee was formed so all of the jewelry members of the CFDA could give their feedback on what is important to them and what they would like to see, which resulted in the second showcase," said Tworkowski. "There are 79 CFDA members in the jewelry industry, so they really merit their own entity within the CFDA."
The roster of designers included everyone from relative newcomers to seasoned veterans. Some of them discussed the challenges of being a jewelry designer amid the growing roster of designers. Industry veteran Stephen Dweck explained that now it's about constantly coming up with new ideas. "The industry was nice and bland when I started 35 years ago, but you can't leave a stone left unturned and without exploring its inner beauty and literally reinventing how to cut it differently, how to wear it differently, and find out how to give that customer or collector that all day kind of quality," said Dweck. "Who has time anymore? We live on a millimeter of a second of a schedule, so we've got to have a piece that's forever, and everything gets more expensive each day, so everything has to give us more return on our investment." This, along with the challenge of department and boutique stores taking new designers on consignment only, are the kind of challenges the newly-formed committee will be addressing.